We left Cork in the mid-morning and made our way by train to Killarney. Rail travel is so nice, especially when things more or less go on time. You can read your book, check Facebook, take blurry pictures out of a window, have a tea or coffee or nap. It's delightful.
We arrive at the wee train station in Killarney. It hasn't changed in 30 years. Our hotel is nearby and we walk through the drizzle to it. On the way we pass the Malton hotel. From all the Bugatti's in the parking lot we rapidly deduce it's not our hotel!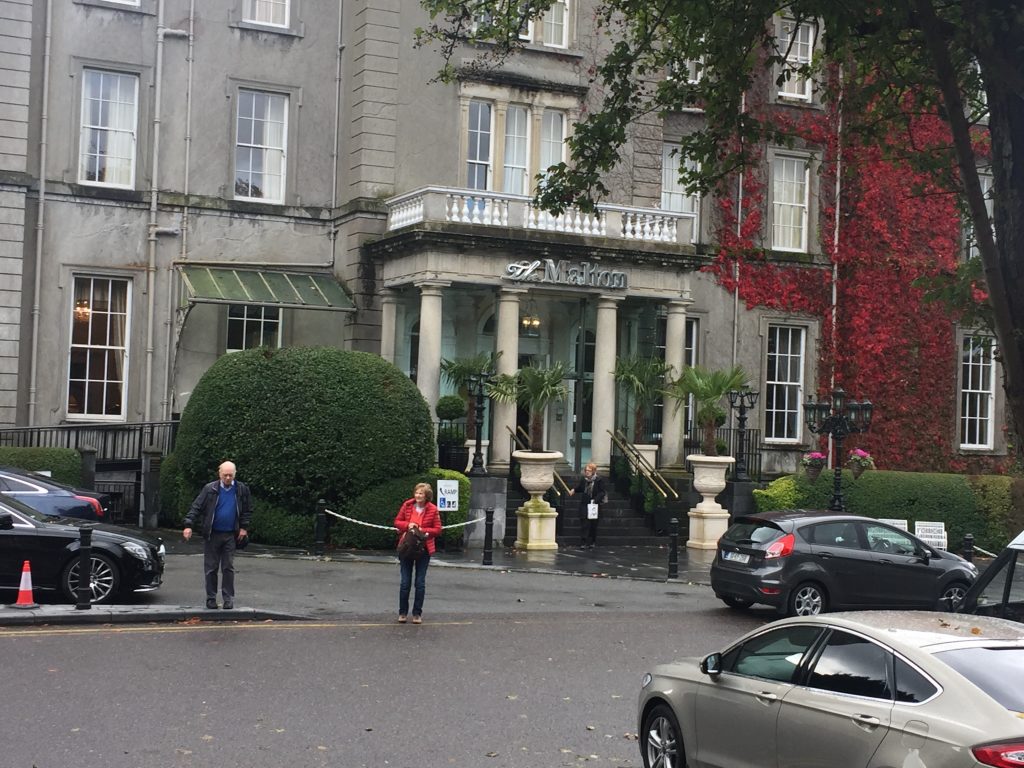 Ours is the Royal hotel.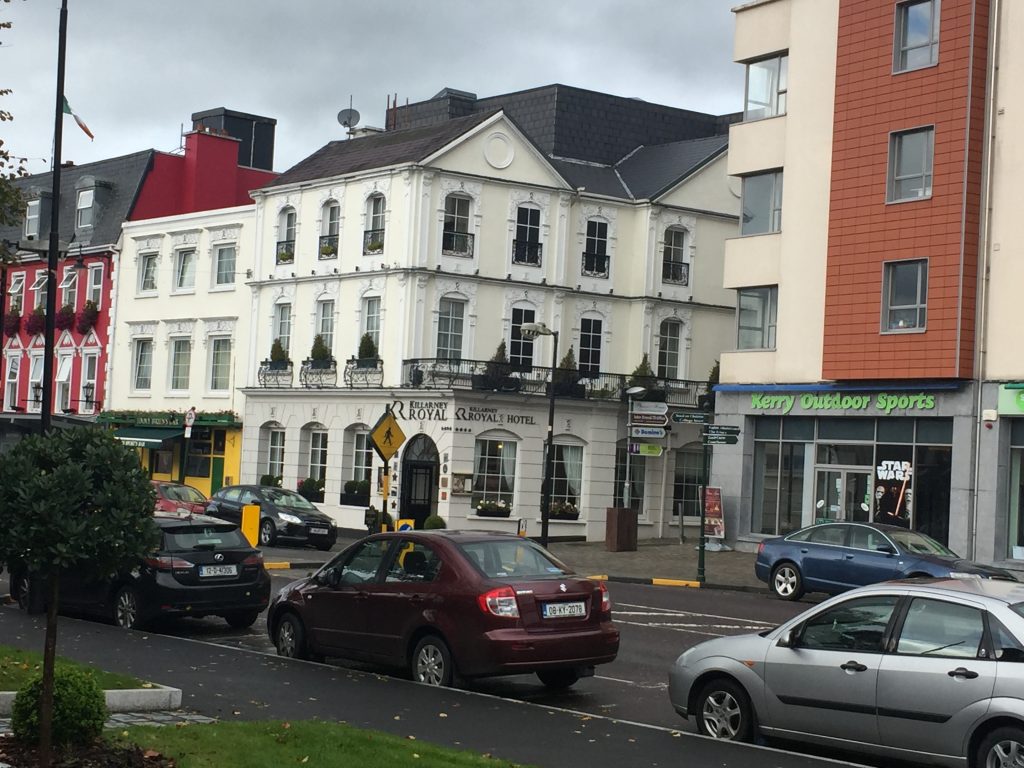 The Royal is a sister hotel to Hayfield Manor. Owned and run by the same family. It has a fussy lobby where you can sit and have tea. It also has a piano in the lobby. There's a pub and a restaurant. Our room is on the third floor in the far corner…far away from the wifi router. You can kind of only connect by the door. The view out the window is The Shire Pub: A Lord of the Rings themed pub. Prepare to be massively disappointed…we did not go there.
It was early afternoon and we took off for a walk about town with an eye to lunch and making plans for our time here. It's drizzly and I'm not feeling great. We pop into a random place when the rain starts in earnest. Fortunately it has delicious Irish Stew for PW.
I opt for soup and salad. And lots of brown bread.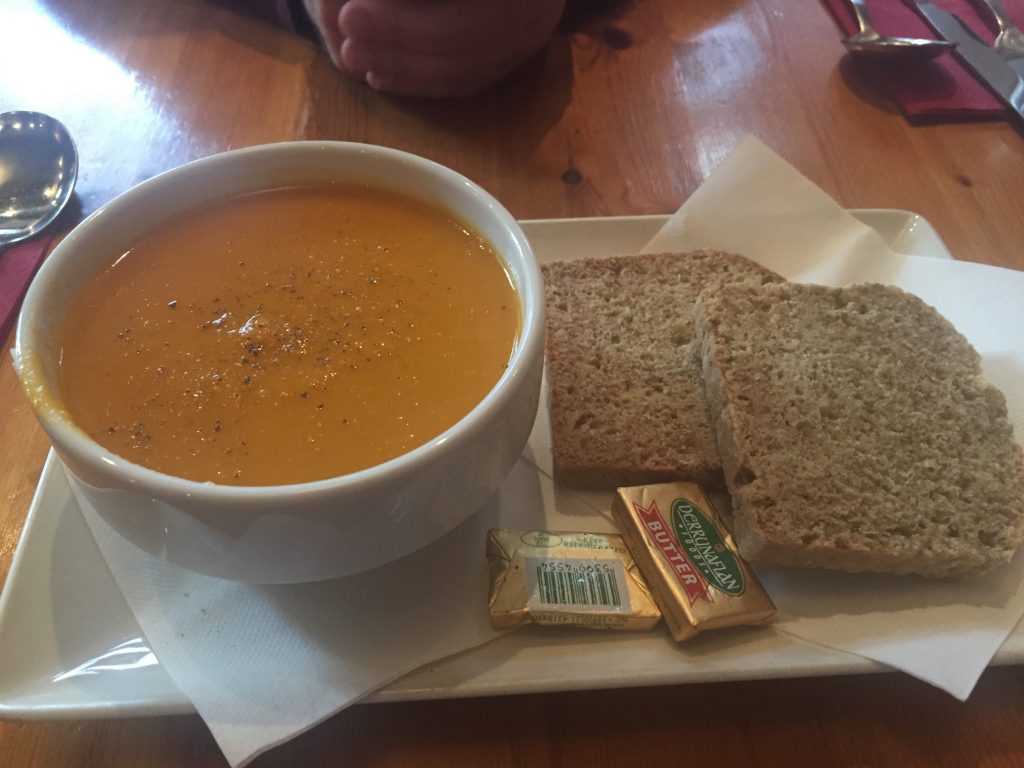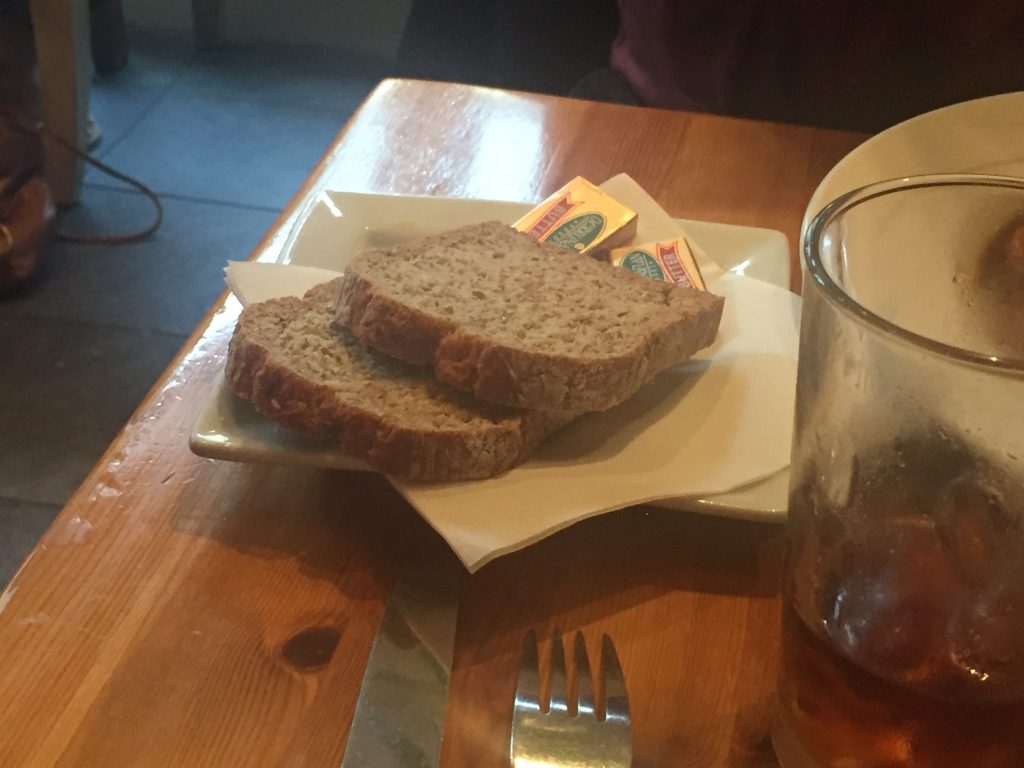 Seriously, you get bread with your salad and your soup.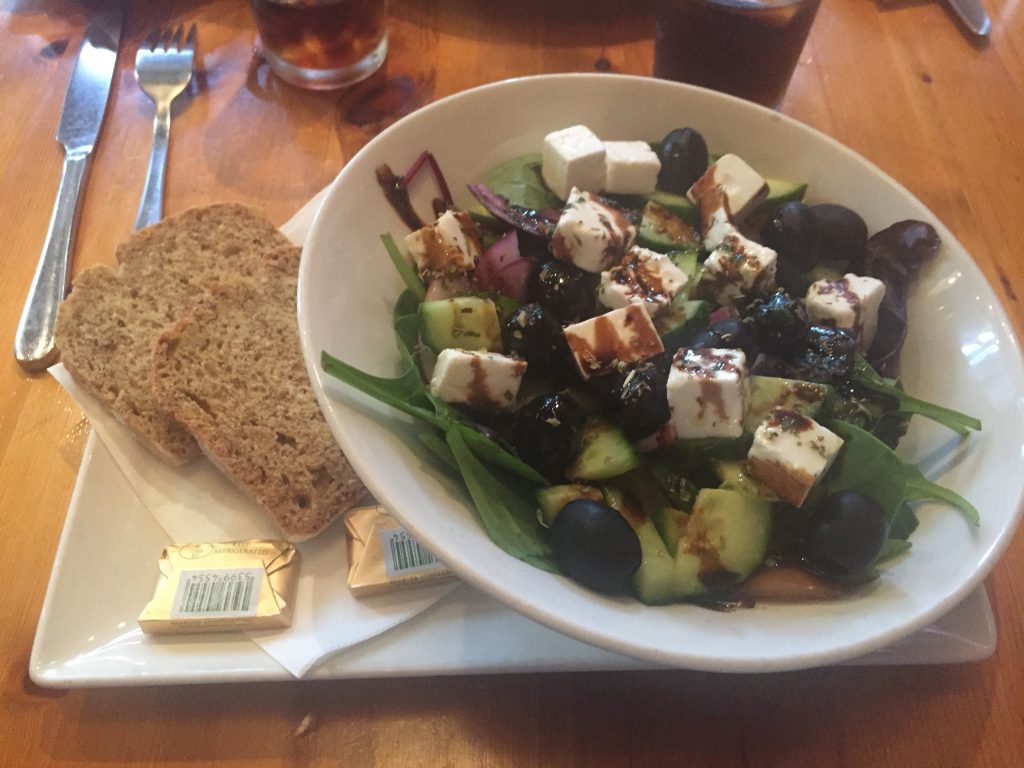 The food is delicious. More importantly, it's warm. So warm and good. On the way back to the hotel we book a Ring of Kerry bus tour for the next day. It's on a Paddy Wagon! Isn't that exciting?
We make our way back to the hotel. By now, I need a nap. And by nap I mean, that kind of sickly sleep for the rest of the day in hopes of feeling better tomorrow. My sleep is haunted by shows from the hotel room tv as PW is flipping through (he can't connect to the wifi). Of note is Gogglebox which is a reality show about people commenting on what they are watching on TV. I kept hearing it as Garglebox. There's also a celebrity edition. Celebrity Garglebox.
In the saddest moment of this trip, PW runs out to get some truly awful Burger King for dinner. It's so sad. It's all my fault for being sick. But if I can sleep enough, I might be ok tomorrow. So sleep I do.
The title quote is attributed to Sean O'Casey, renowned Irish playwright and author of Juno and the Paycock which I have a particular fondness for.

Share on Facebook