I really think I've showed great restraint curating my Balloon Fiesta pictures down to a mere 96.
The good news is that I'm gonna put them all in this blog post! So only one post to scroll through rapidly.
There probably won't even be that much commentary. Mostly because, after a while, all there is to say is "pretty!" But also because I am lazy.
Anyhow, we had planned to go to the last Saturday of the fiesta. The weather forecast looked pretty promising. When we got to the Cliff's Park 'n' Ride, it was clear that it was already 60 degrees. I left my coat in the car. I did not bring gloves or a hat. But I was wearing a long-sleeve shirt so it's not like I was completely insane. (Earlier in the week they had some cold mornings where coats, gloves and hats were not needed). The morning was completely calm.
We get to the park at 5:30 and it's already bustling. We get burritos and hot chocolate from Blakes. There is a laser light show going on. That's new. We make a lovely stop at the portapotties and then make our way to the field. We're looking for Kris and Brian (who we had actually run into earlier in that bizarre thing where you run into people you know in a crown of 80,000). And we manage to find one corner of the square they are in. But it's not the right corner…so we eat and wait for better light.
Dawn Patrol is underway…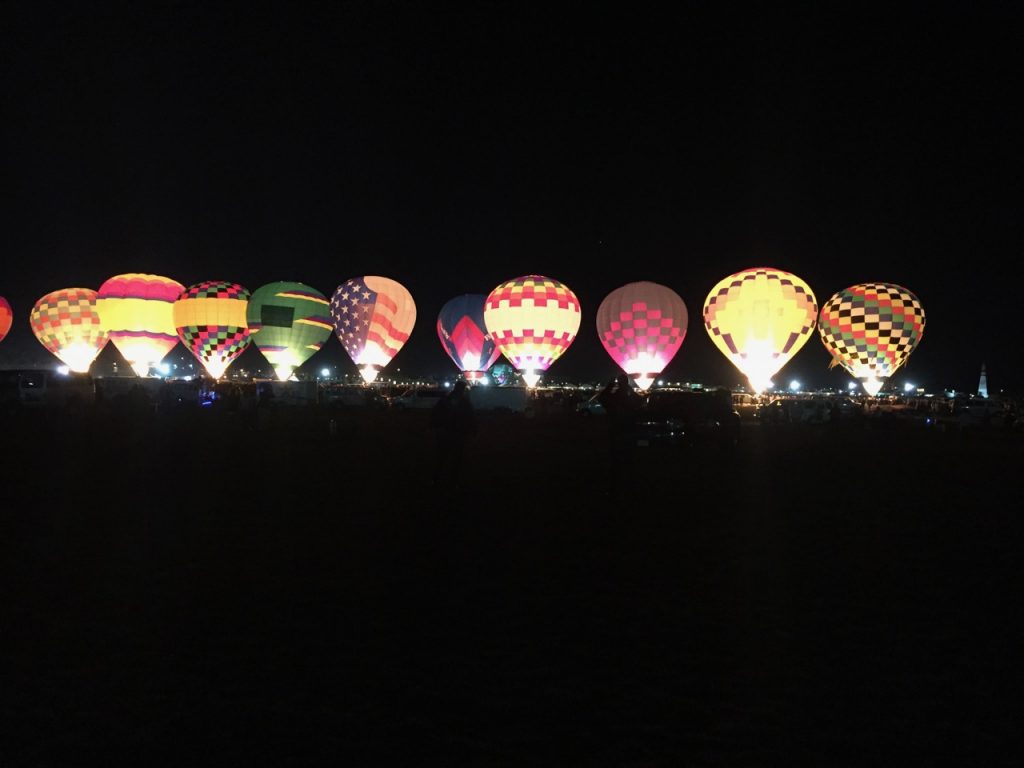 We find Kris and Brian. The balloons lift off and slowly slowly slowly drift north or northeast.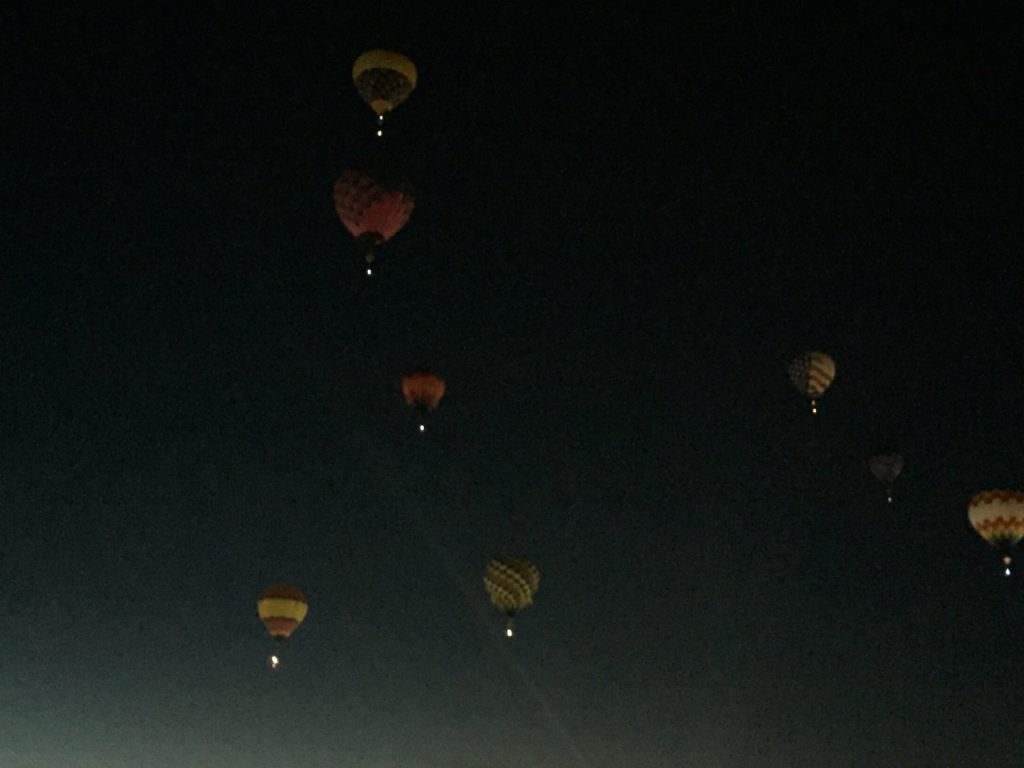 But mostly they just hang there. Which is bad. There's such a thing as too calm. In fact, as it gets a little brighter you can see that the flag on the flag is still yellow. Not the green you need for a mass ascension.
And sure enough, not very many balloons are inflating. And we hear that there's no drainage. Which means that balloons just hang around. And what little motion there is seems to be taking people in an undesirable direction (due to restrictions, limited options and surcharges on landings).
A handful of balloons take off and we just wait. You hate to get up at 4am for nothing…but that's just one of the things that happens during Balloon Fiesta.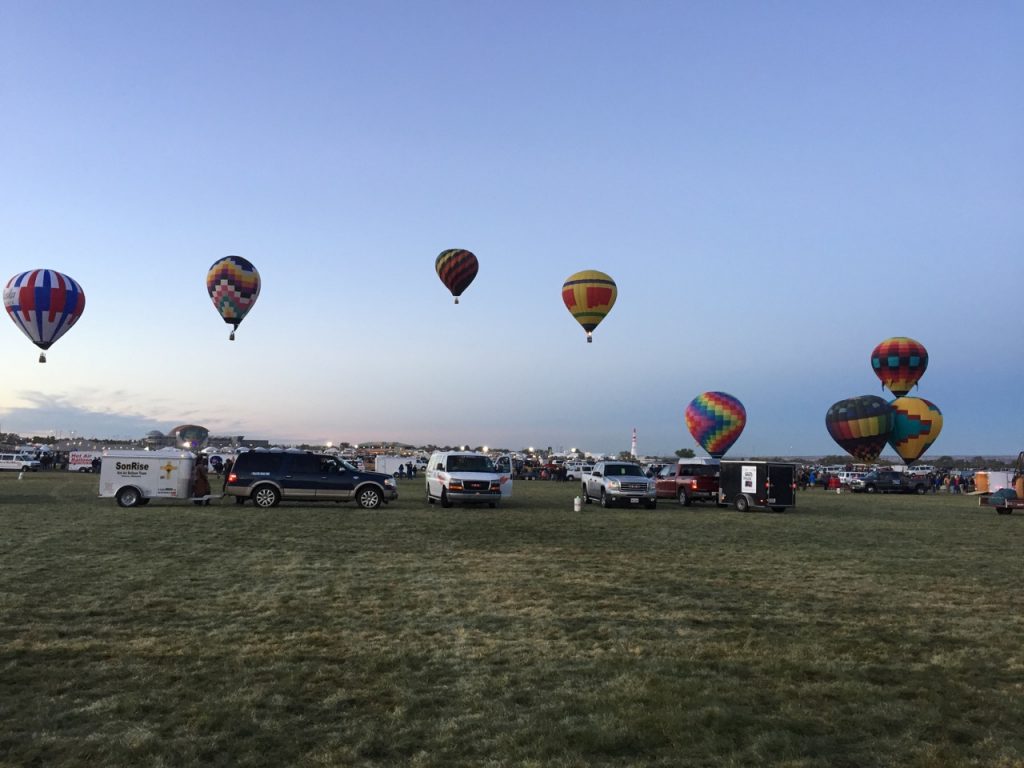 But then the green flag goes up and all of a sudden everything starts inflating.
Most of these are Rainbow Ryders and Sundance balloons. But you can see  a couple of radio station balloons and the Hendrick's balloon.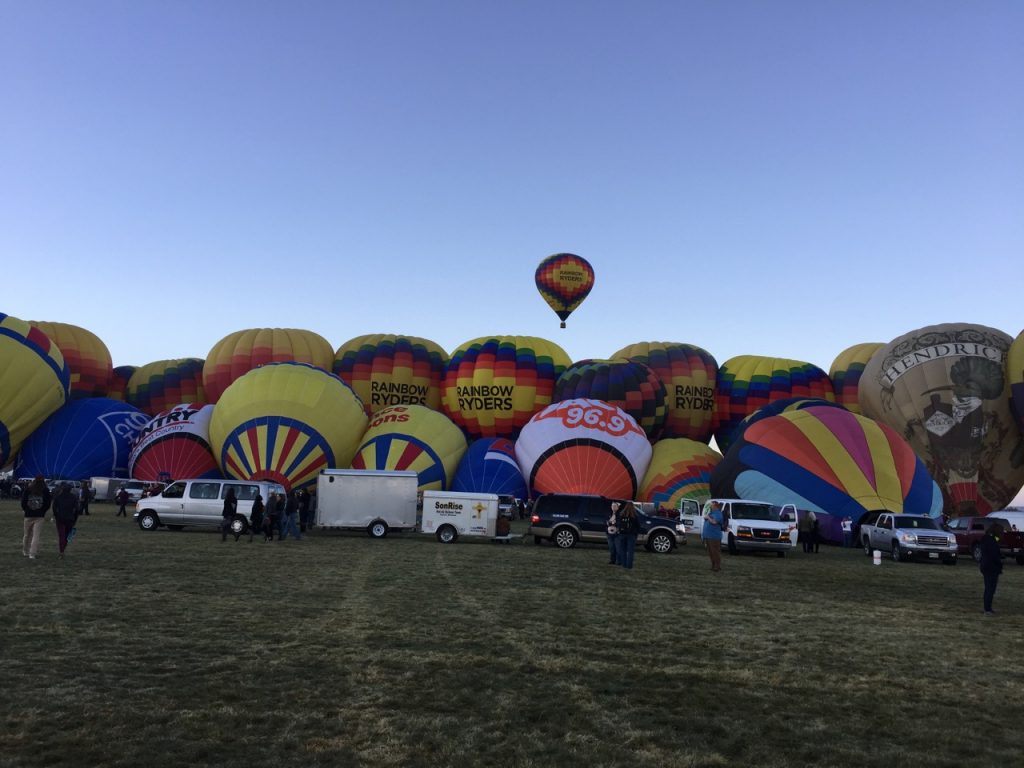 Here's a nice Zia balloon taking off. There are a lot of Zia balloons.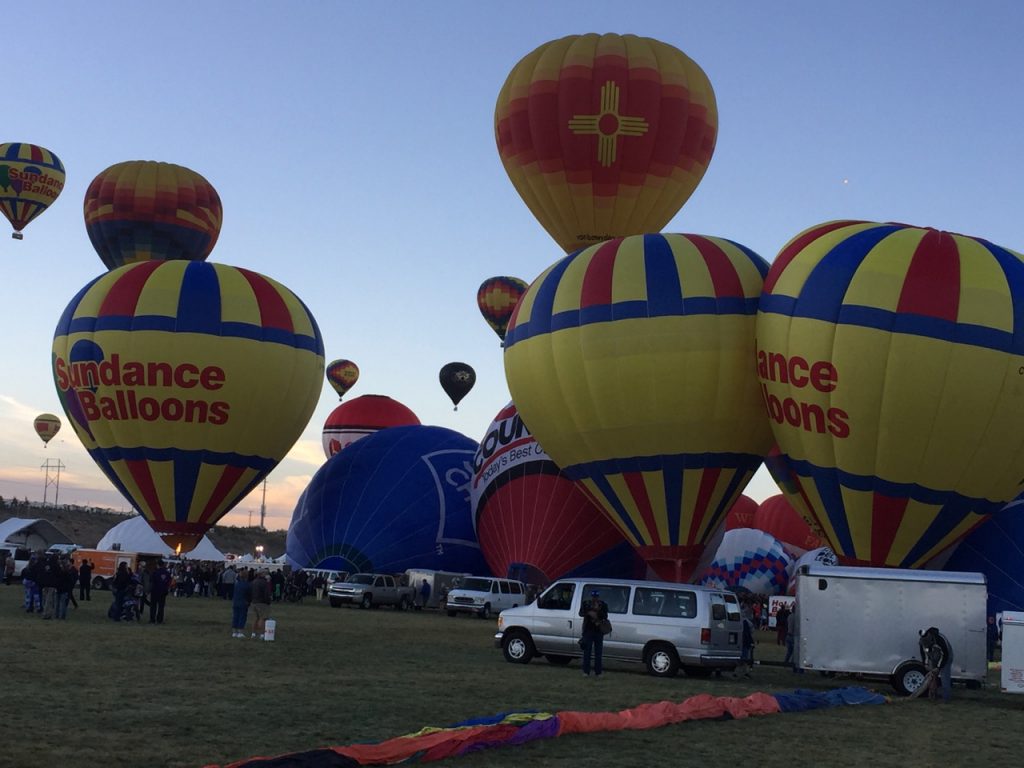 The first special shape of the day, Lottie Dottie Chicken. Yes, I got a program this time, so you're going to get real balloon names instead of the ones I make up. Sorry, I know that is a terrible disappointment.
That is either Sunwalker or Butterfly in the background. See? Even with a program it's hard to tell.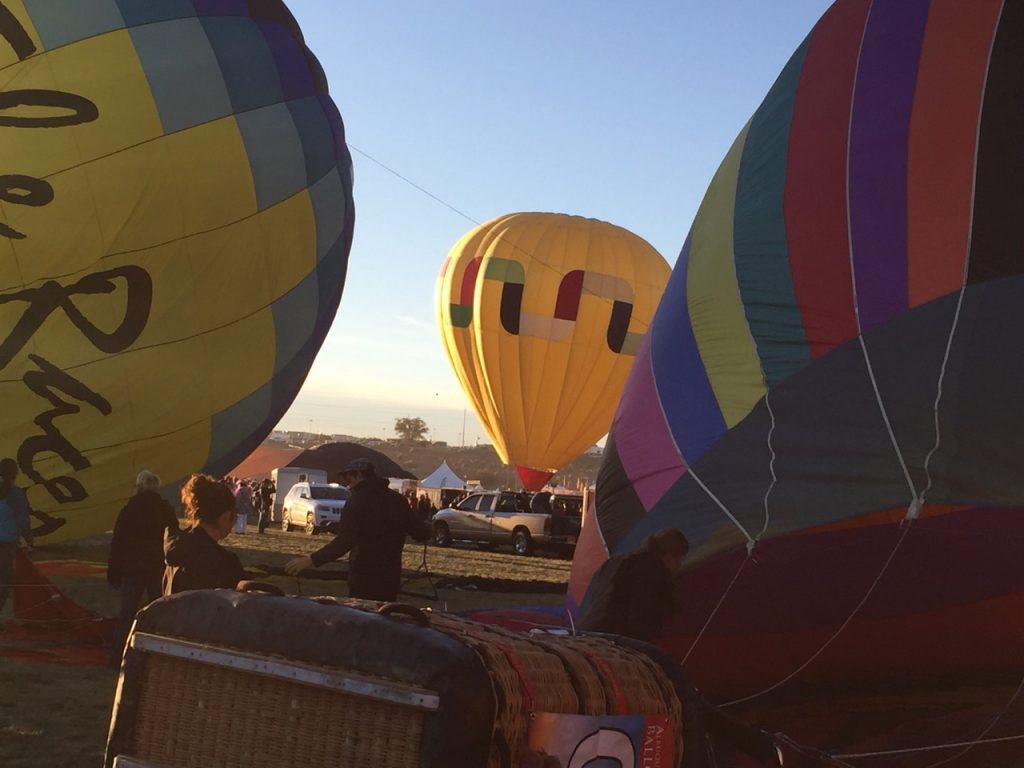 Last Mango inflating on the right.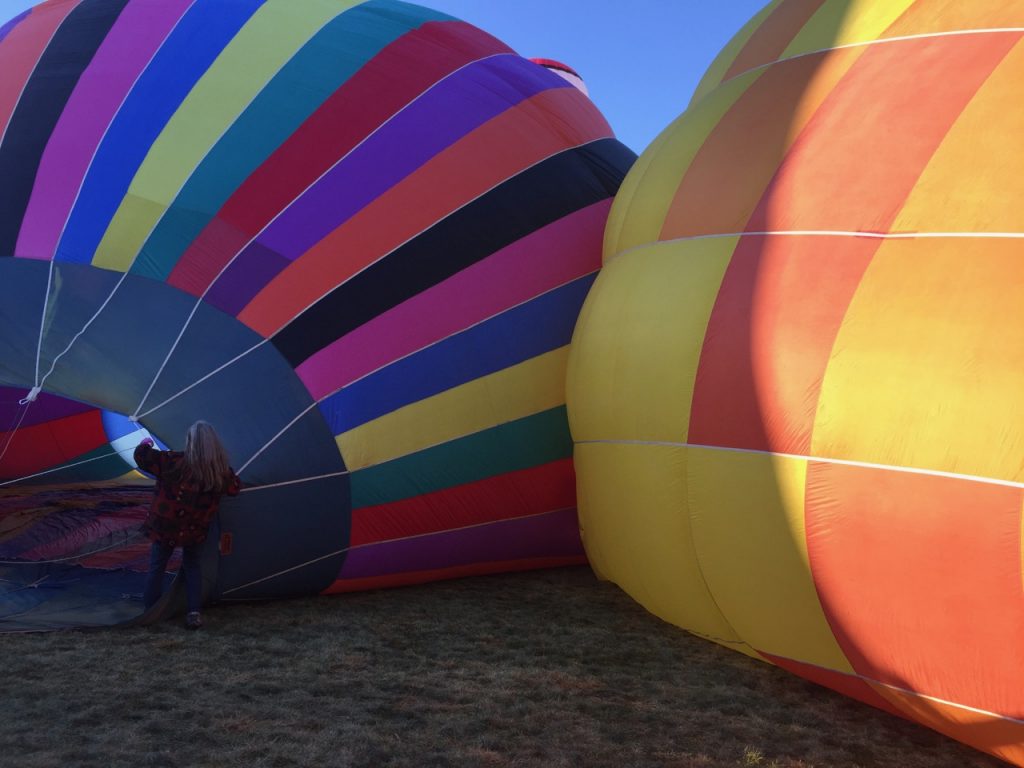 Radio Station balloon launching in the back ground.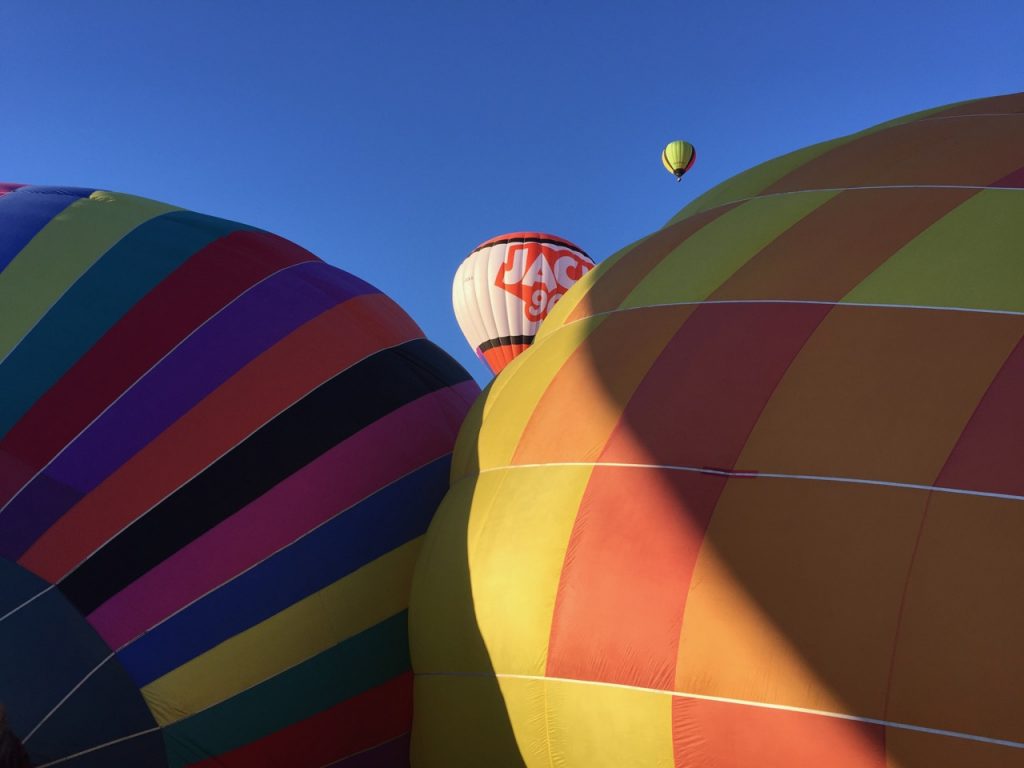 And here's a nice panoramic.

There's a lion in the distance (It's not Simba! Simba is a different balloon). And the chicken again. The chicken just floats back and forth across the field for the whole morning.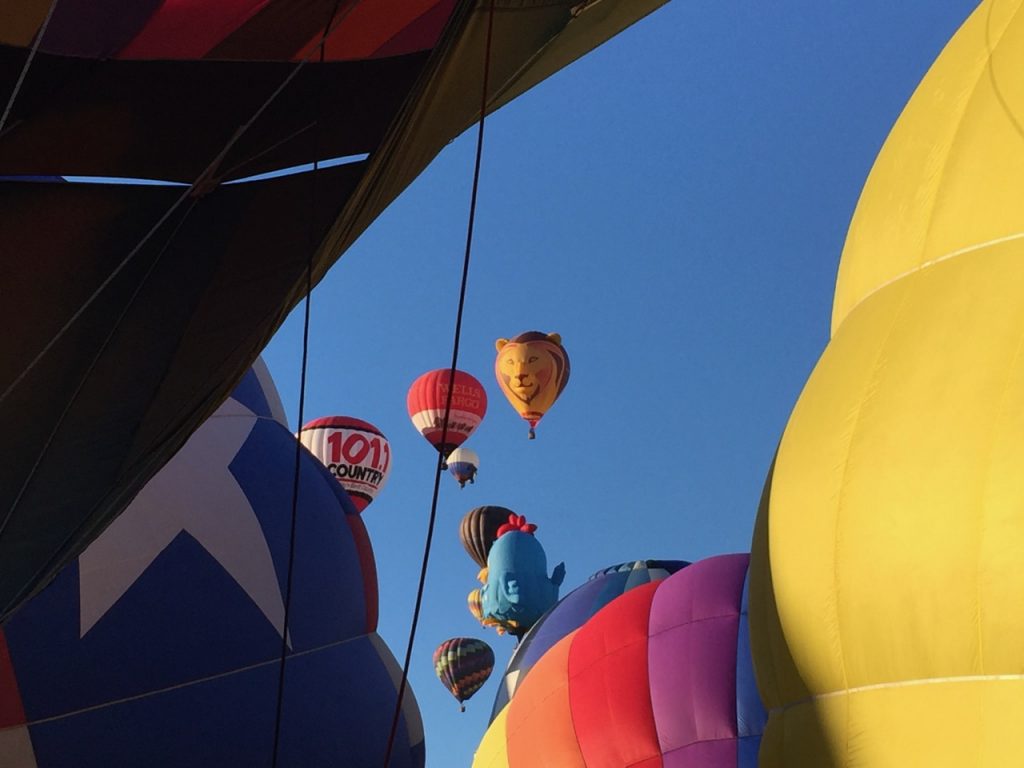 There's True-lee New Mexico.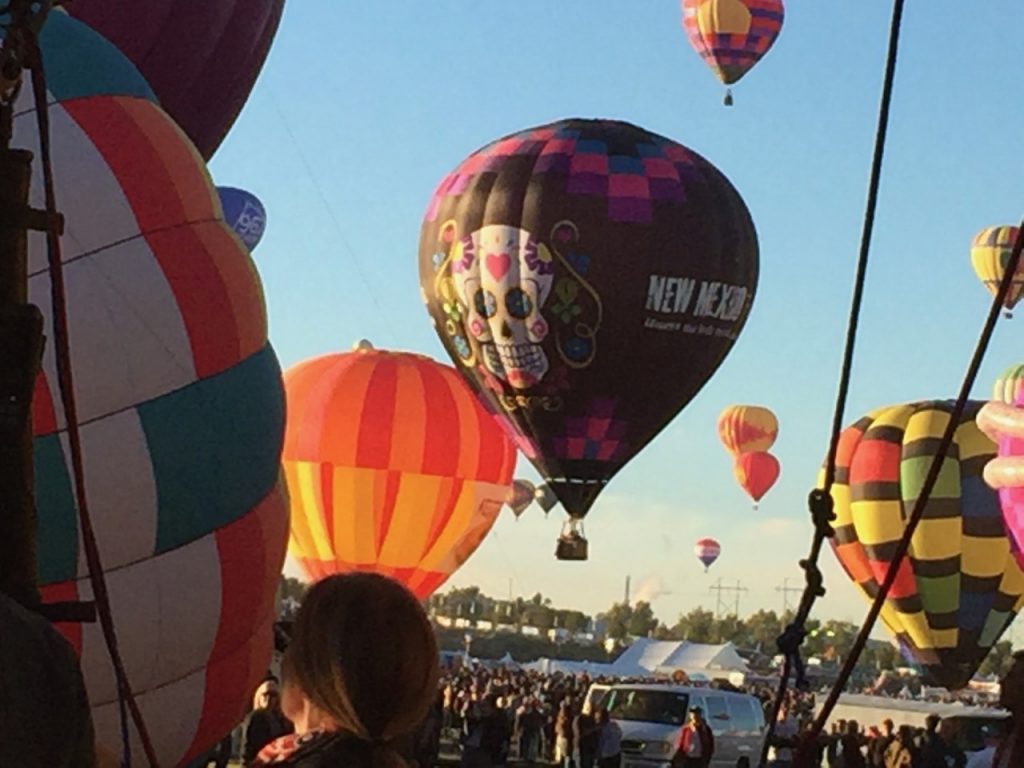 Colorado (I didn't make that up…that's what it's really called).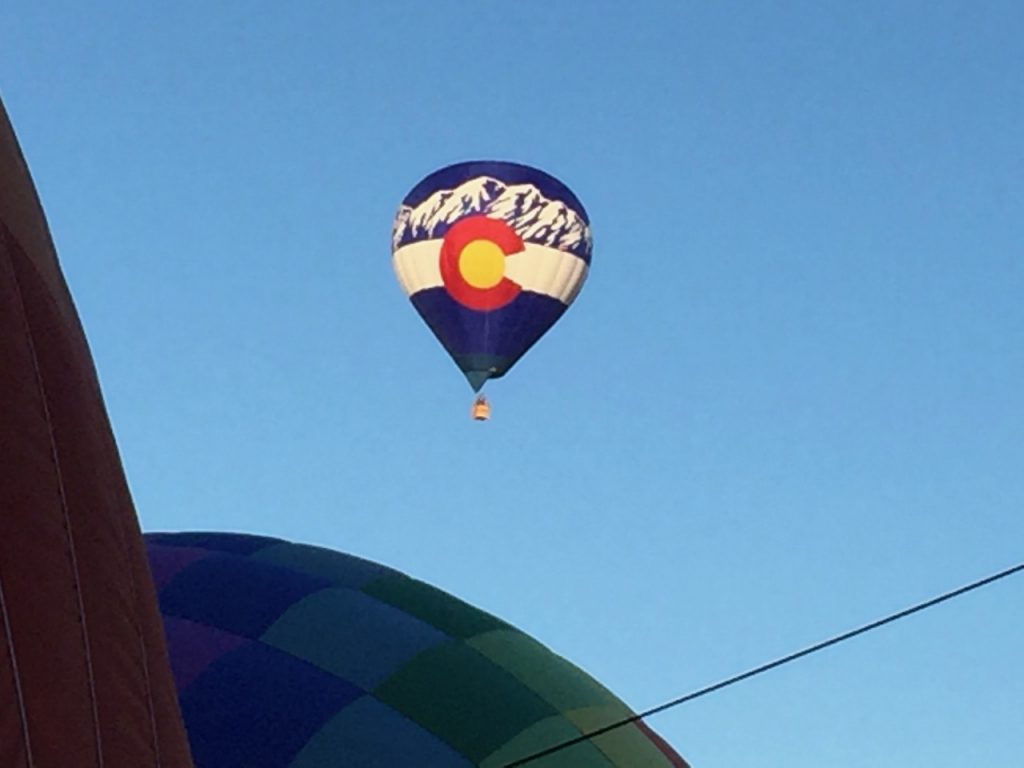 Baby Lente who is from Belgium.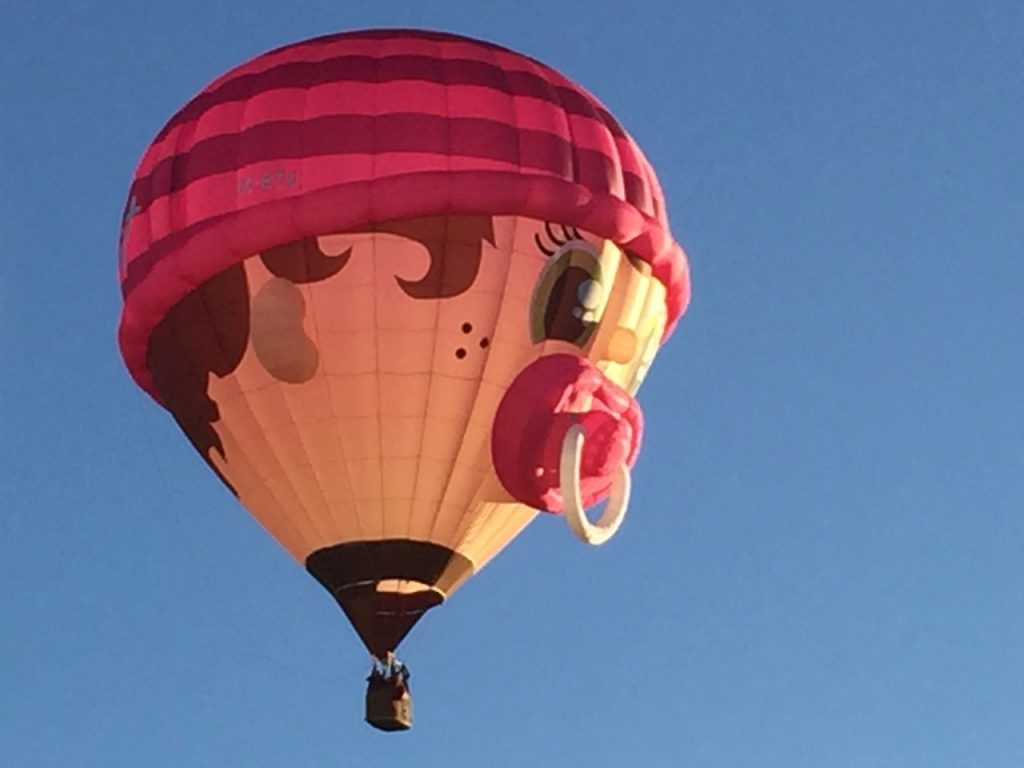 It's looking a little crowded up there.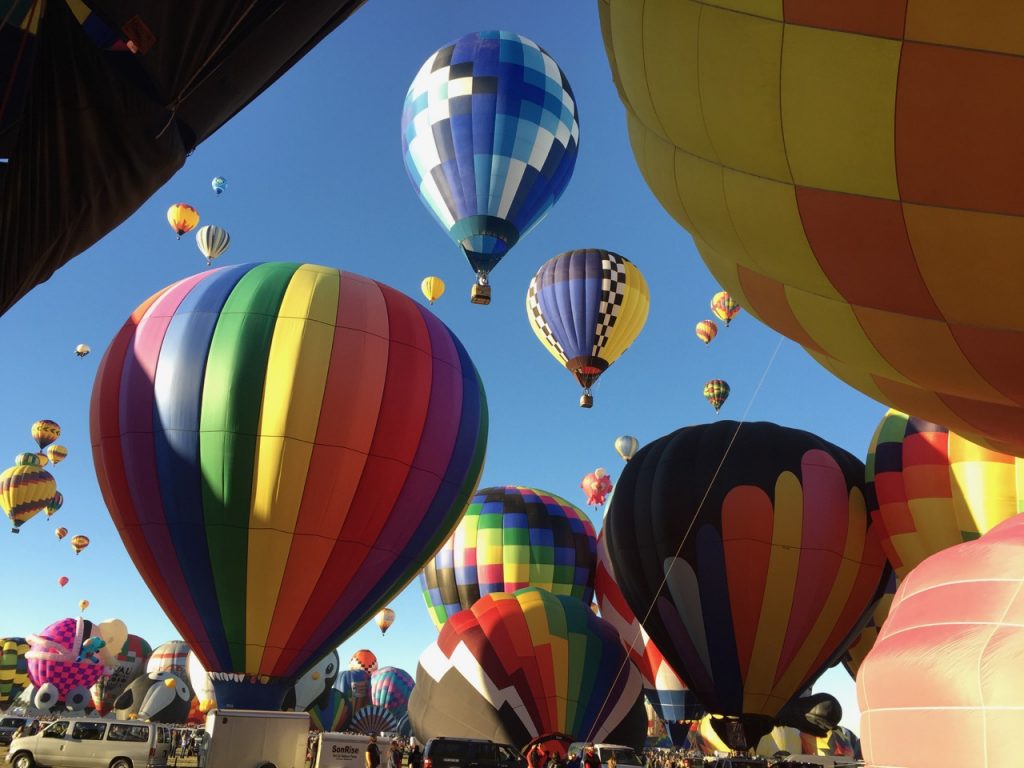 That pink balloon that is kind of in the middle is  Ham-let. It's a flying pig. Sadly I don't think I got a better picture of it this time. In the lower left-hand corner you can see the Baby Buggy inflating and some penguins.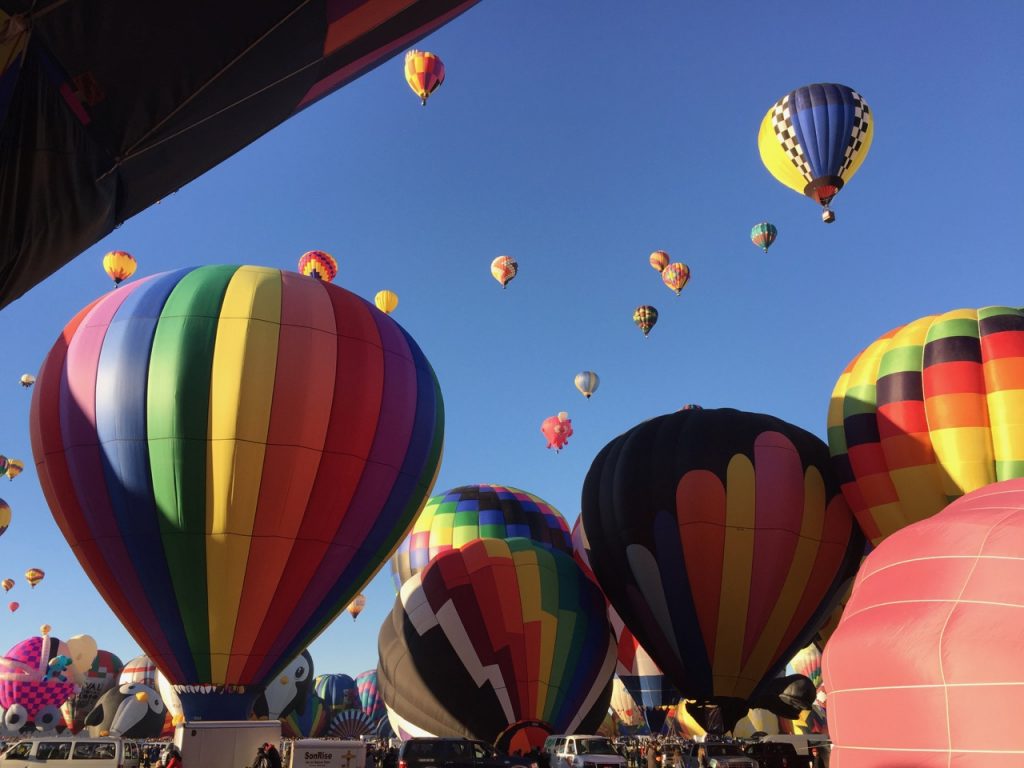 Behind us a line of balloons is getting ready to launch.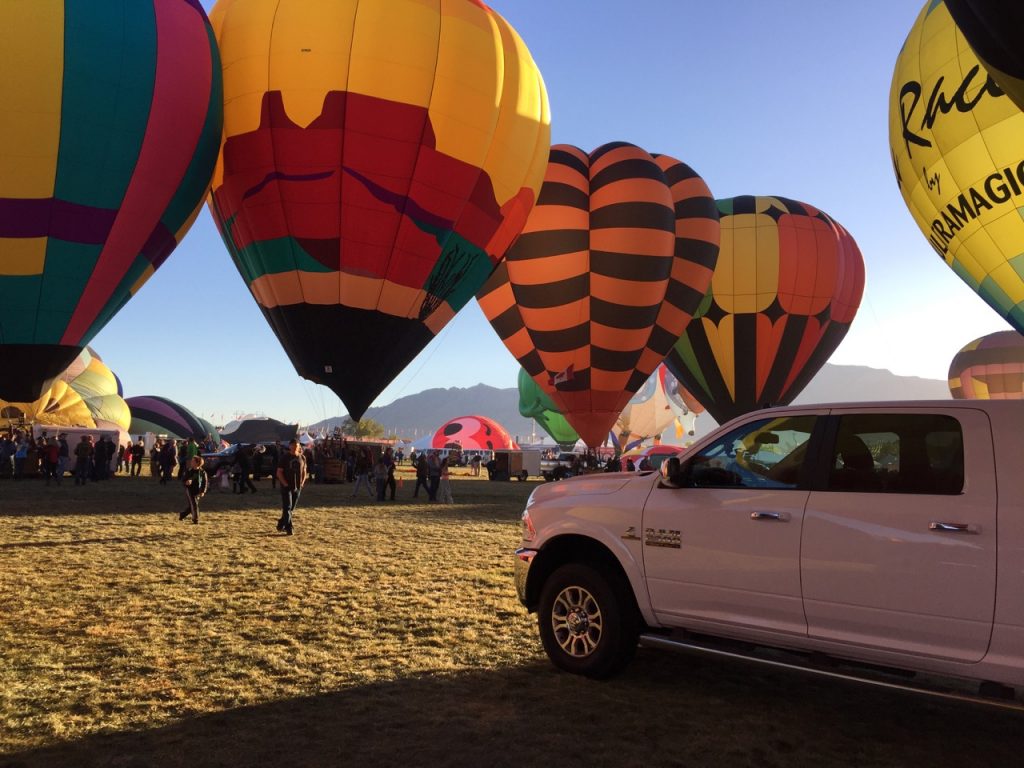 Yep. pretty crowded. You can see that Hendrick's balloon that took off in the first wave still hanging around the field.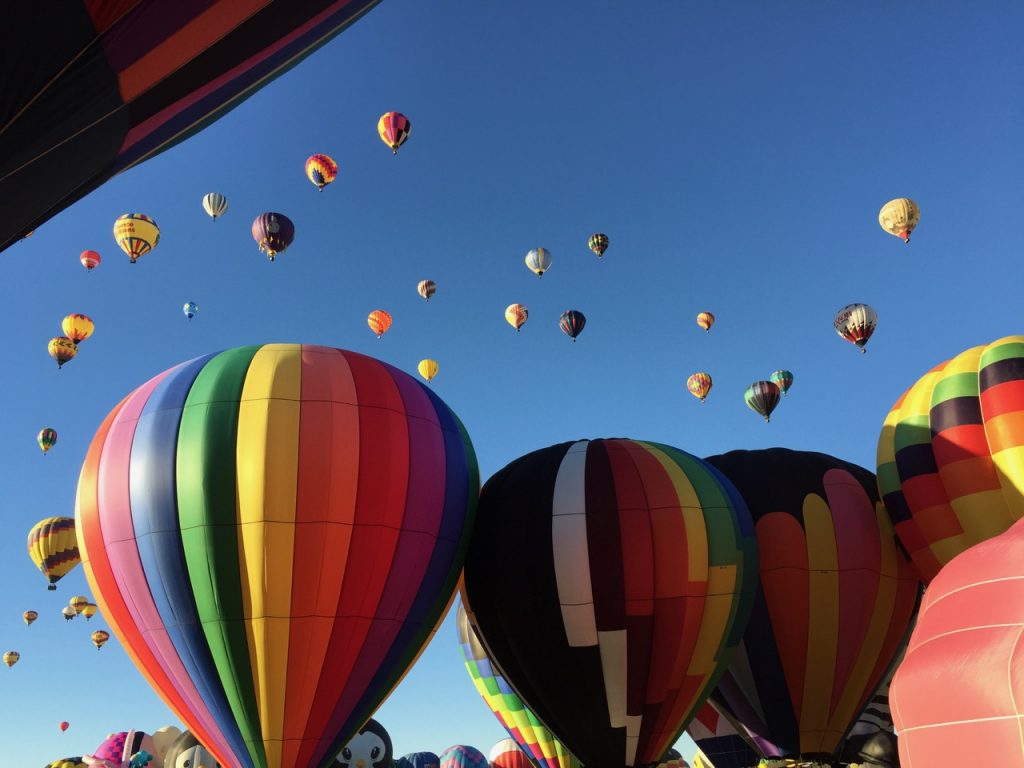 Gloria Caeli is a tie-dyed balloon!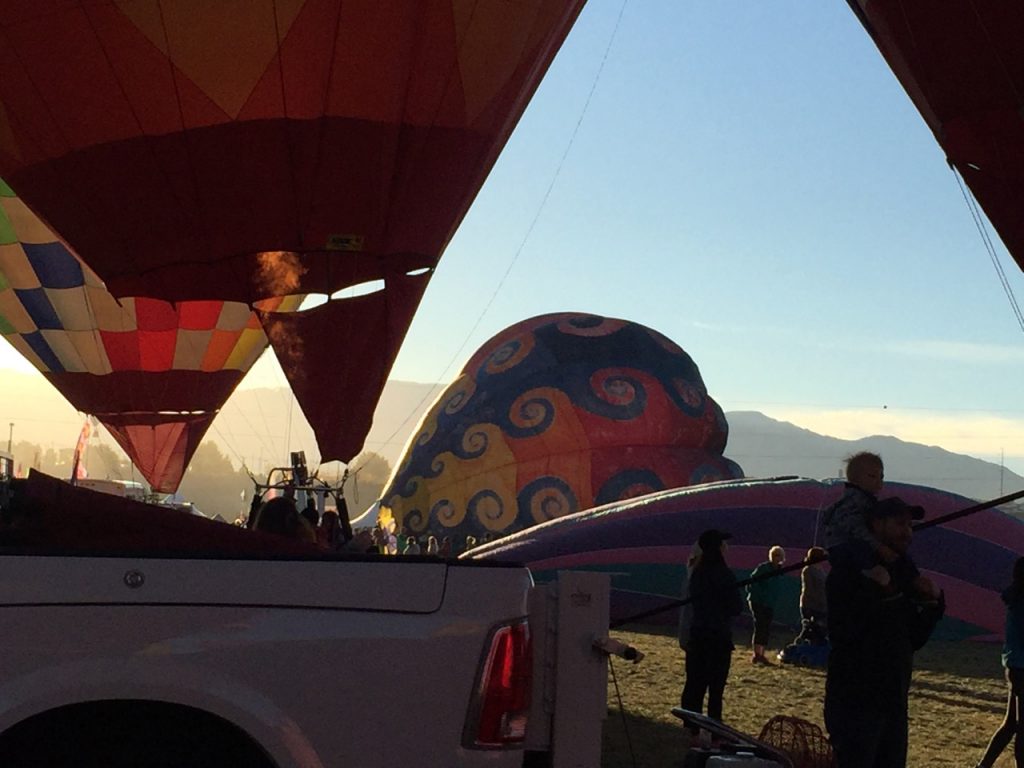 Desert Flying Viking.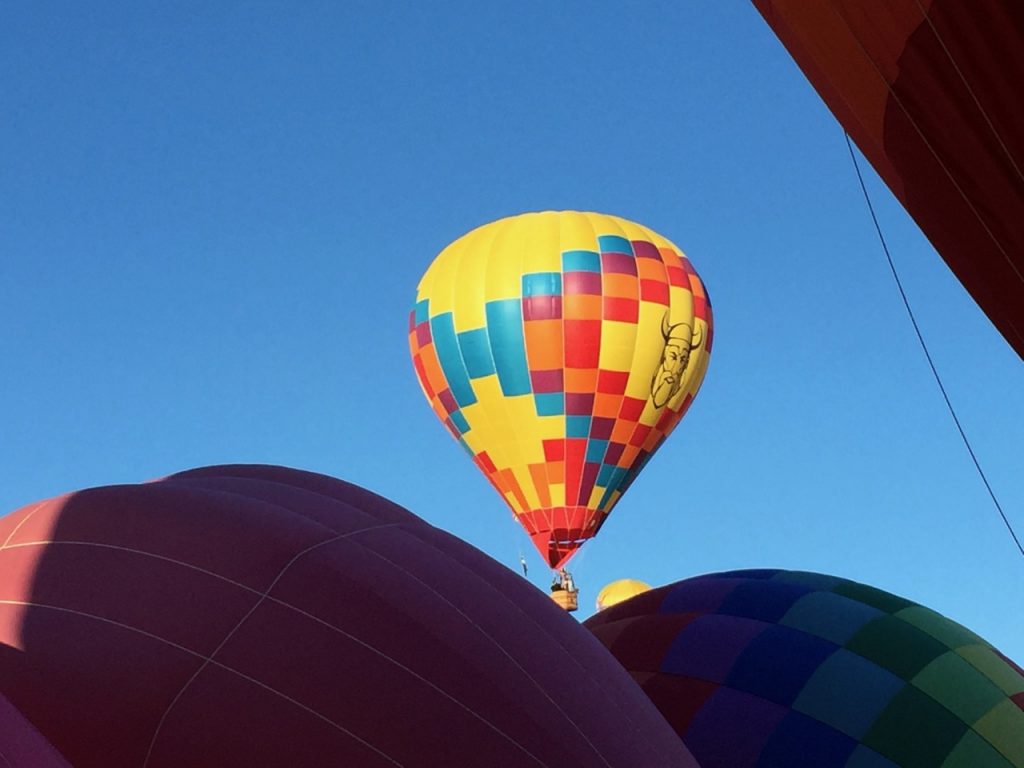 Couple of penguins taking off. One is Tall Steve. The other is probably Splash.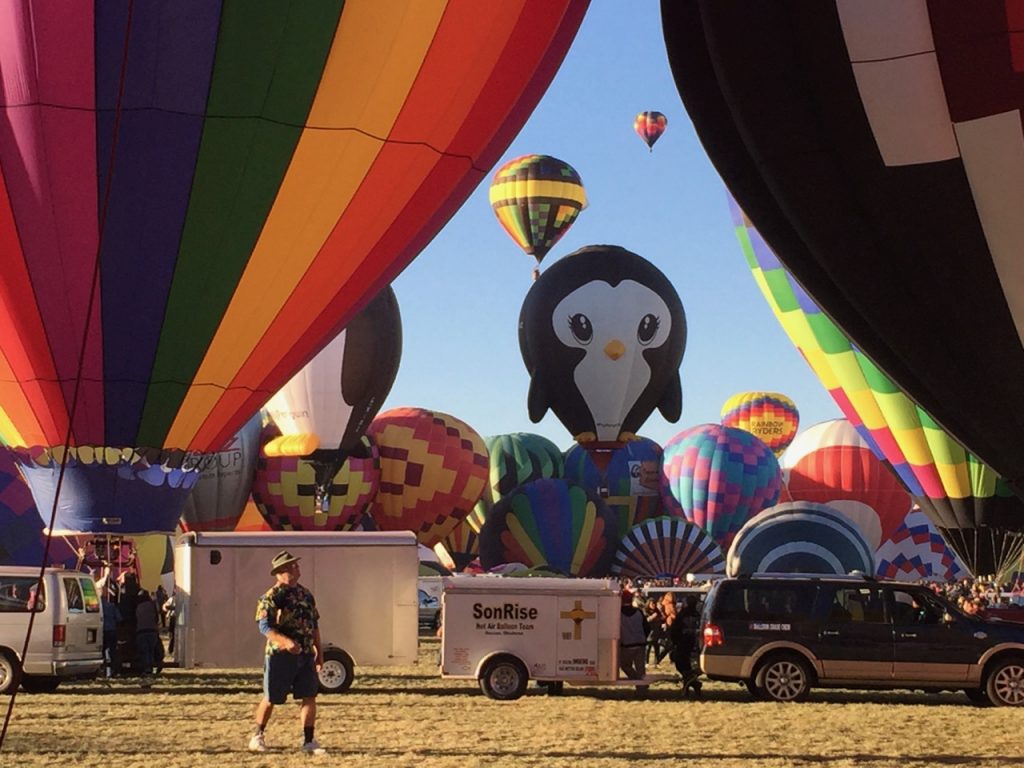 Con-Air taking off.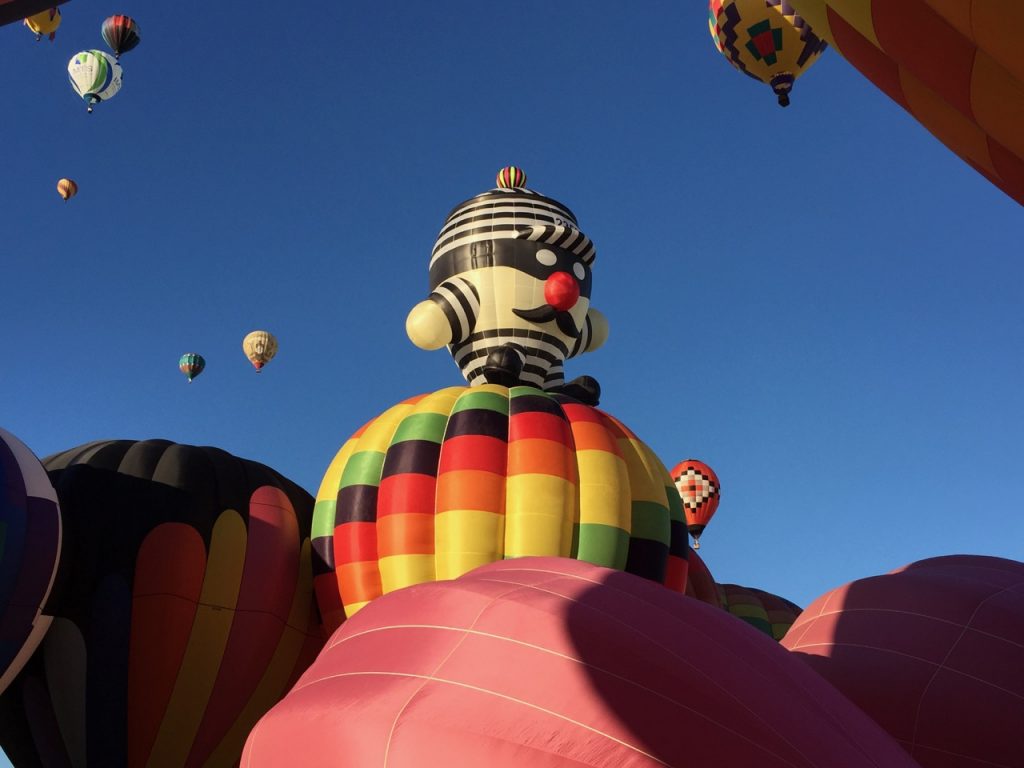 The Journey is the one with all the stars and comets.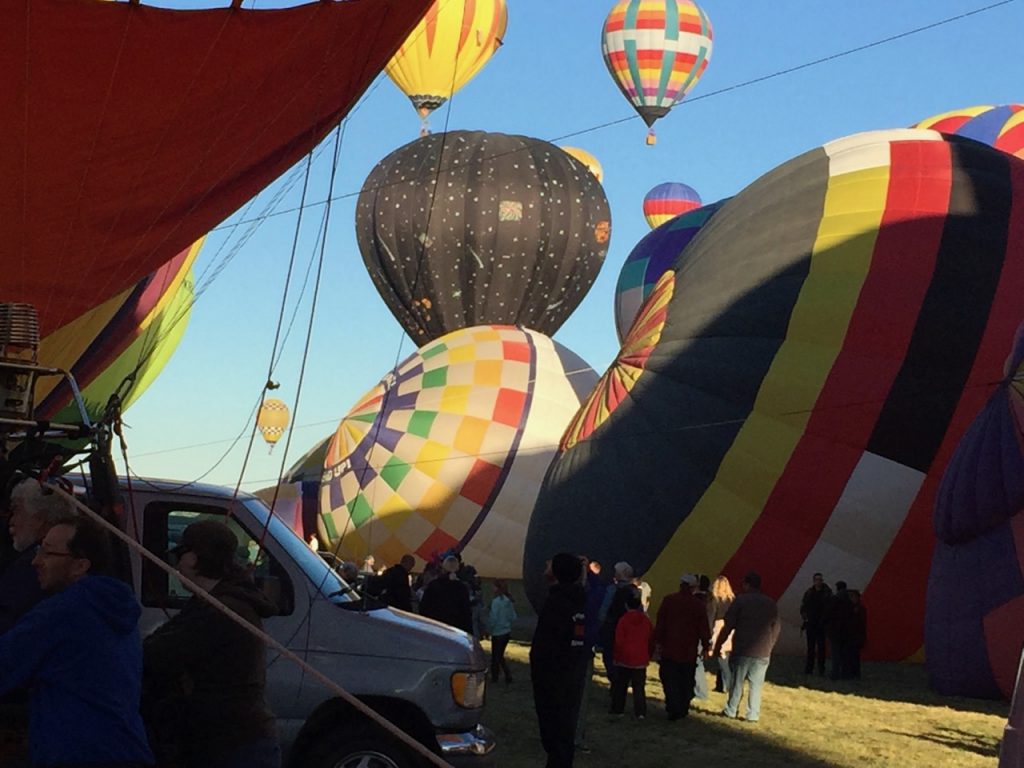 Oh there's Ham-let.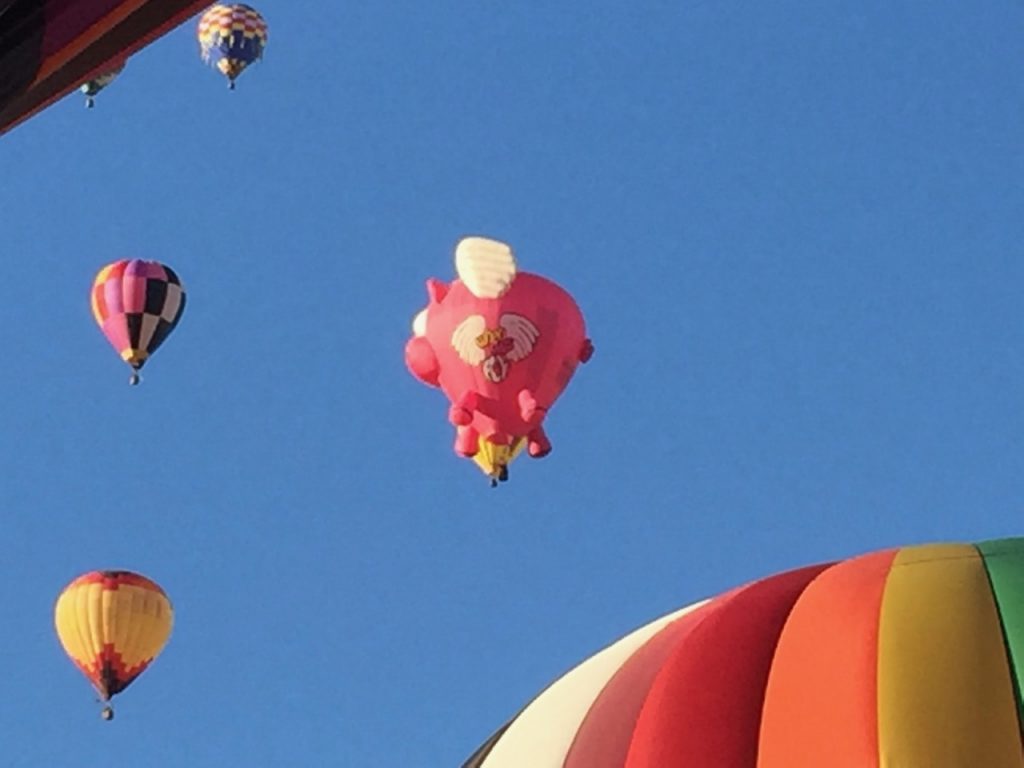 Seriously, this one is called In the Buff. Get it? Because it has buffalo.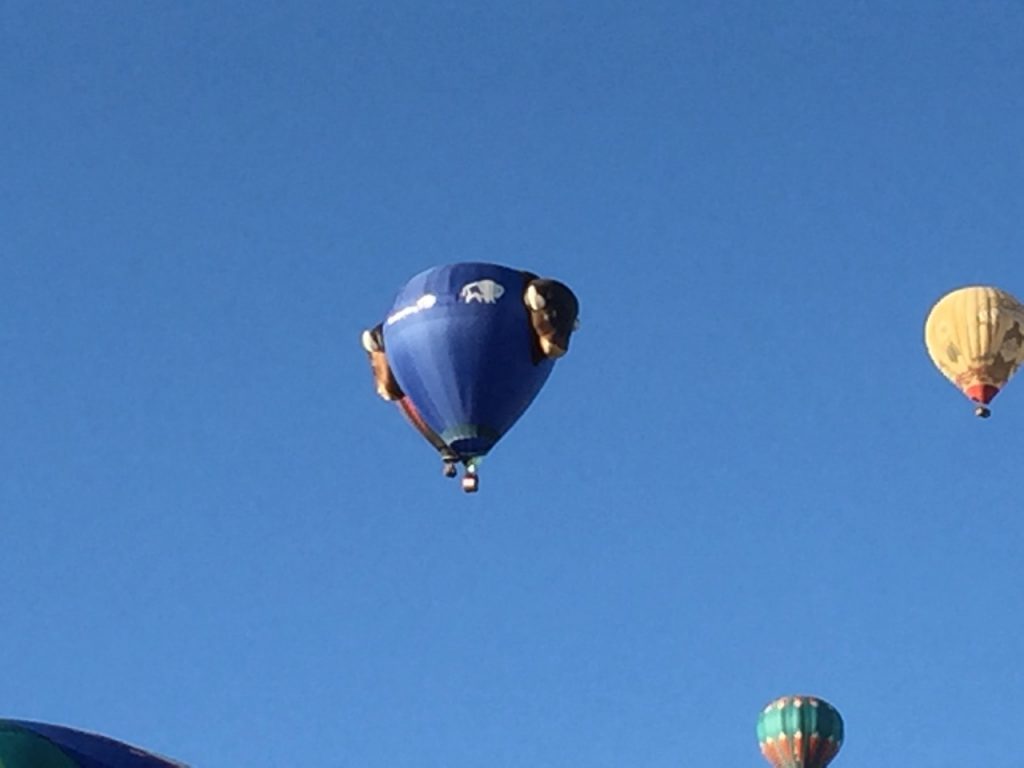 A sky full of balloons.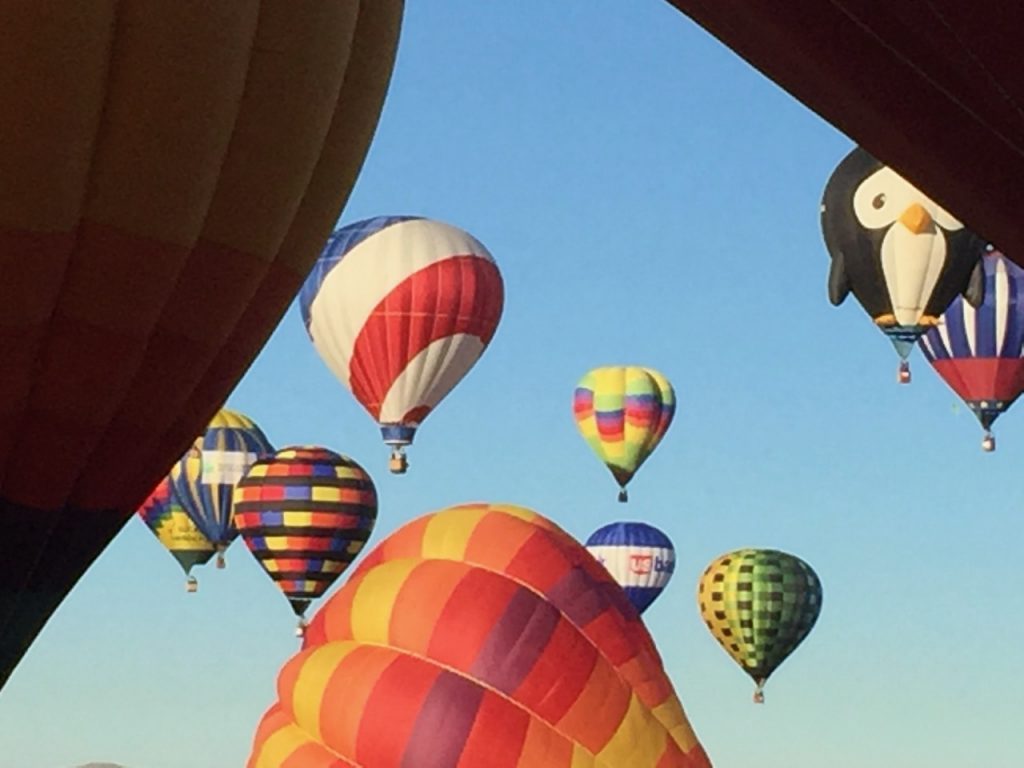 This is one of my favorite balloons but I'm even more thrilled knowing that it is Koshare Gallup. Koshare is a pueblo clown. So of course I was drawn to it.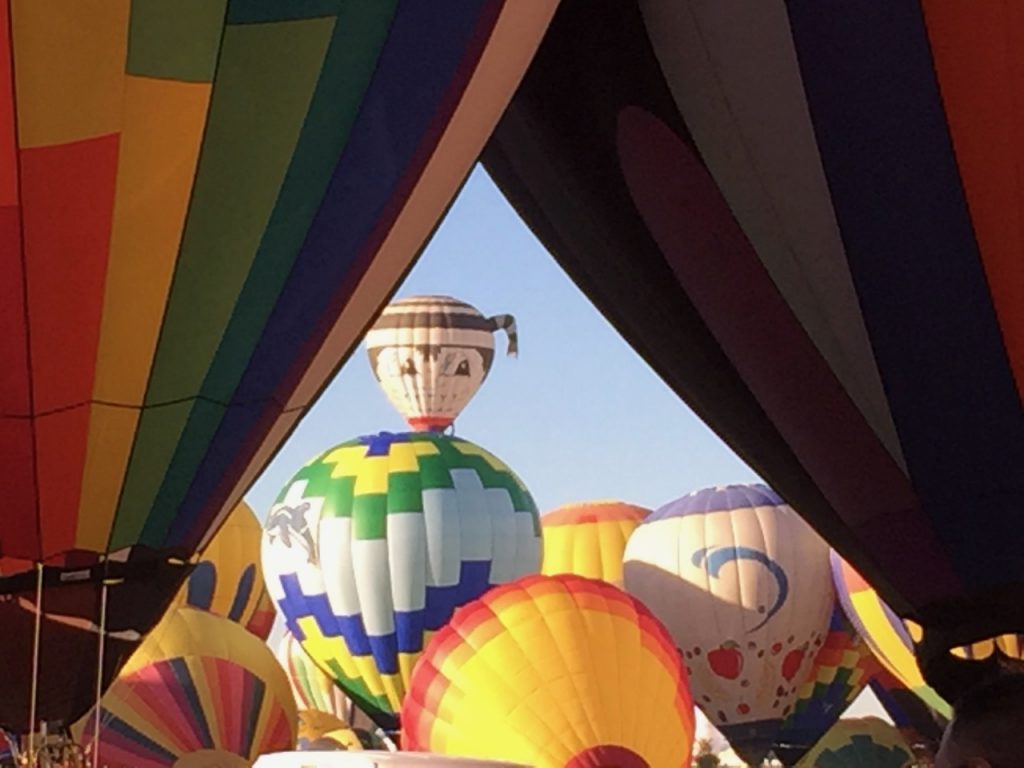 And they keep taking off!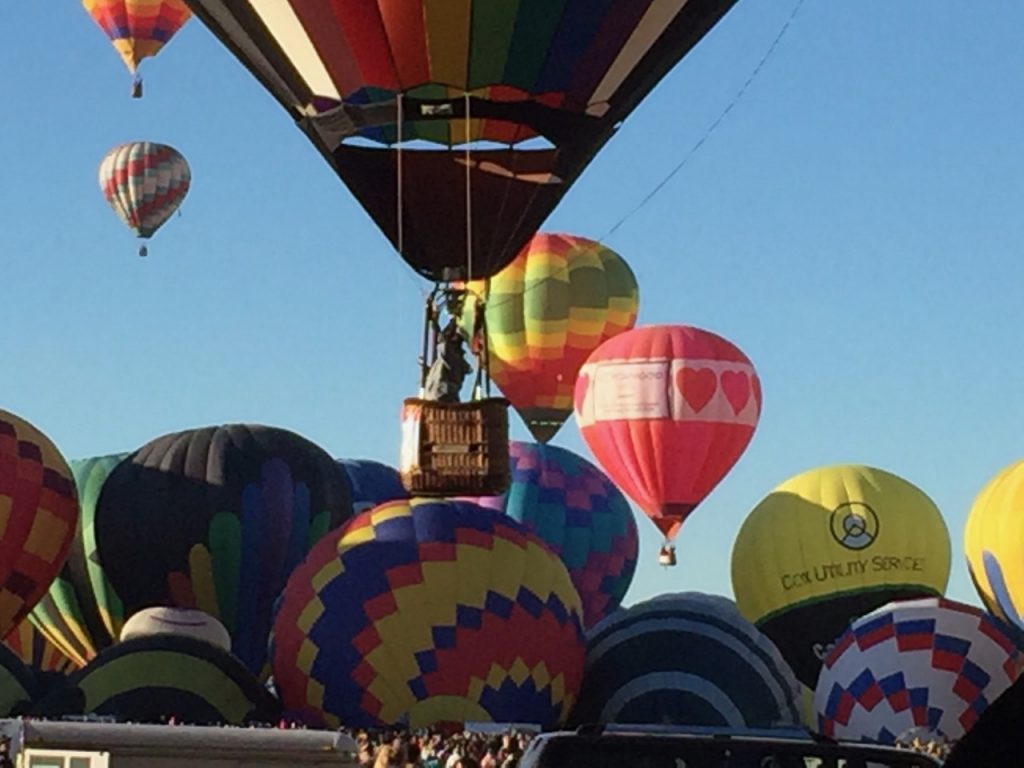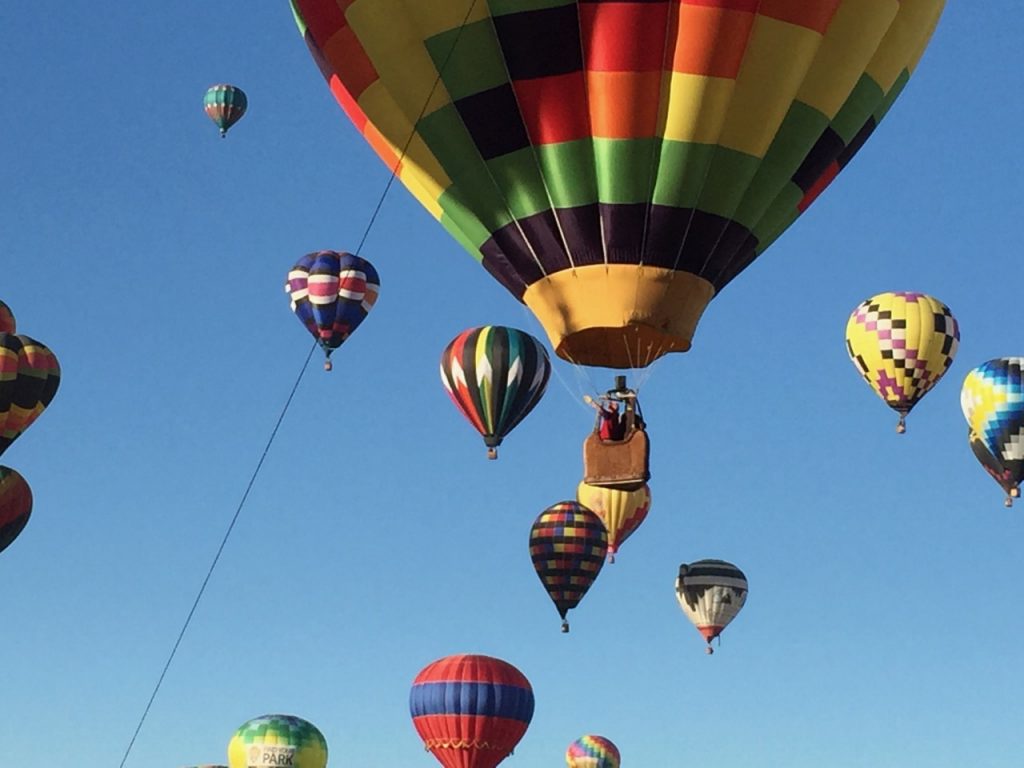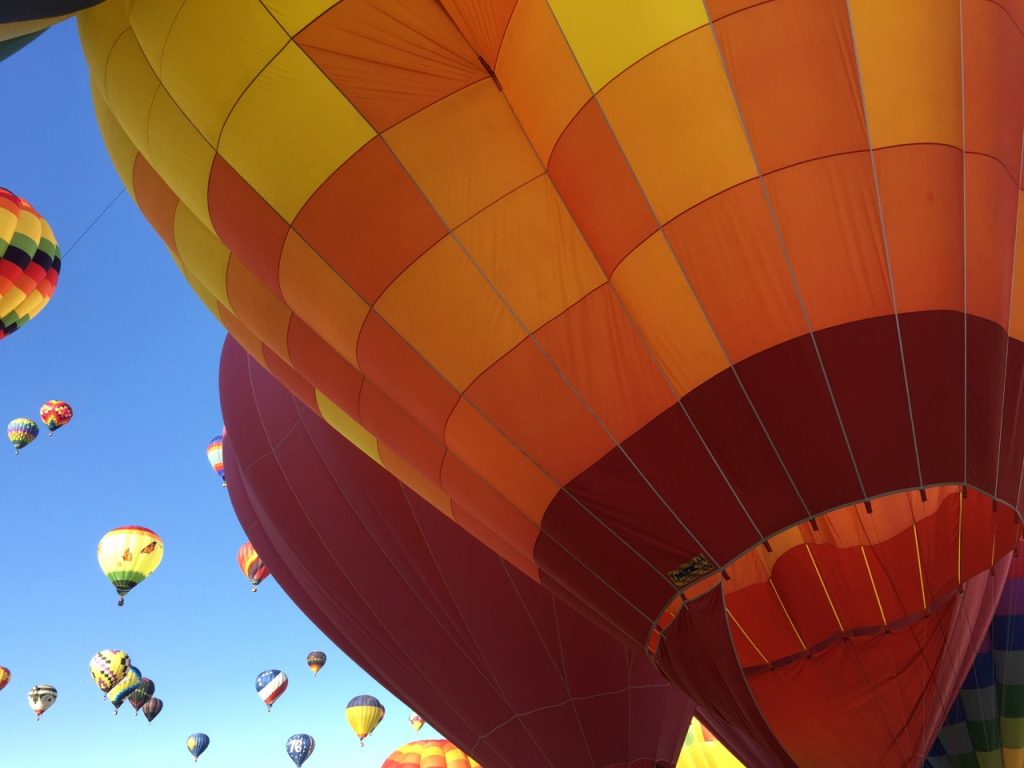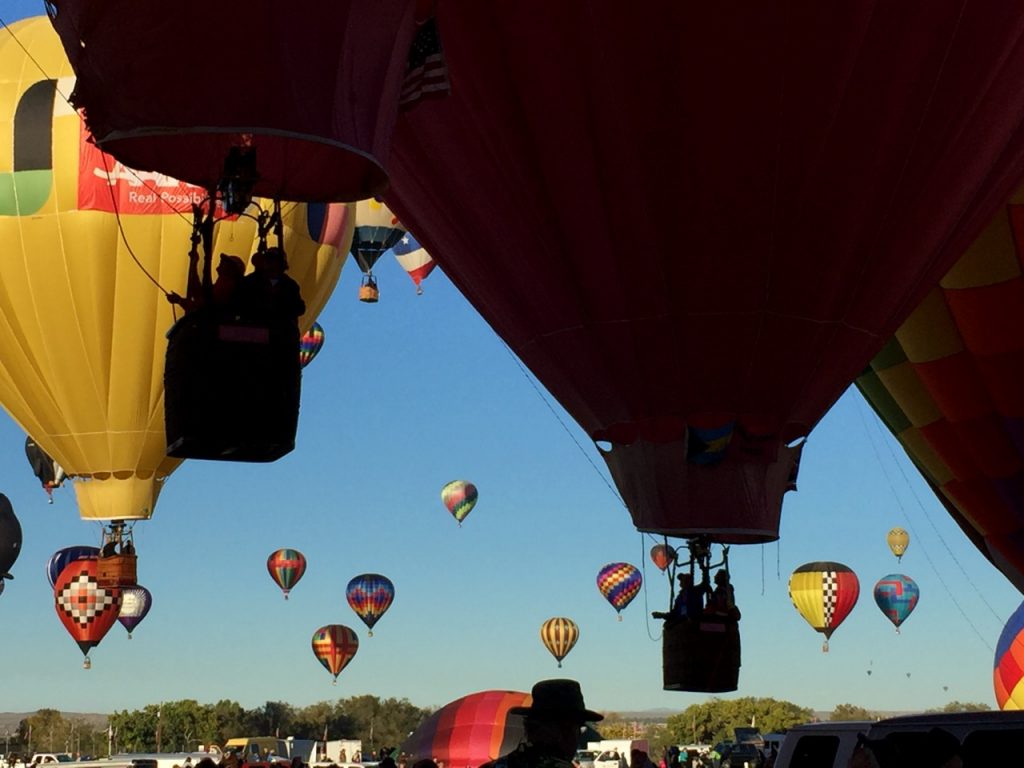 At this point some balloons decide that maybe it's too crowded to take off. The balloons are just hovering over the field. Floating back and forth.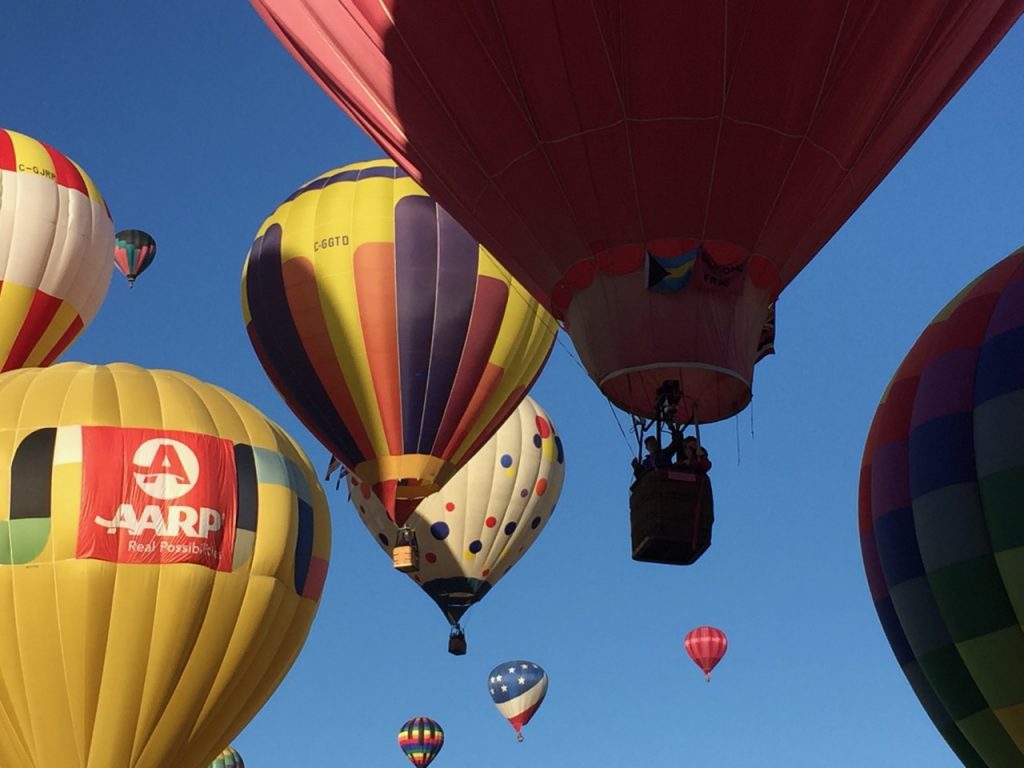 You can see both Splash and Puddles here. And maybe even Tall Steve between them.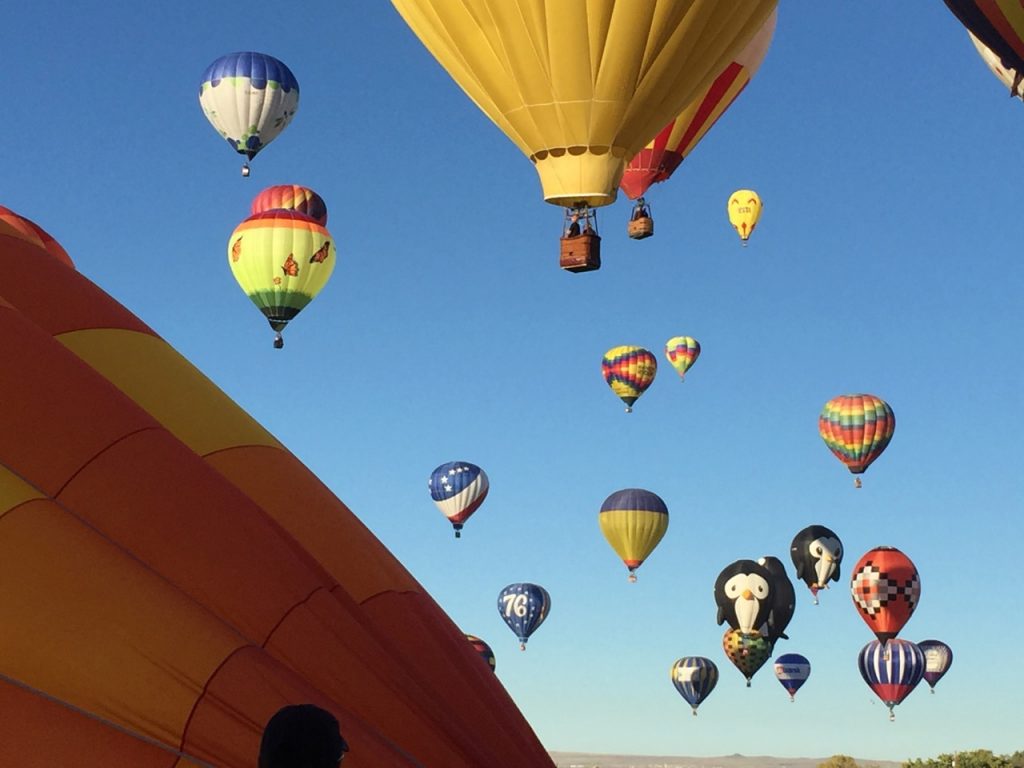 Oh look, the bees are inflating!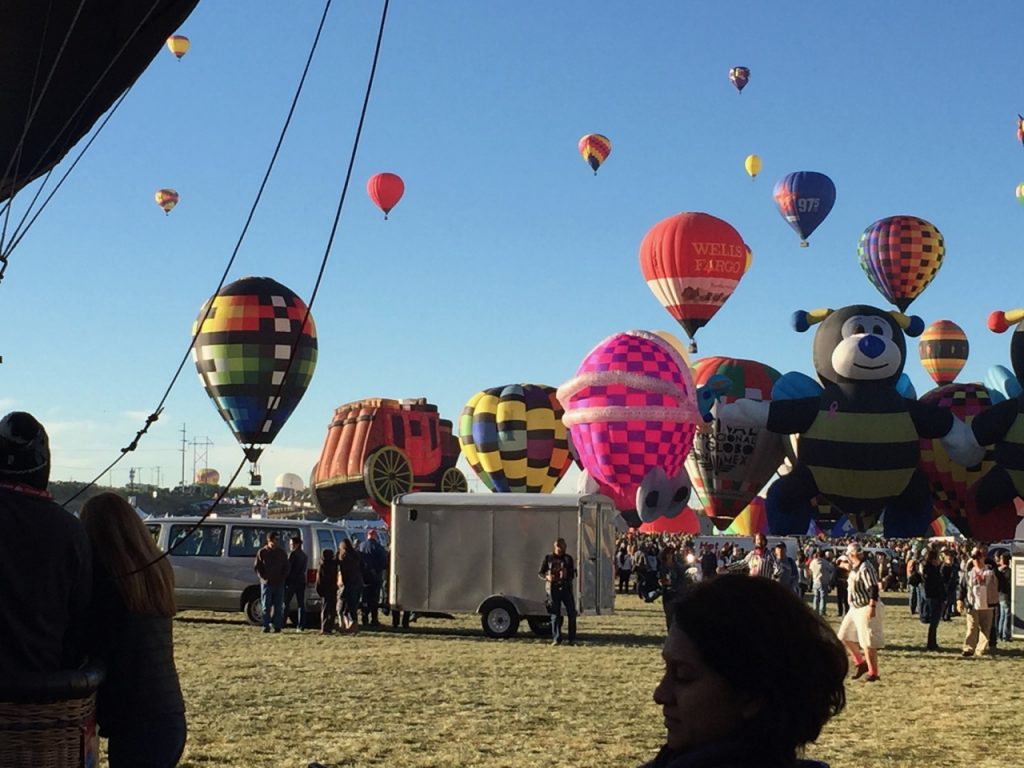 The balloon to our left takes off. The Last Mango decided not to fly today.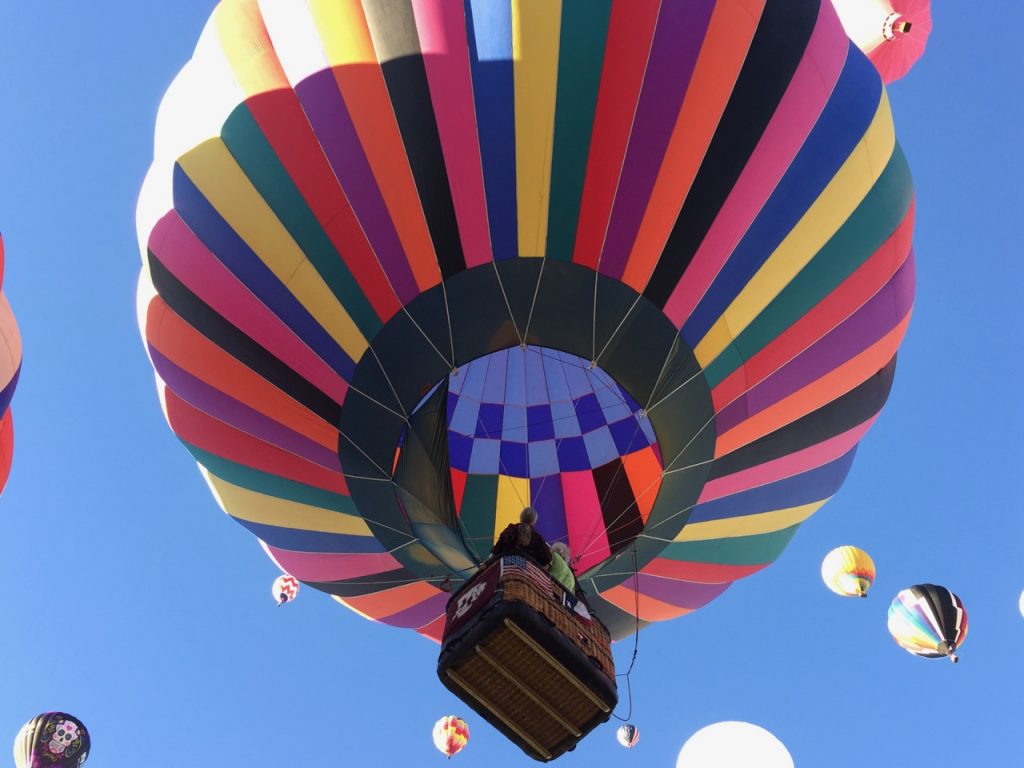 You can see the back of Smokey Bear's head there.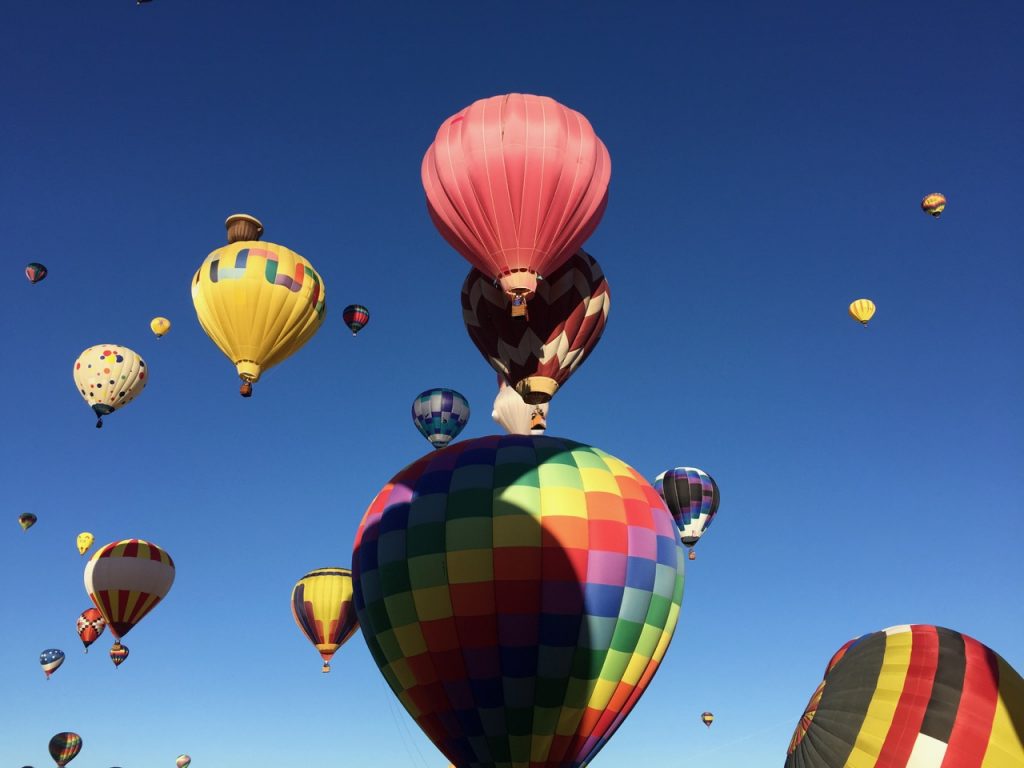 Synchronicity.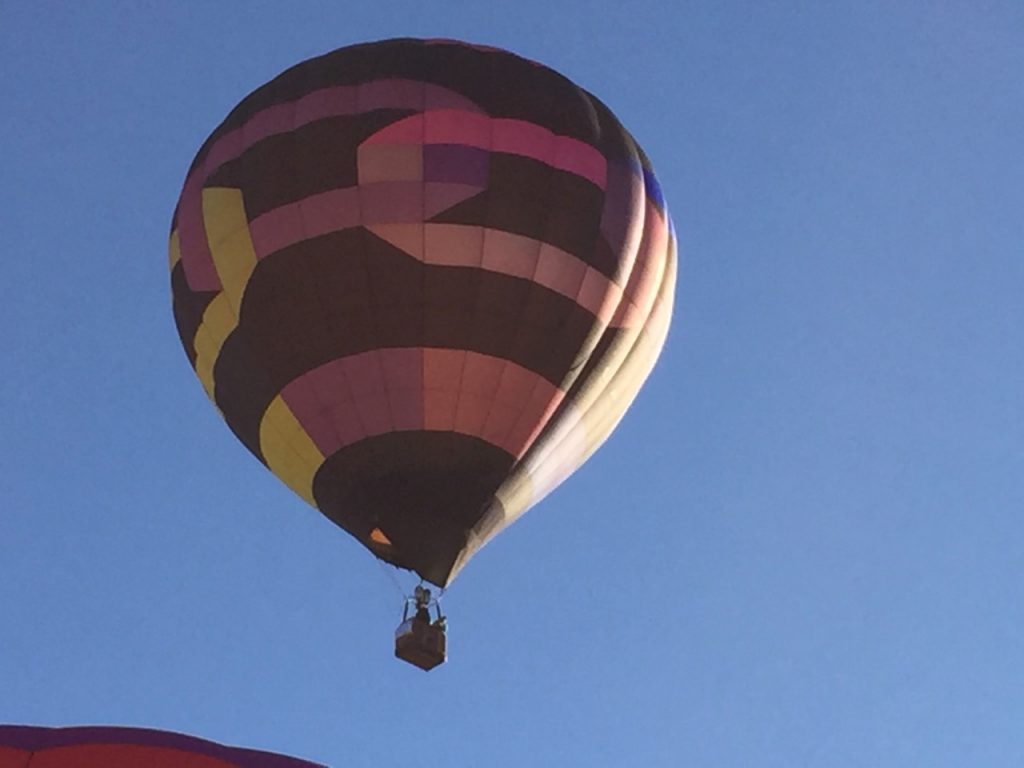 There's a bunny hiding amongst all those balloons.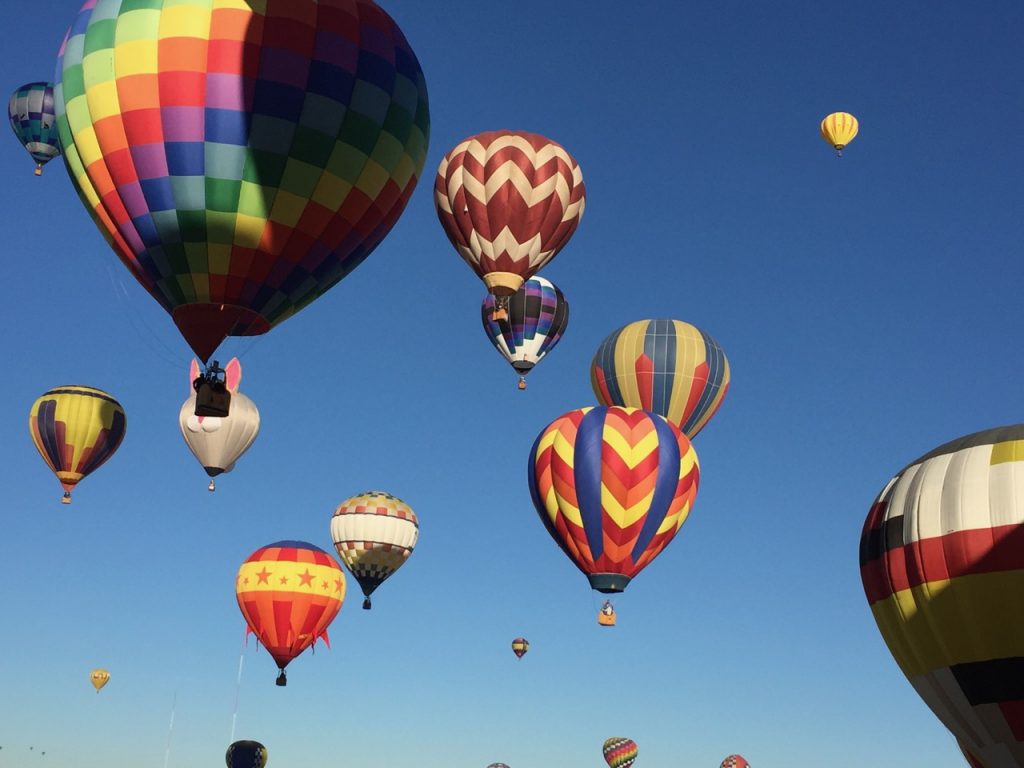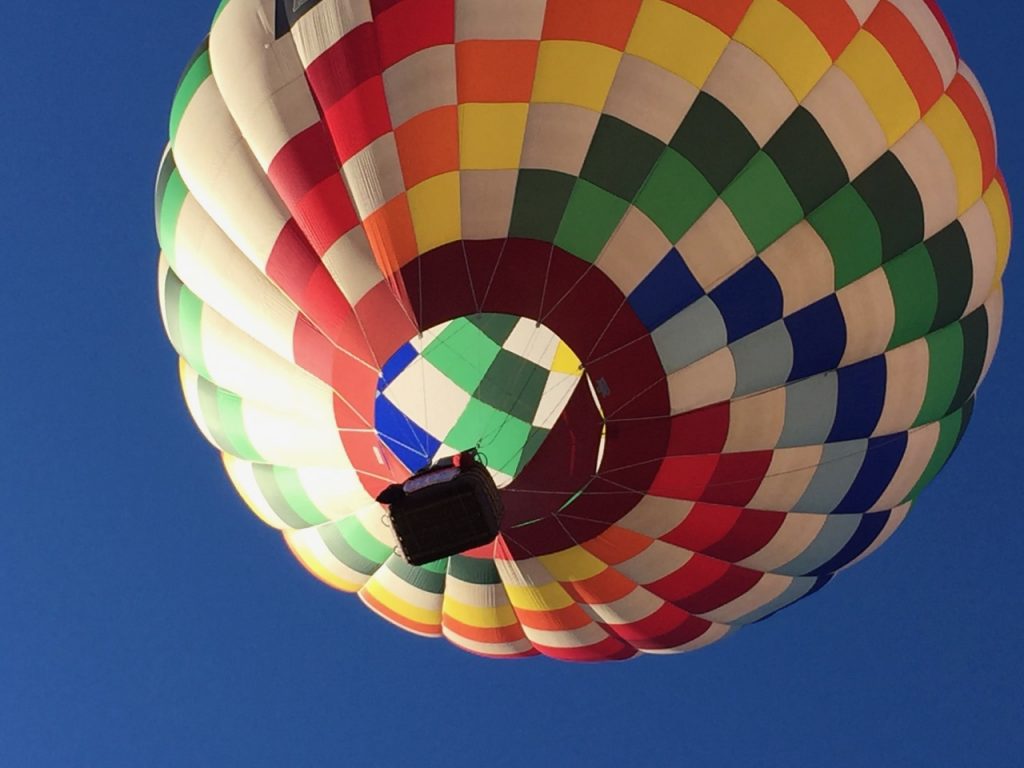 Oh there he is.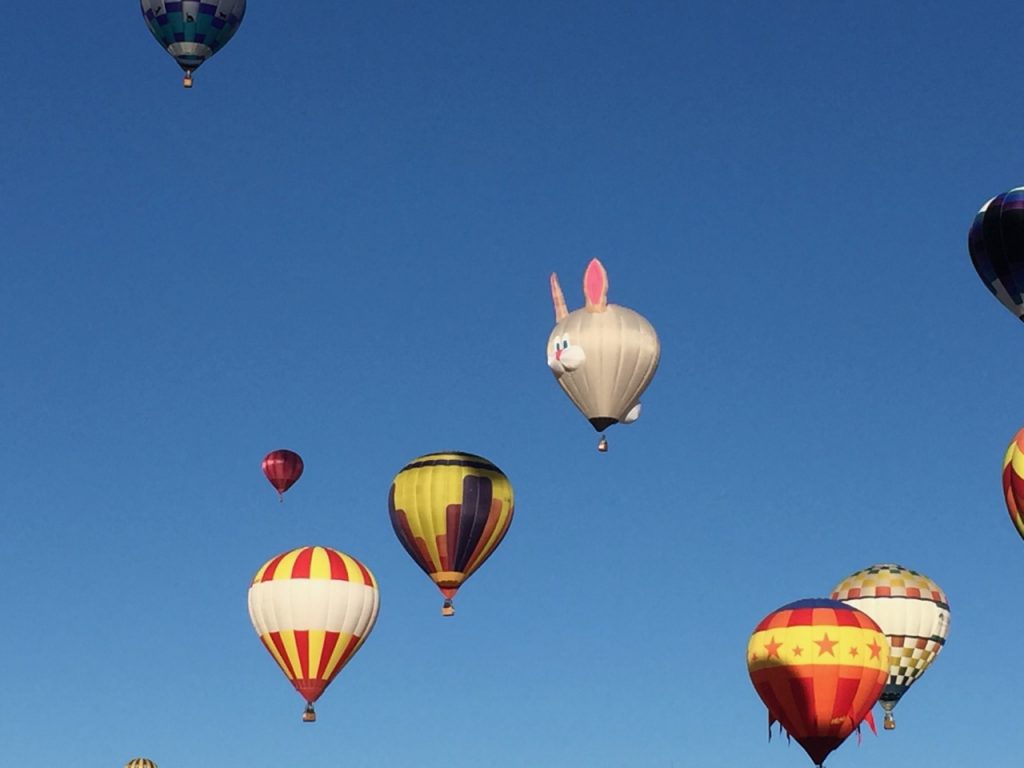 Bit of a traffic jam.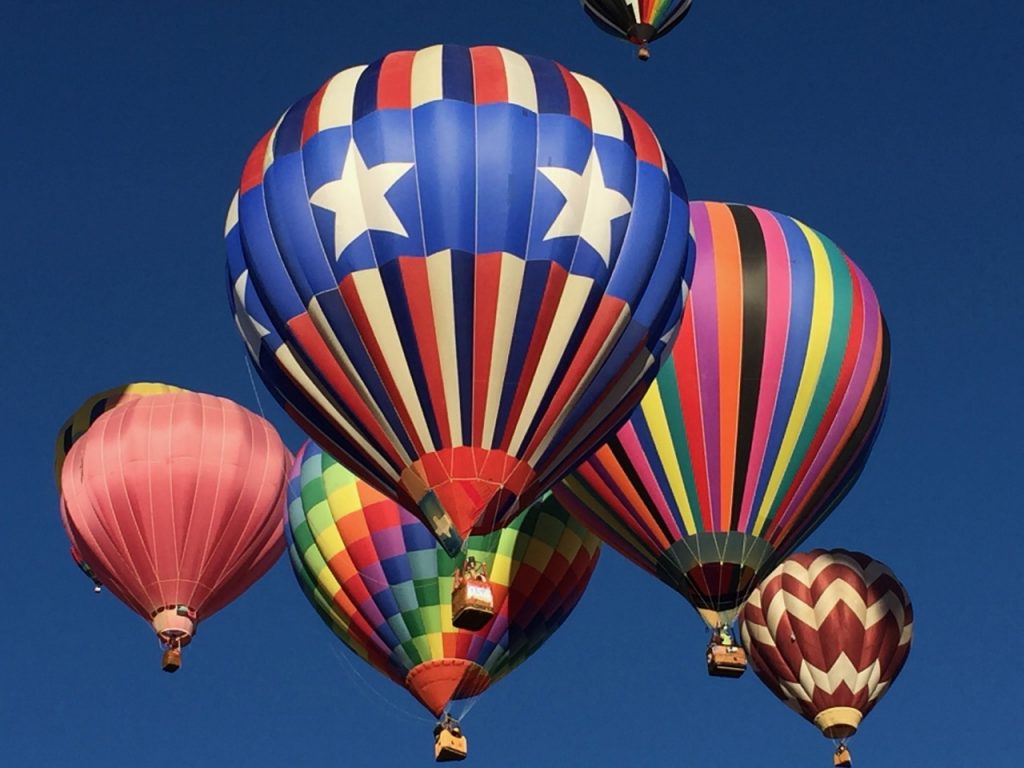 Luna there with the crescent moon and stars.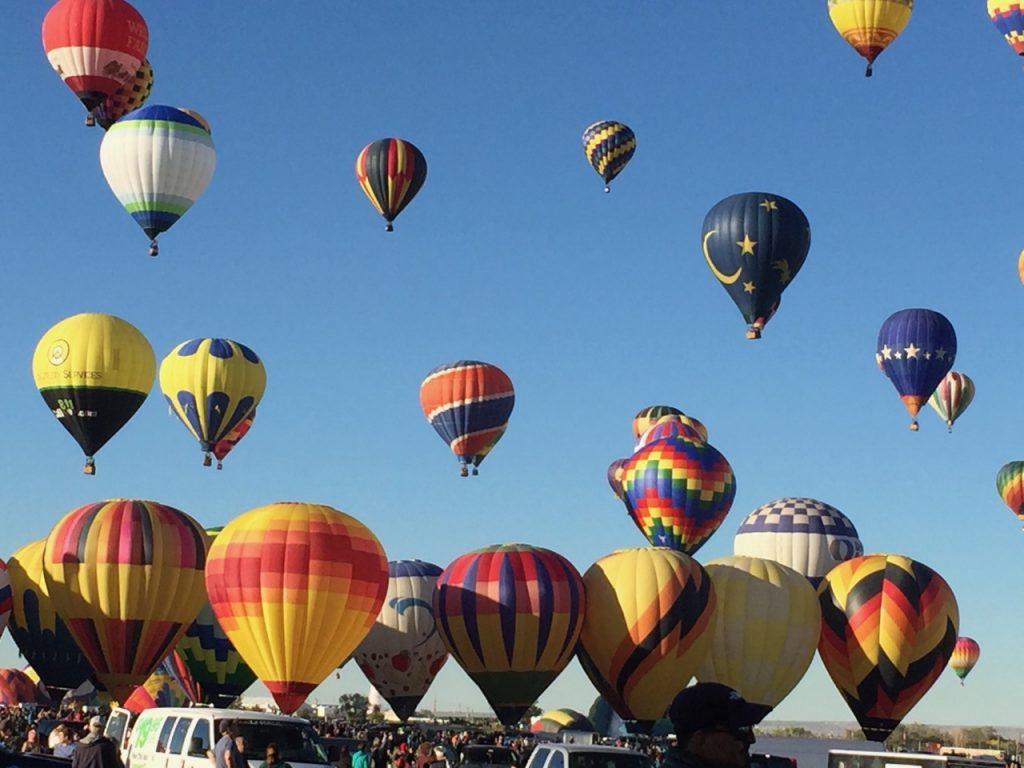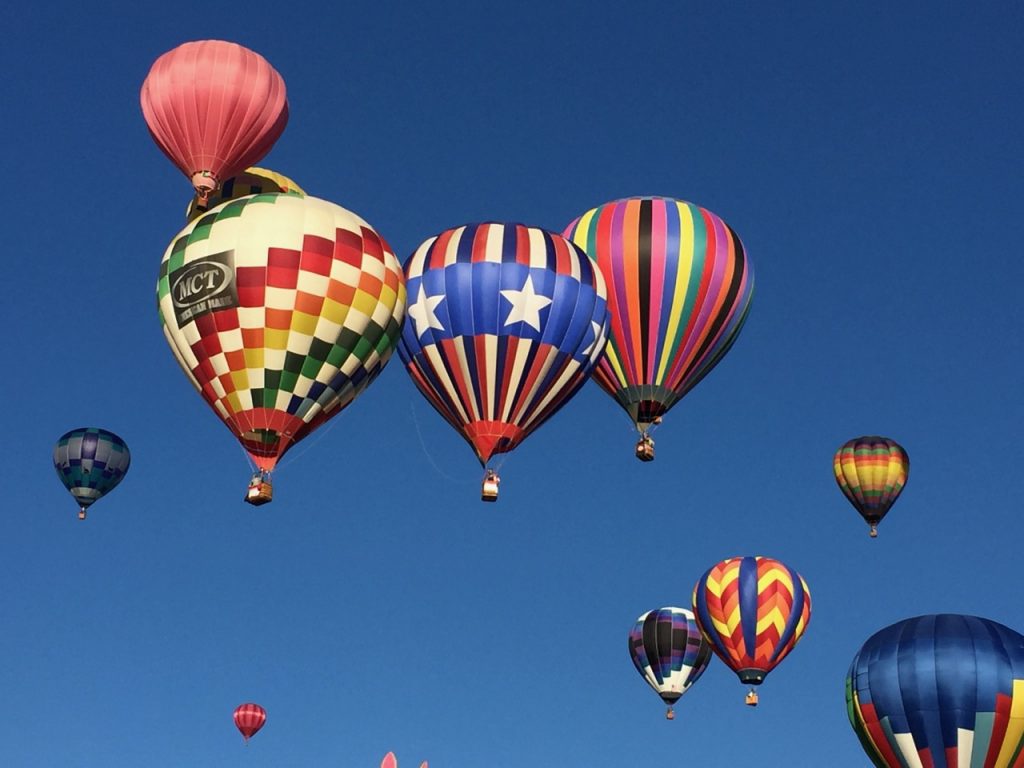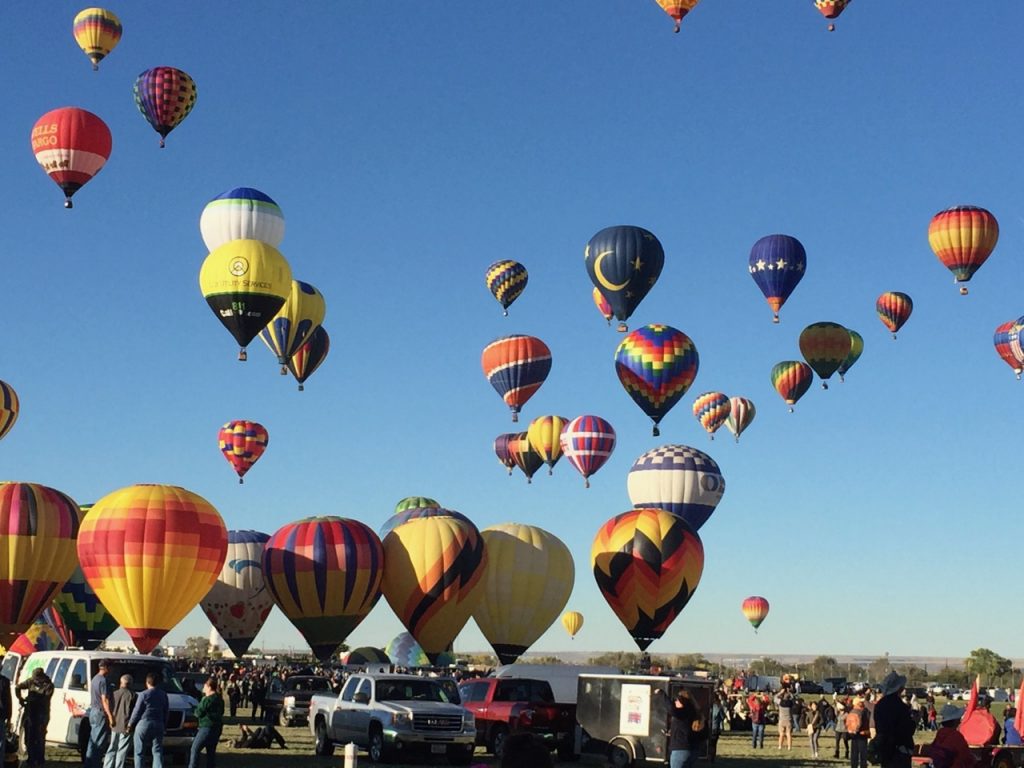 Pegasus.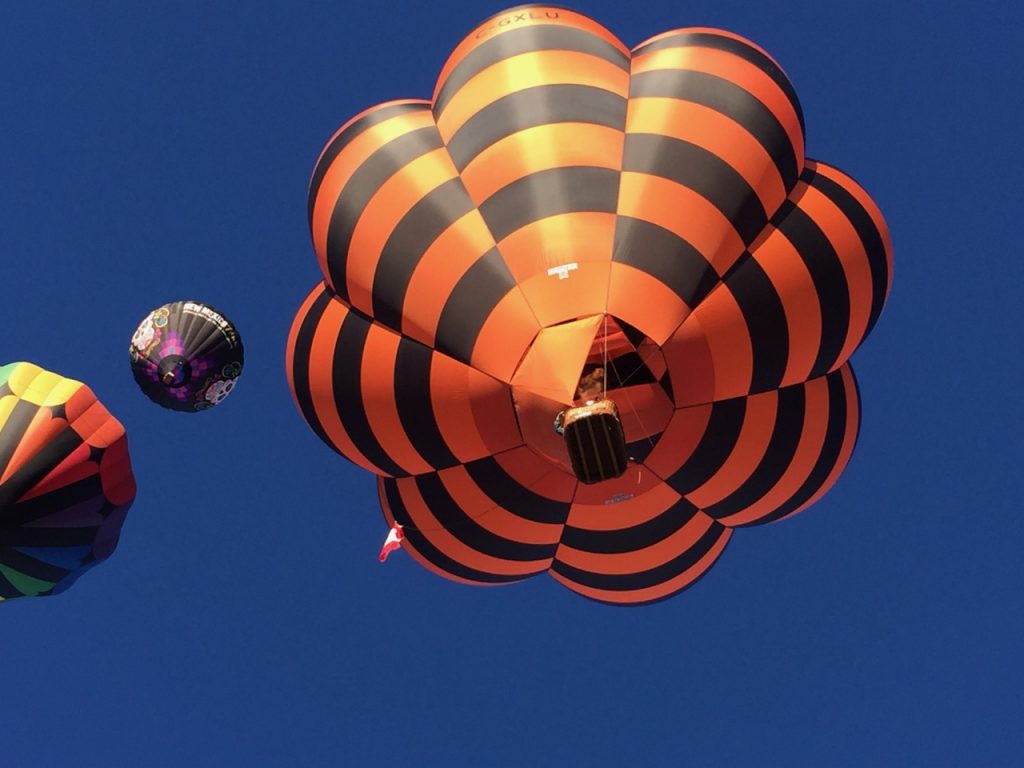 Guess what?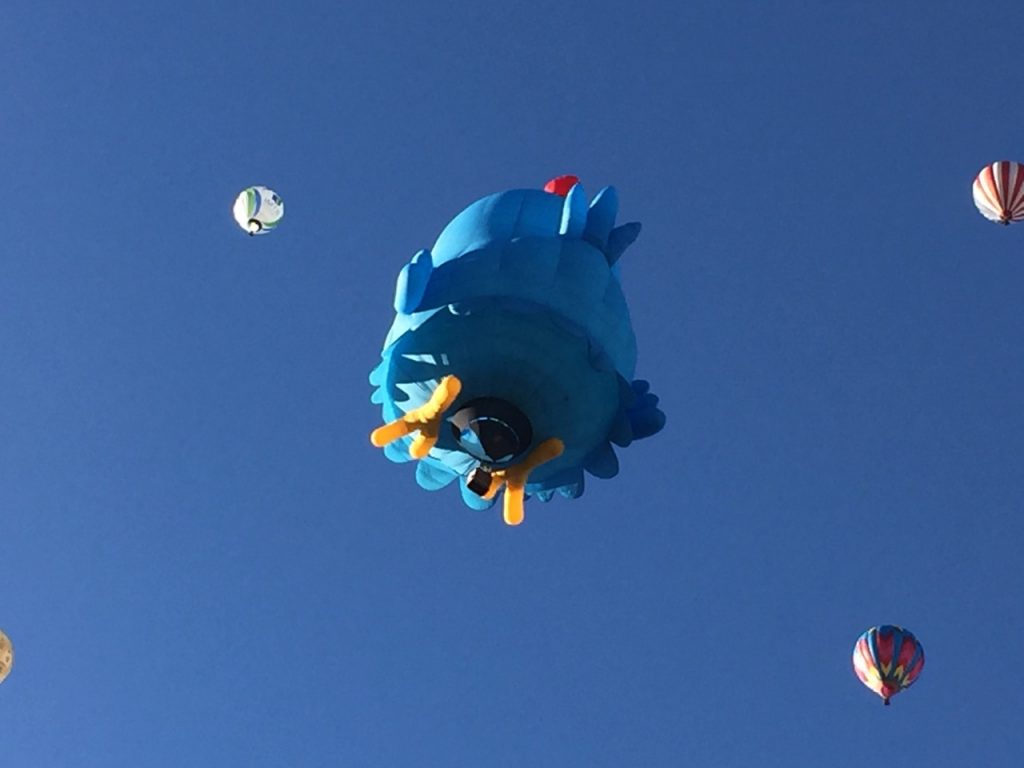 It's pretty amazing watching the balloons just kind of drift back and forth across the field.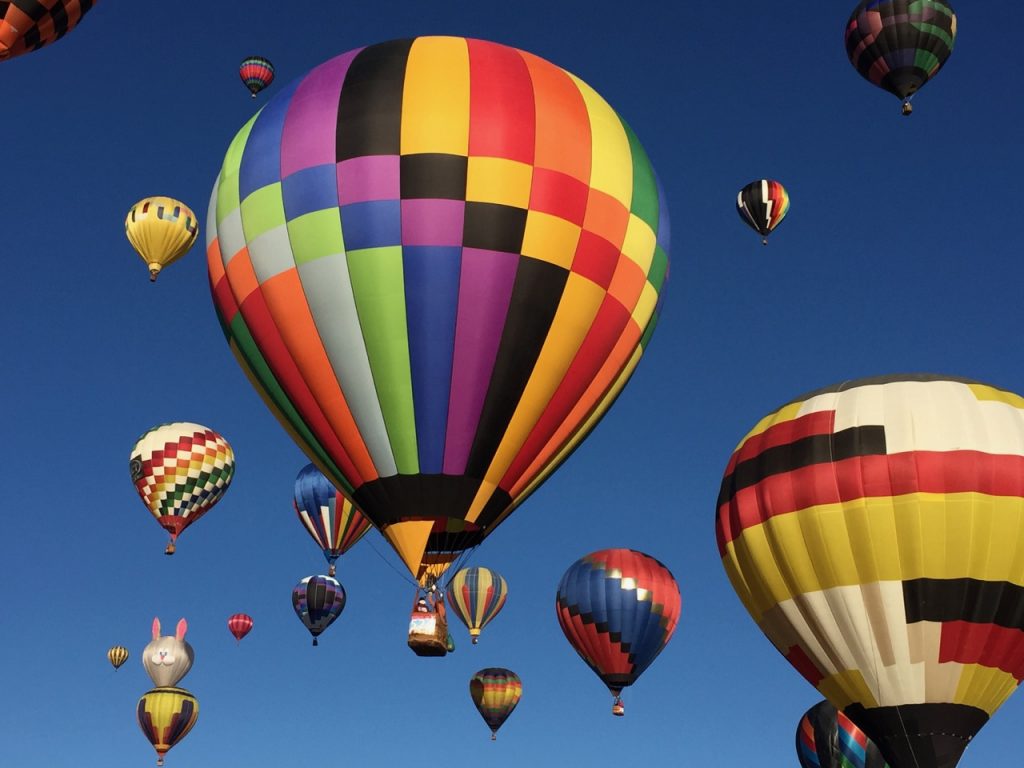 I thought this was a weasel. But it's actually Armadillo.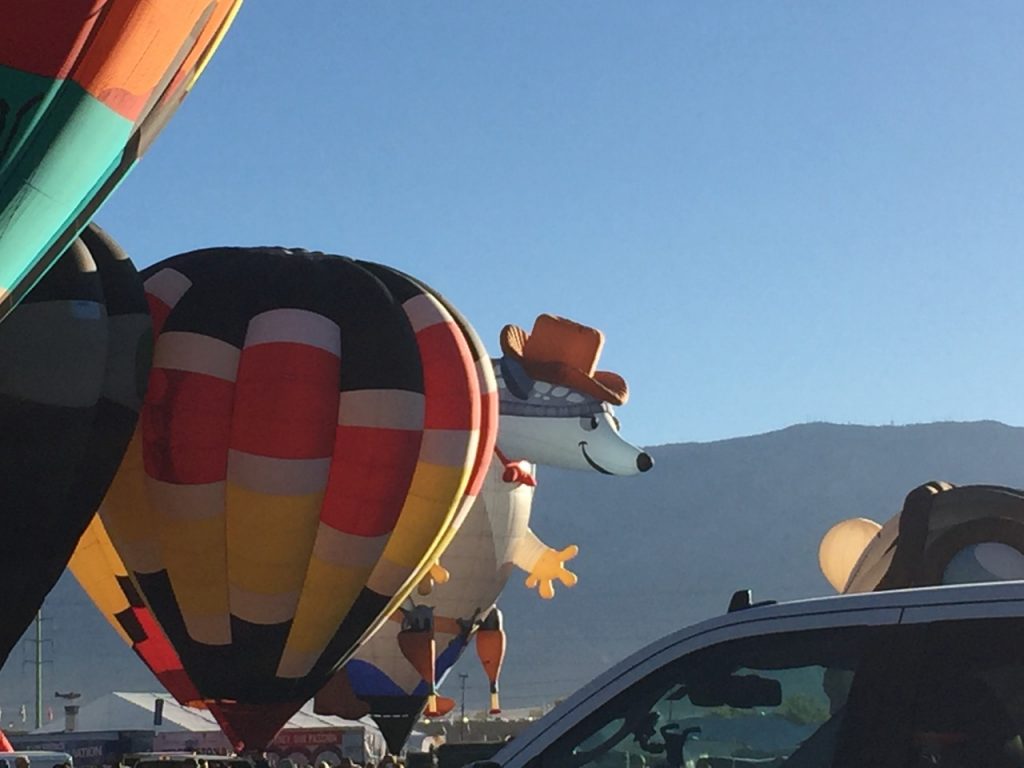 Hyla the Frog.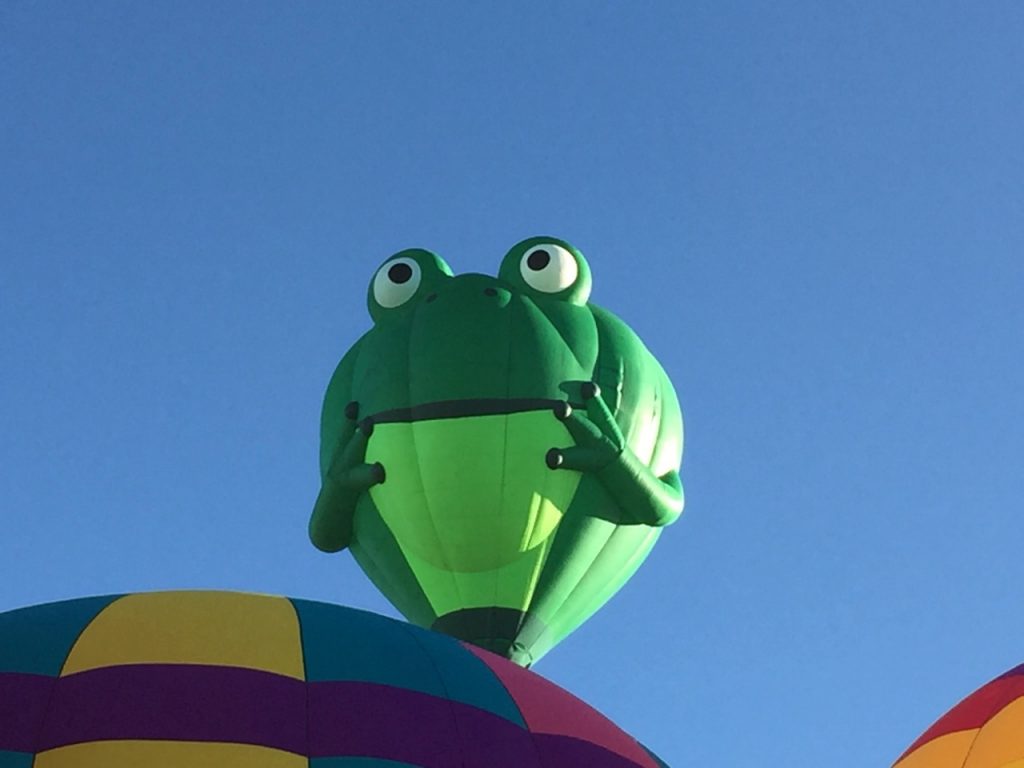 Zia.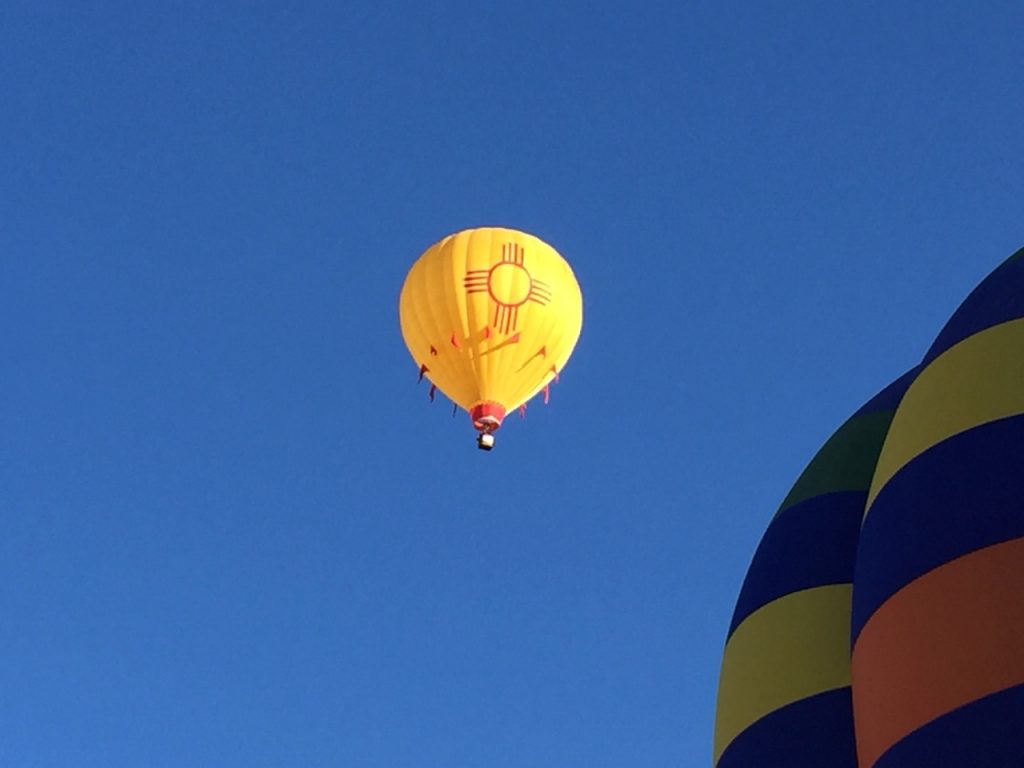 More crowded skies.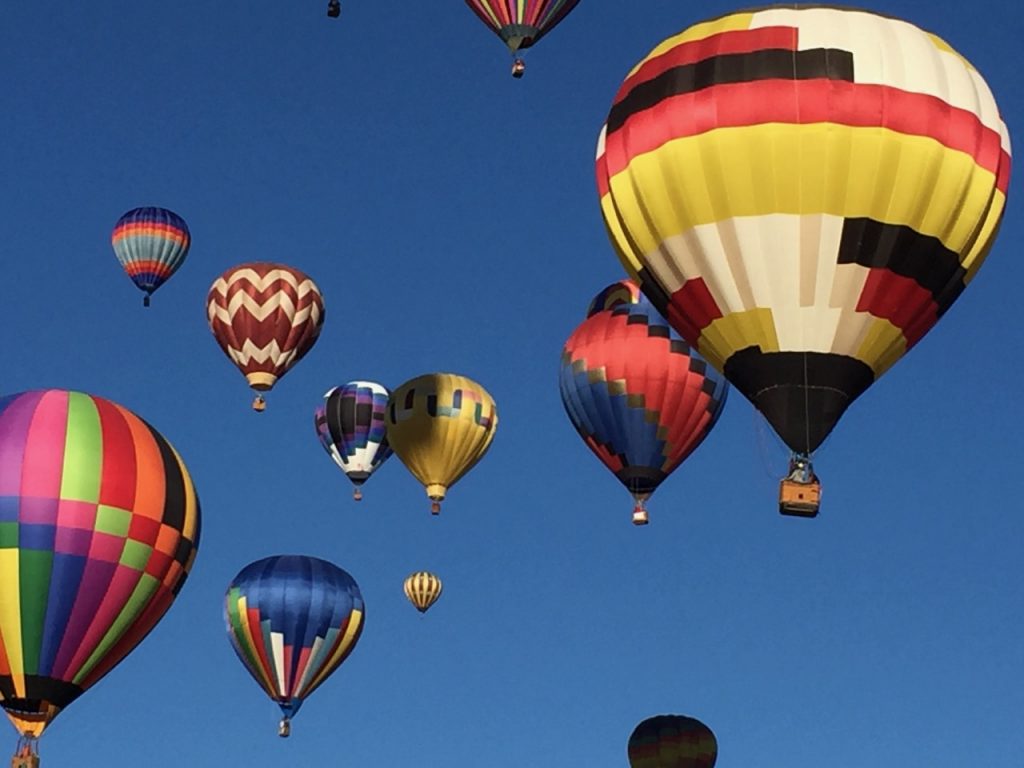 And more getting ready to lift off. Plus a slice of thumb!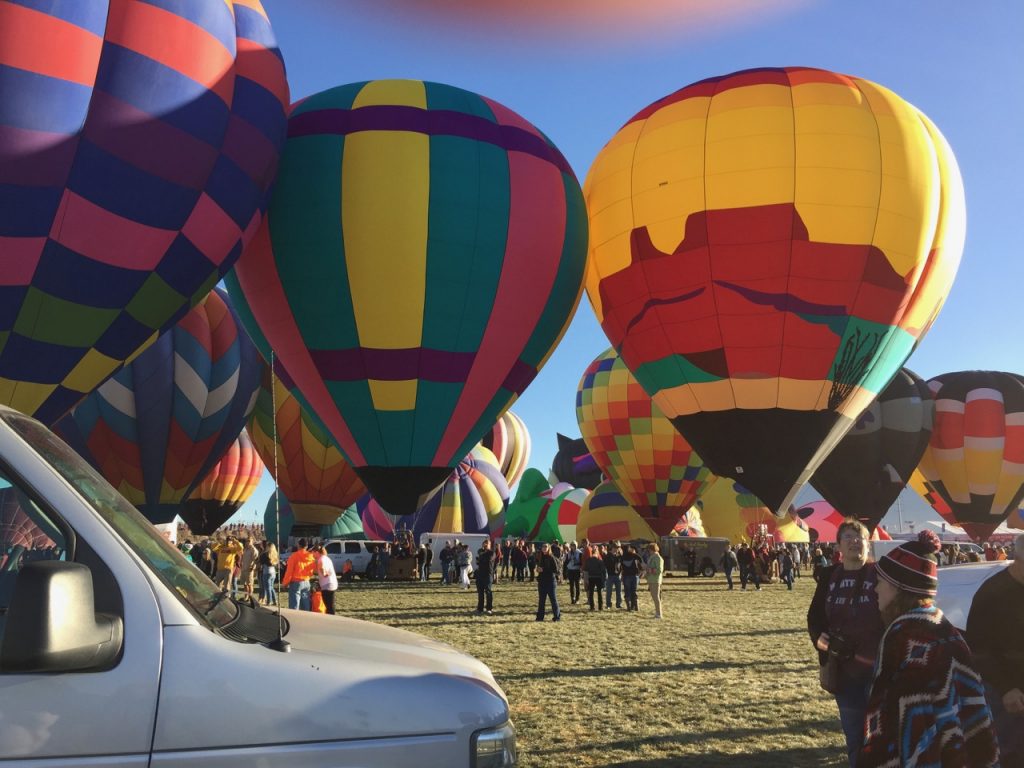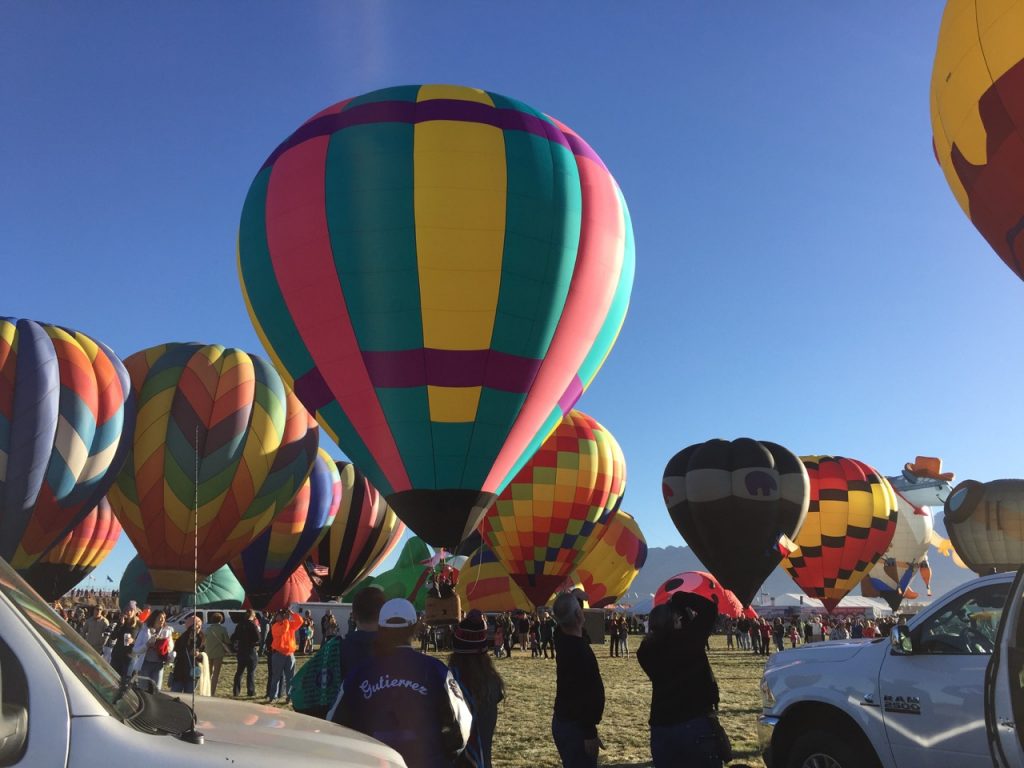 So many balloons!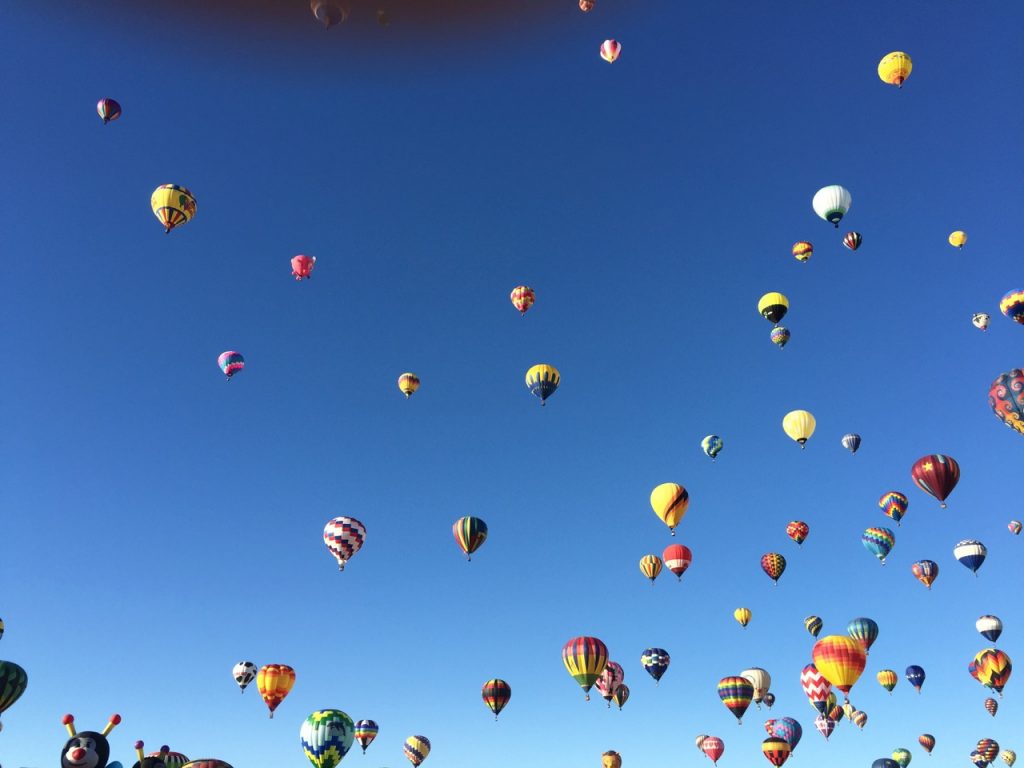 Another nice panorama.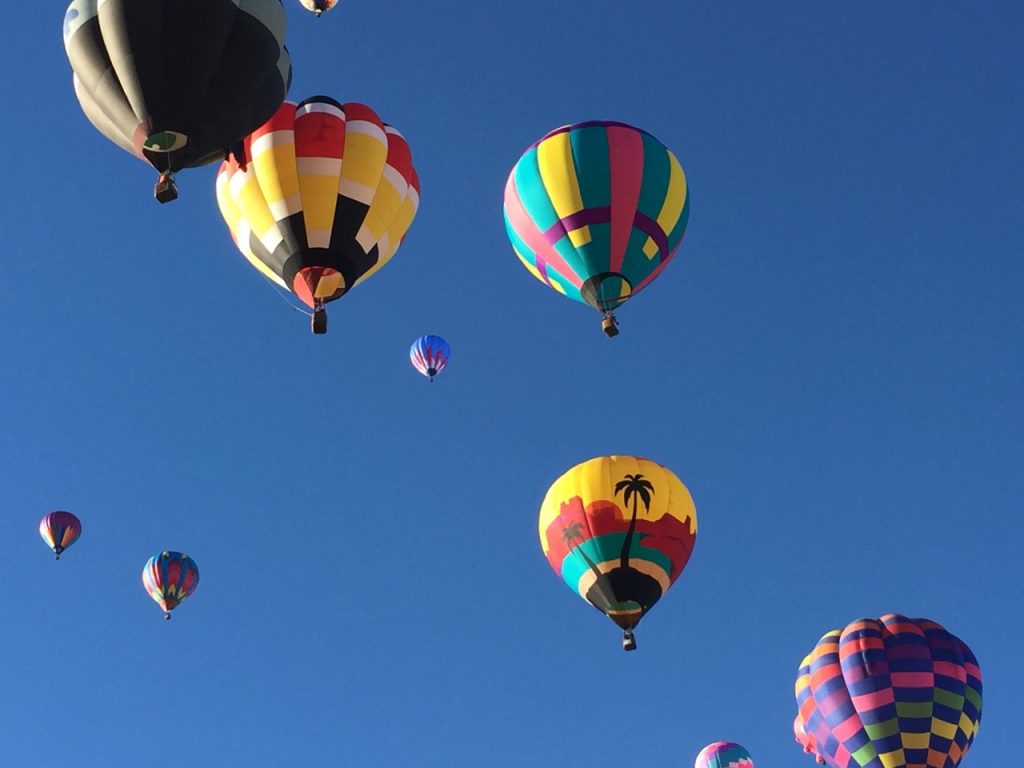 Armadillo flying overhead.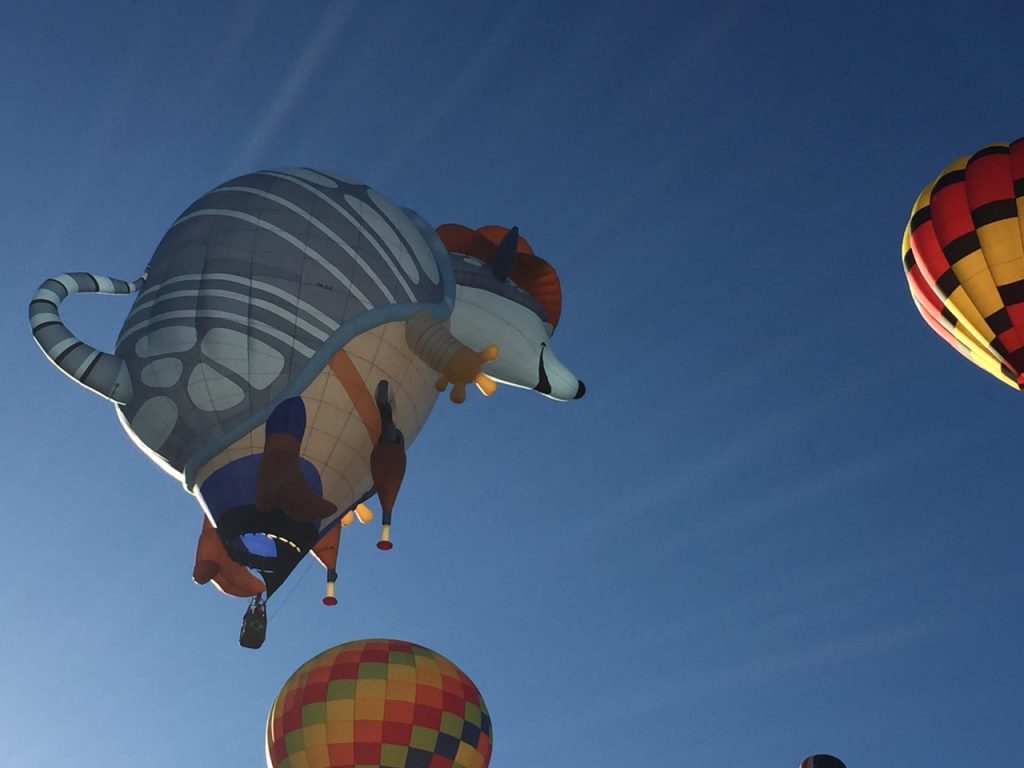 Levity.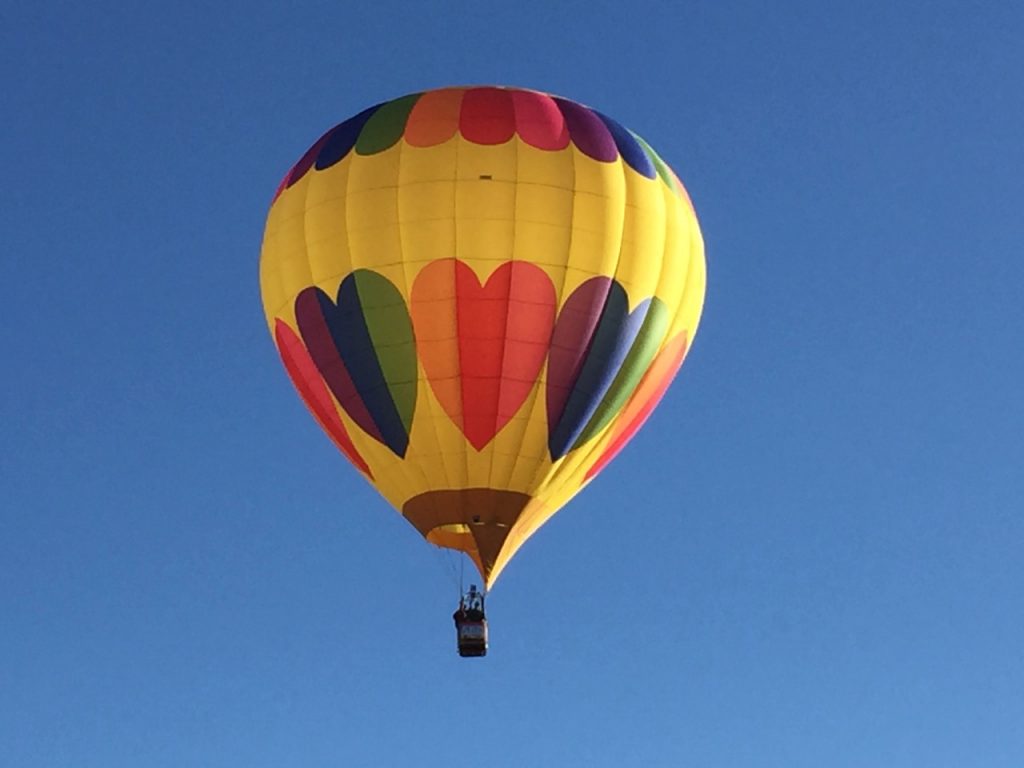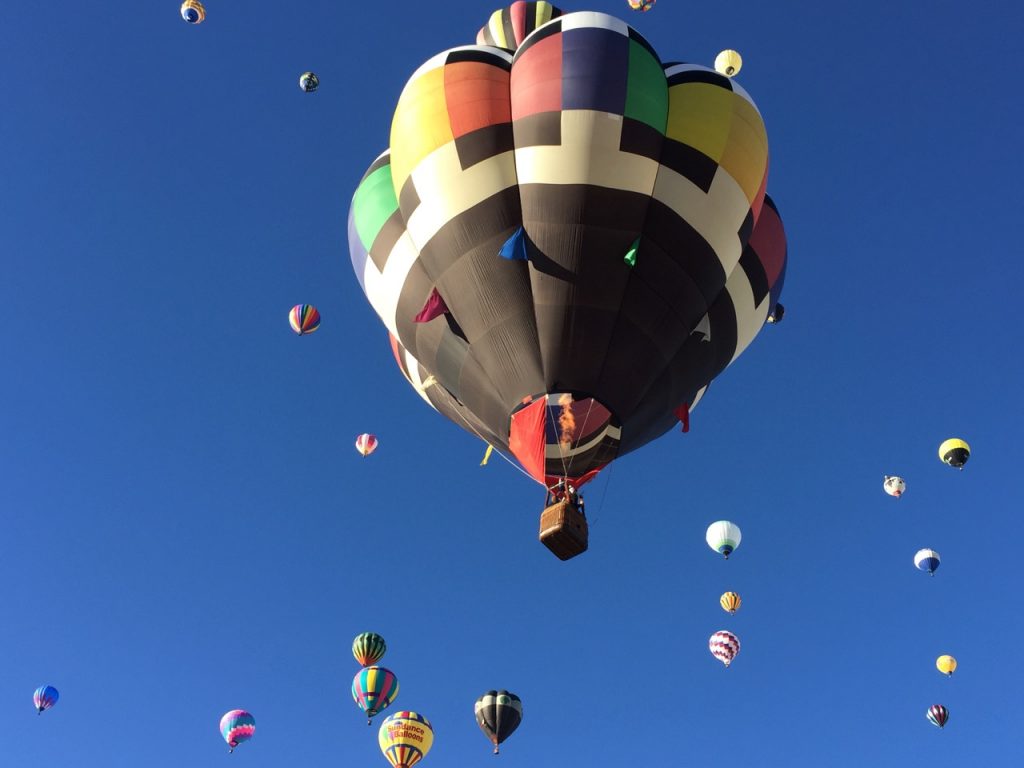 Yeah, I'm pretty fond of the Armadillo.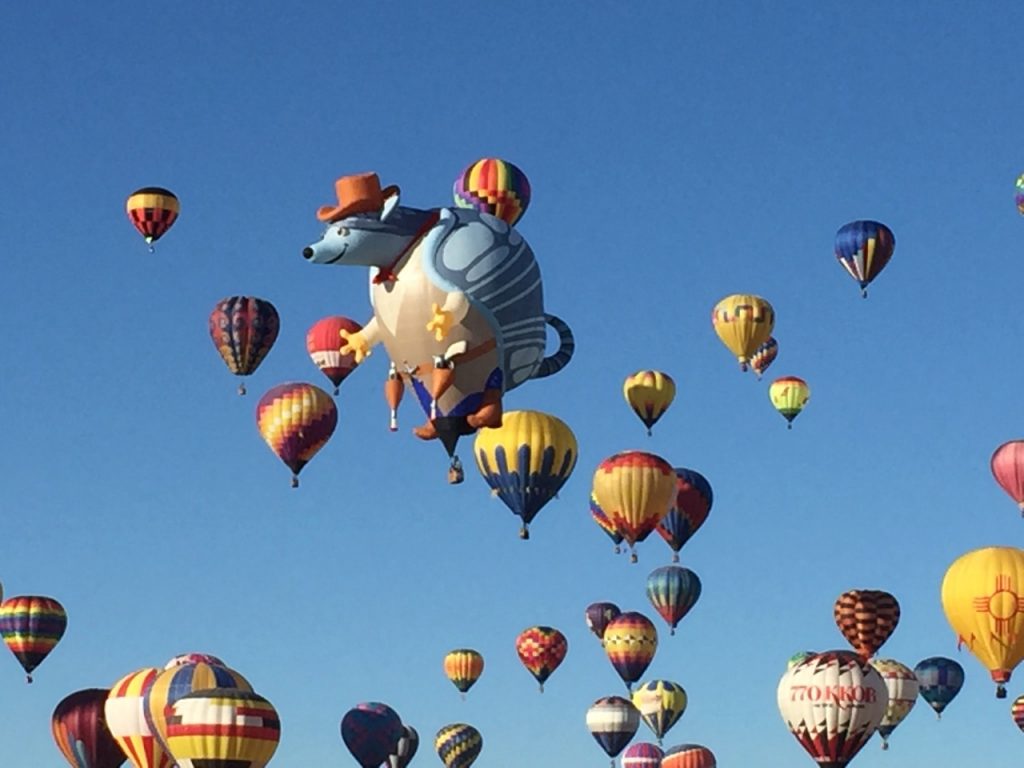 Flying Gator. And the clown one is called Giggles and Grins. More like Screams and Cries if you ask me.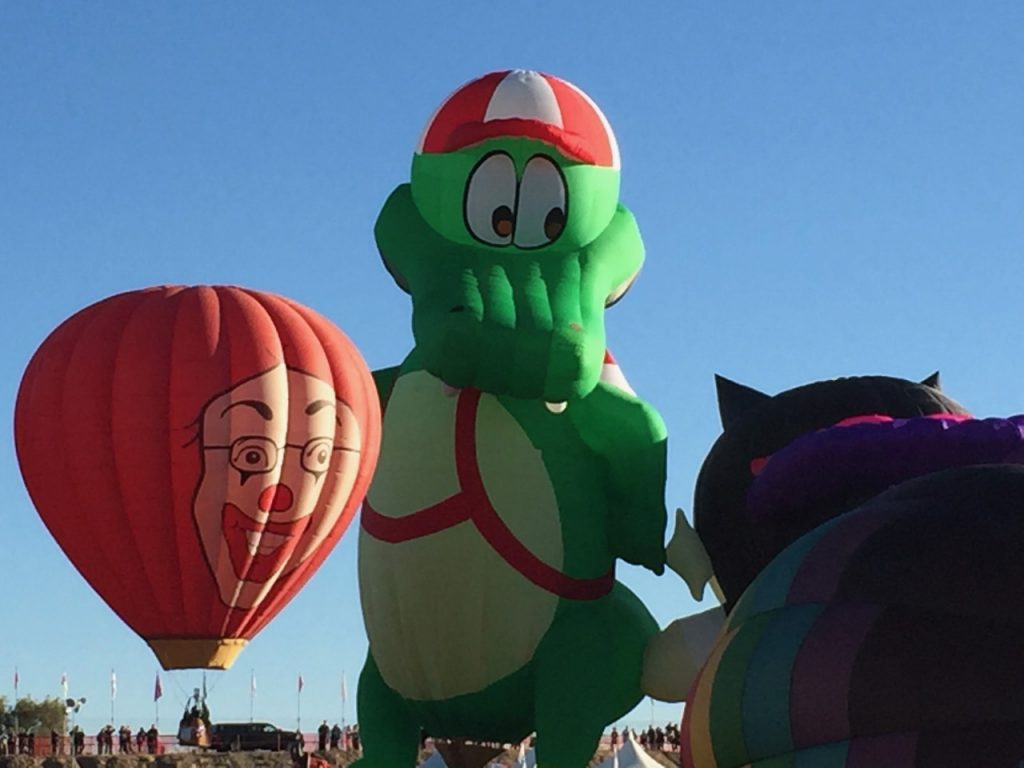 The Champagne Cowboy is inflating. Or deflating. And Smokey Bear is moseying outside the western edge of the park.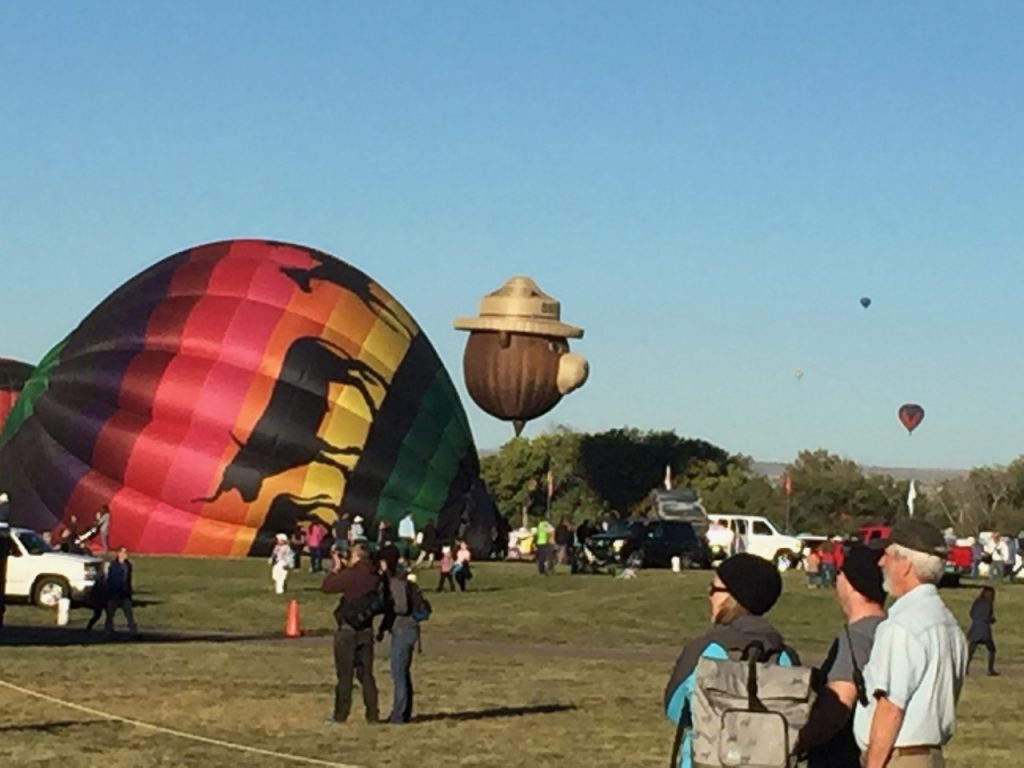 Baby Car has lift off.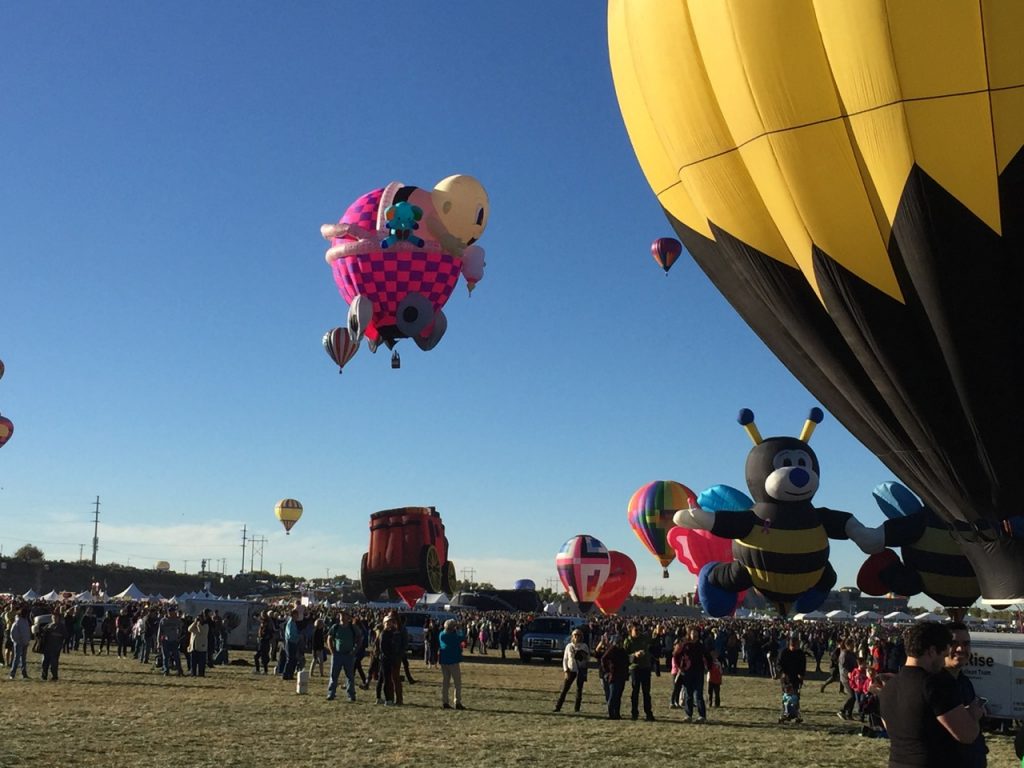 This one is called Tolfy. That is not a typo.
The Lovebirds.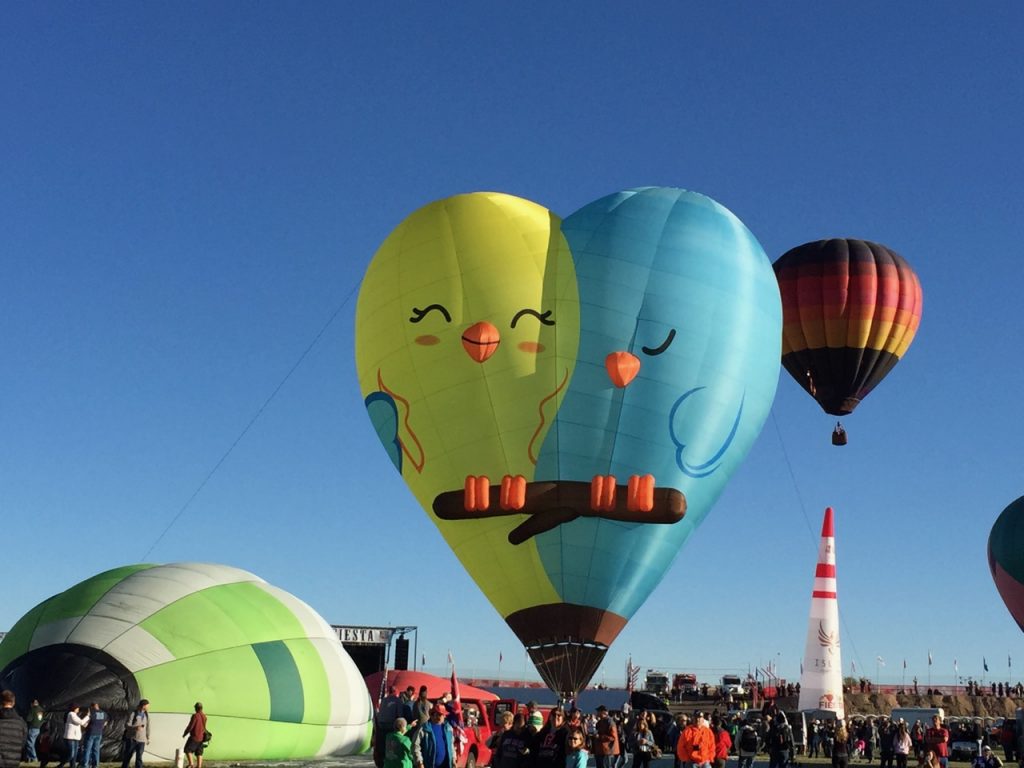 Nitrofish.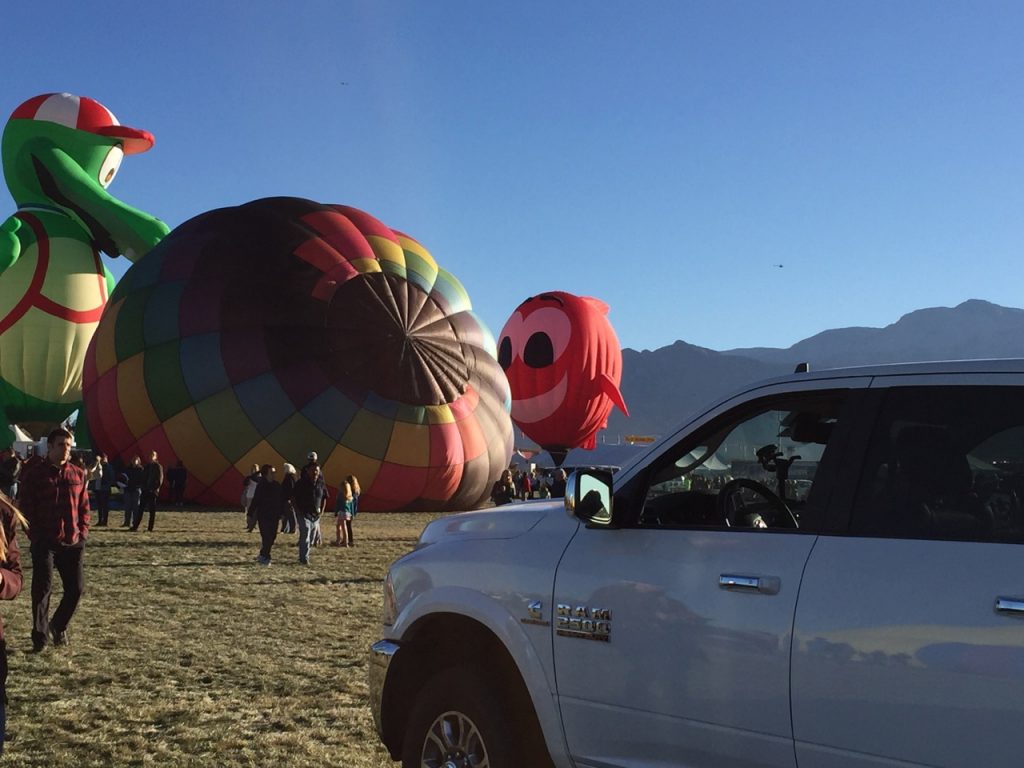 DON'T LOOK DIRECTLY INTO BABY CAR'S EYES. Evil baby will steal your soul! The bee family takes flight!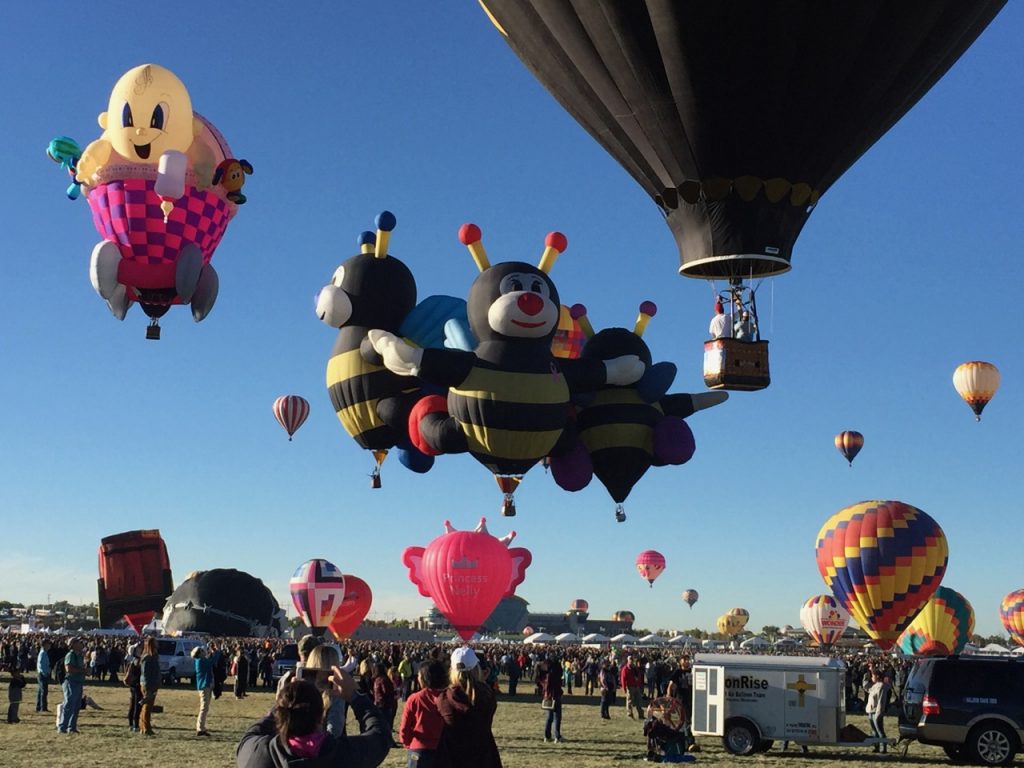 Sonrise.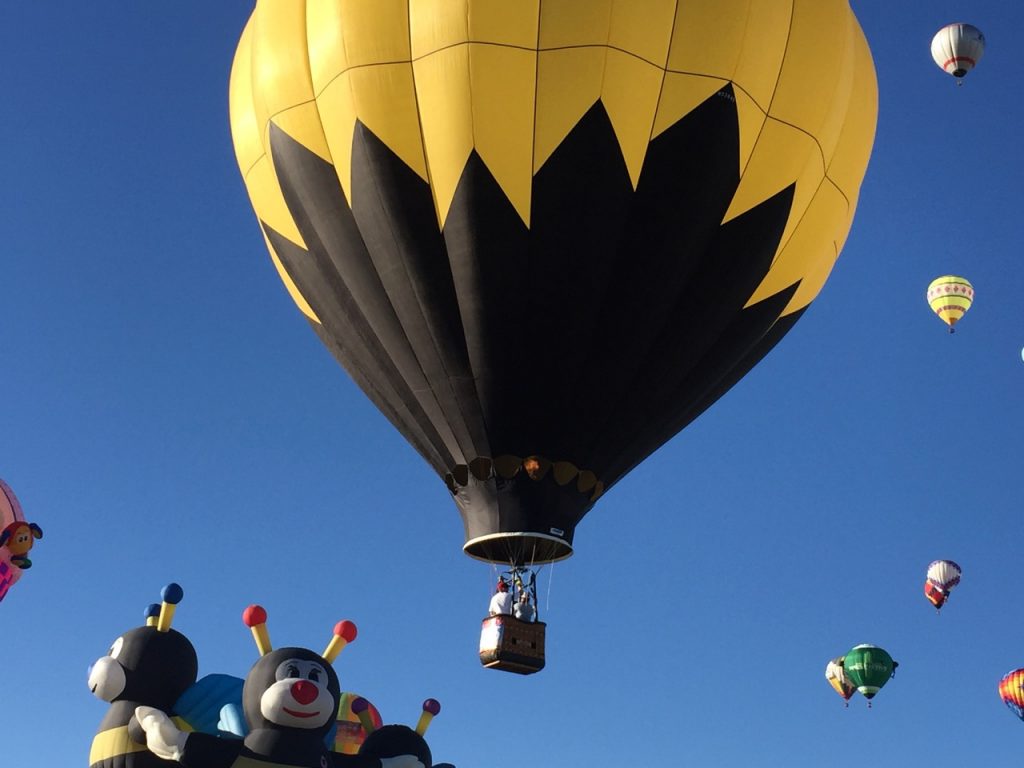 Bill the Vampire.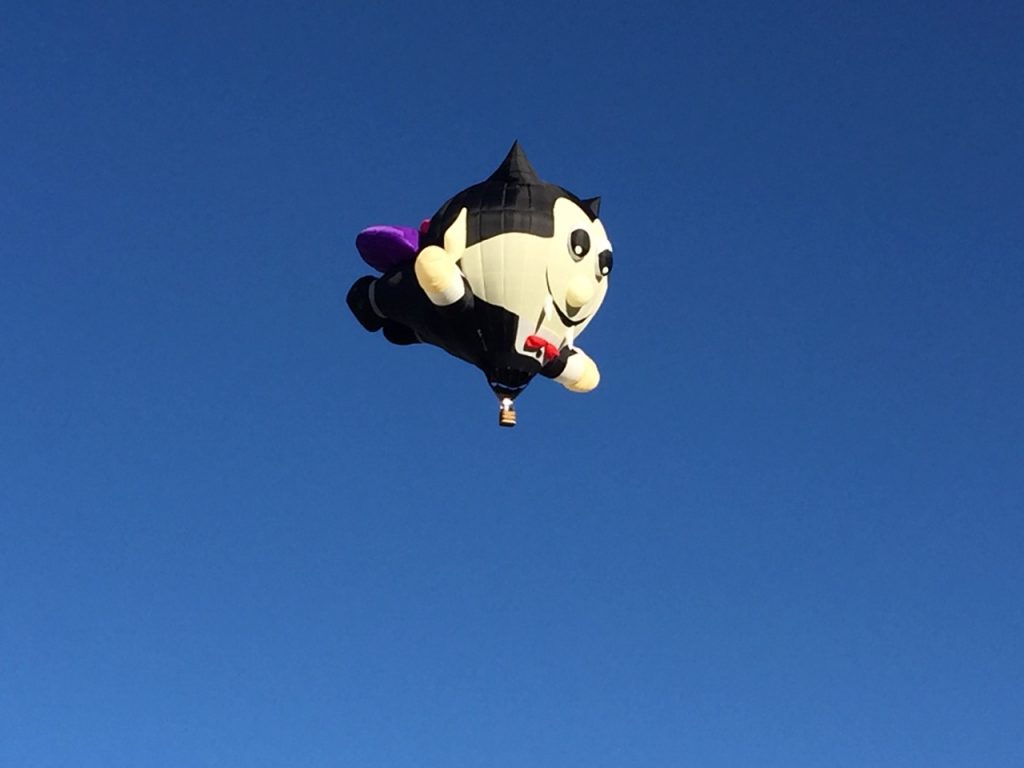 Bee butts. hee-hee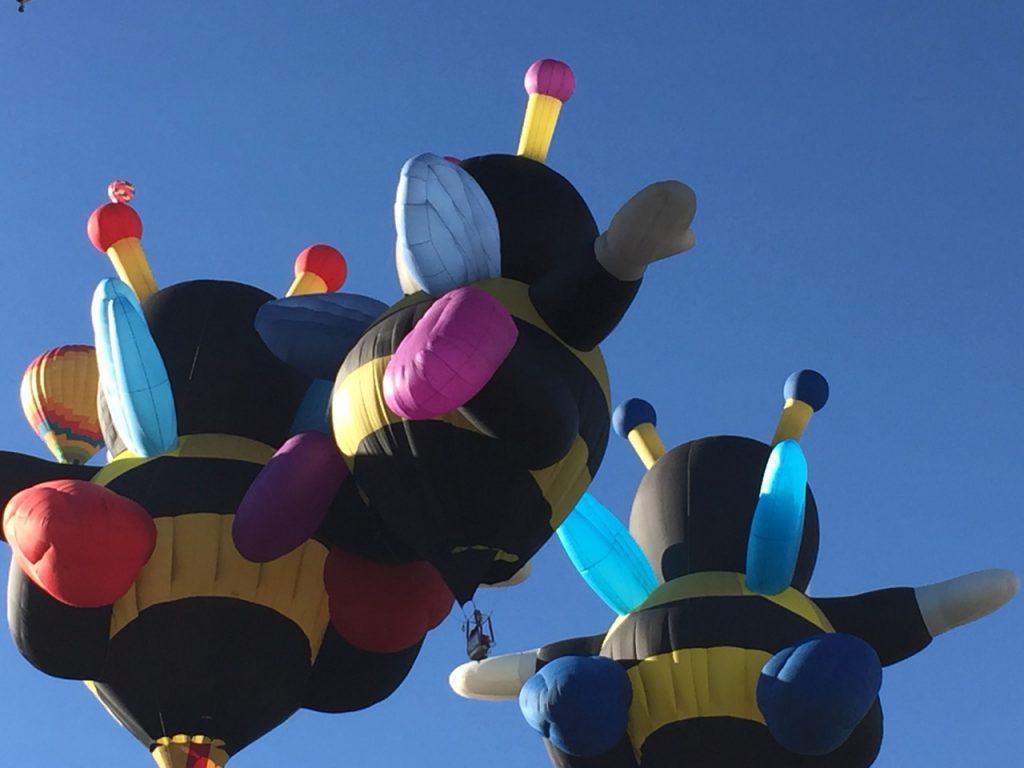 Bee.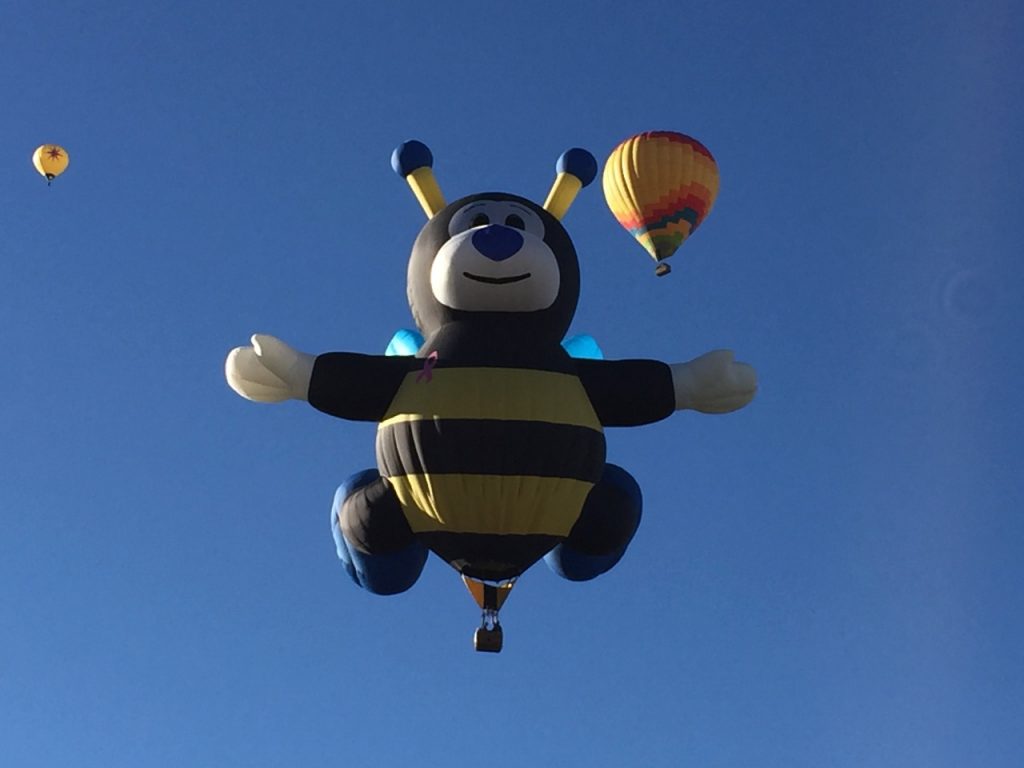 Nitrofish and Bimbo.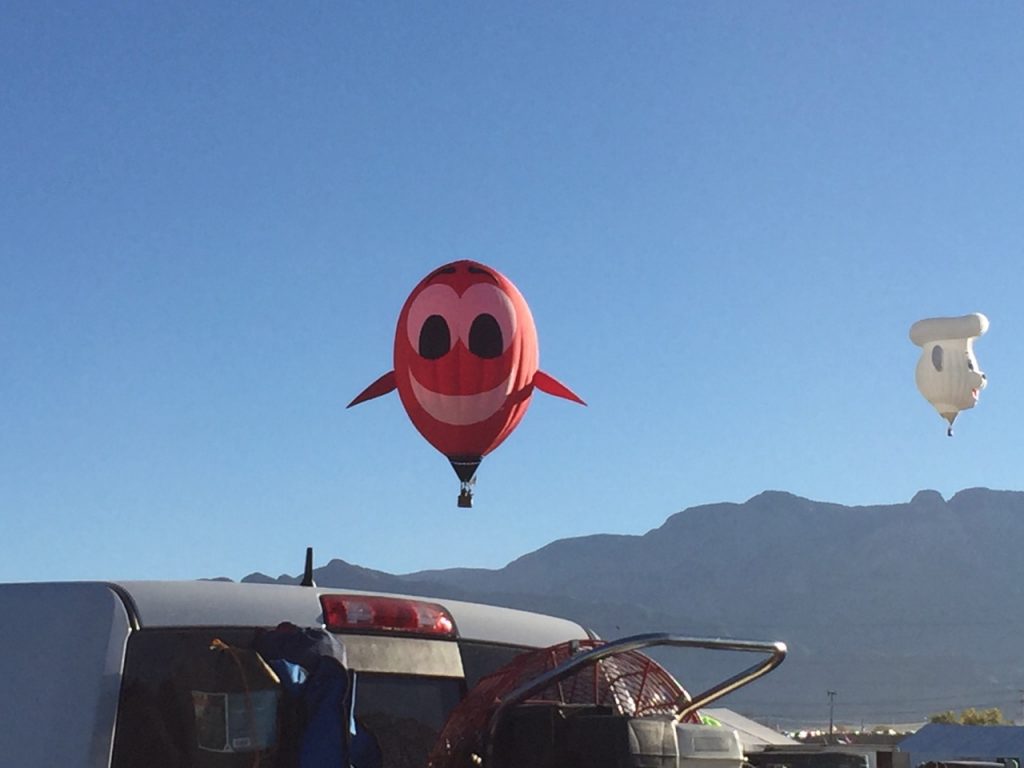 Bimbo! Bimbo was another balloon that just floated back and forth across the field.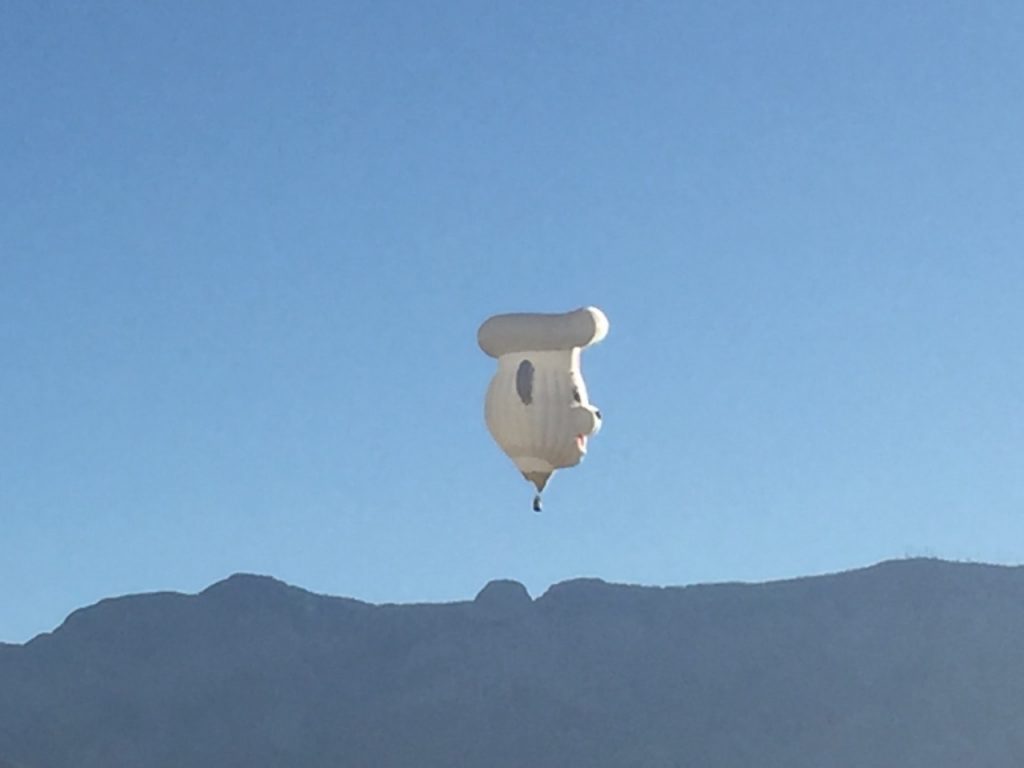 Armadillo is actually floating back to land on the field!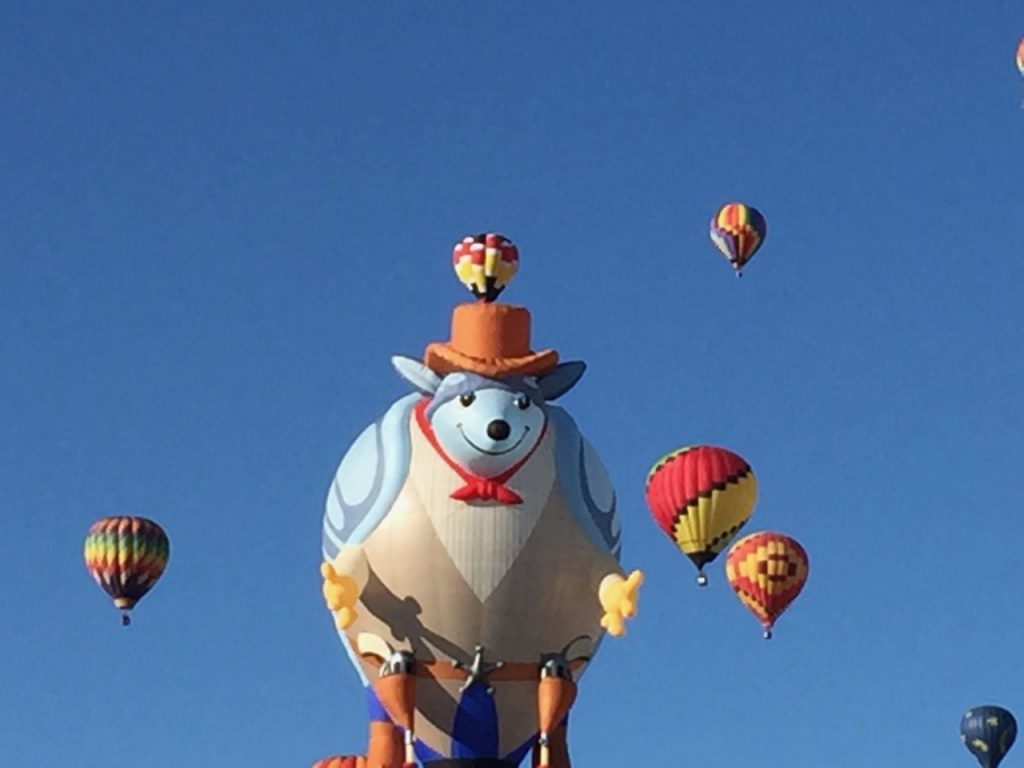 The green one is the Preventive Pest Control balloon. You can ALMOST see the giant black widow on it.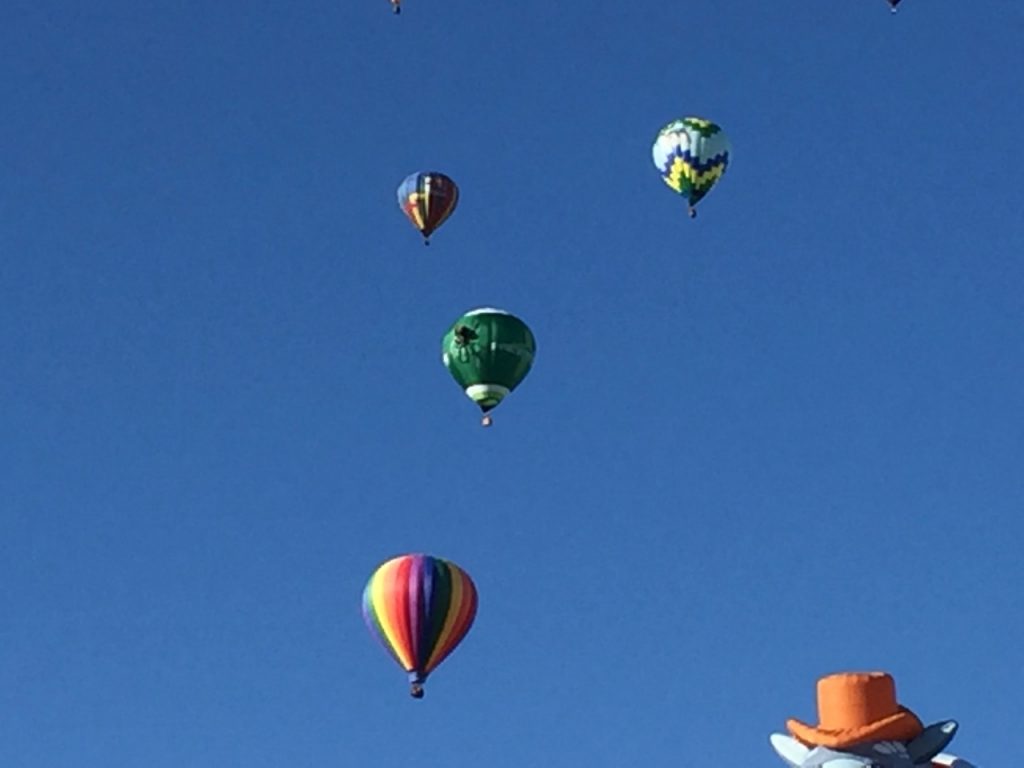 DEVIL BABY CAR!! Avert your eyes.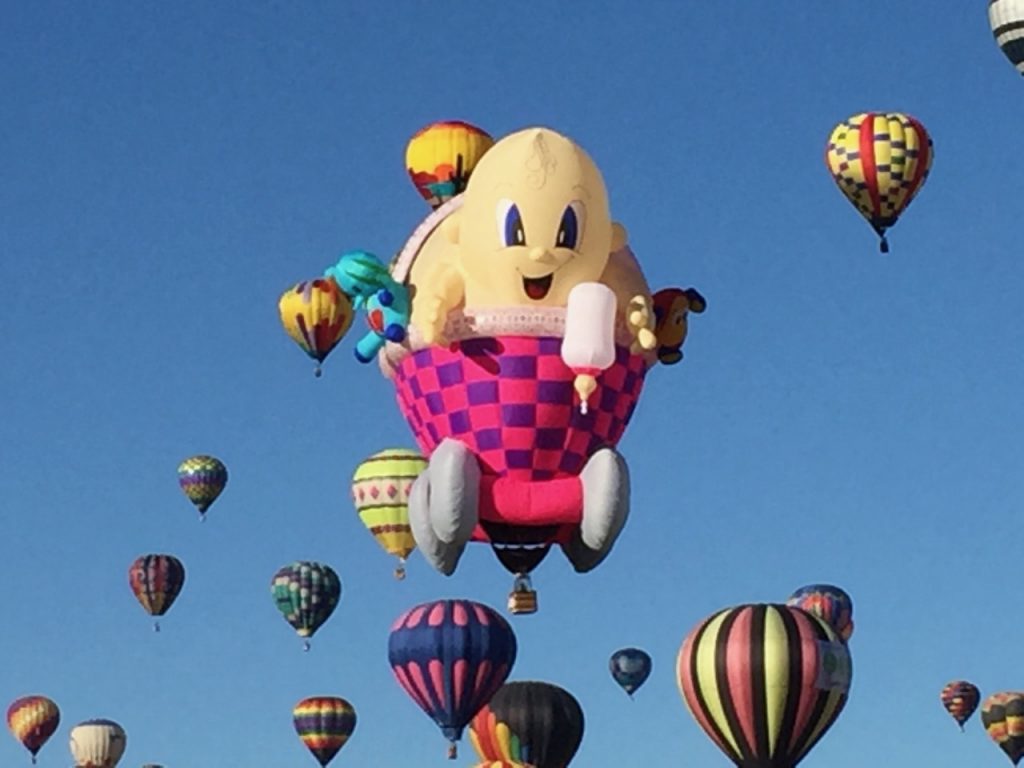 Nitrofish is suspiciously happy.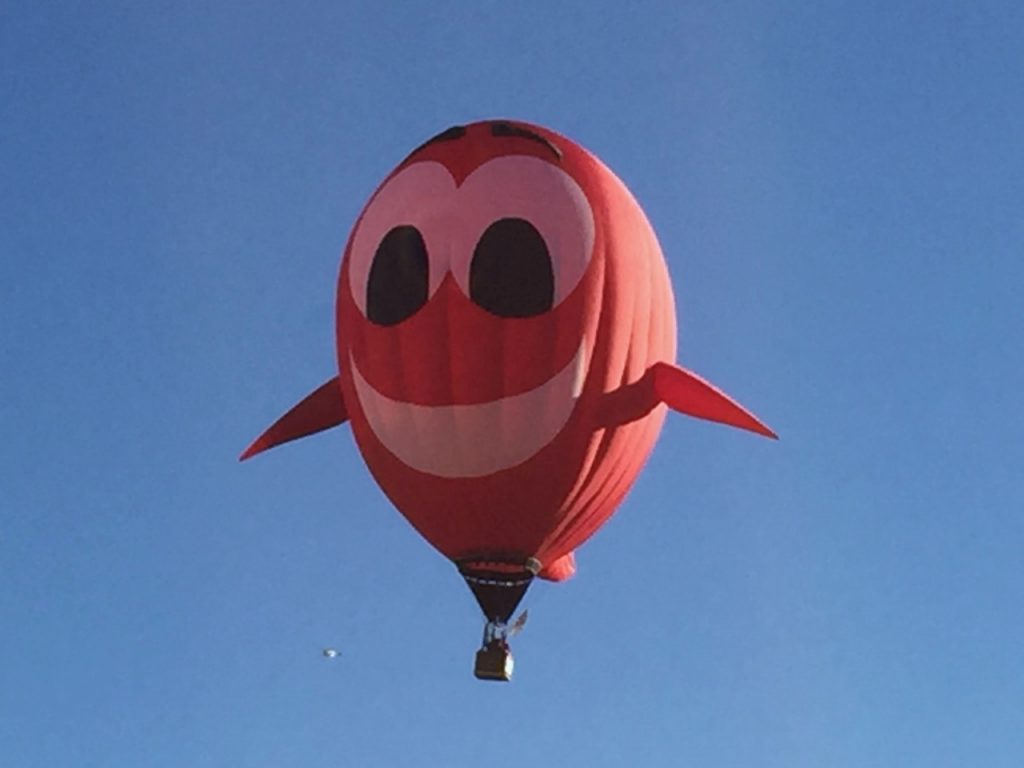 As this was inflating: "Please be a lady bug, Please be a lady bug, Please be a lady bug." Nope. Hmmm. It's called Captain Jack.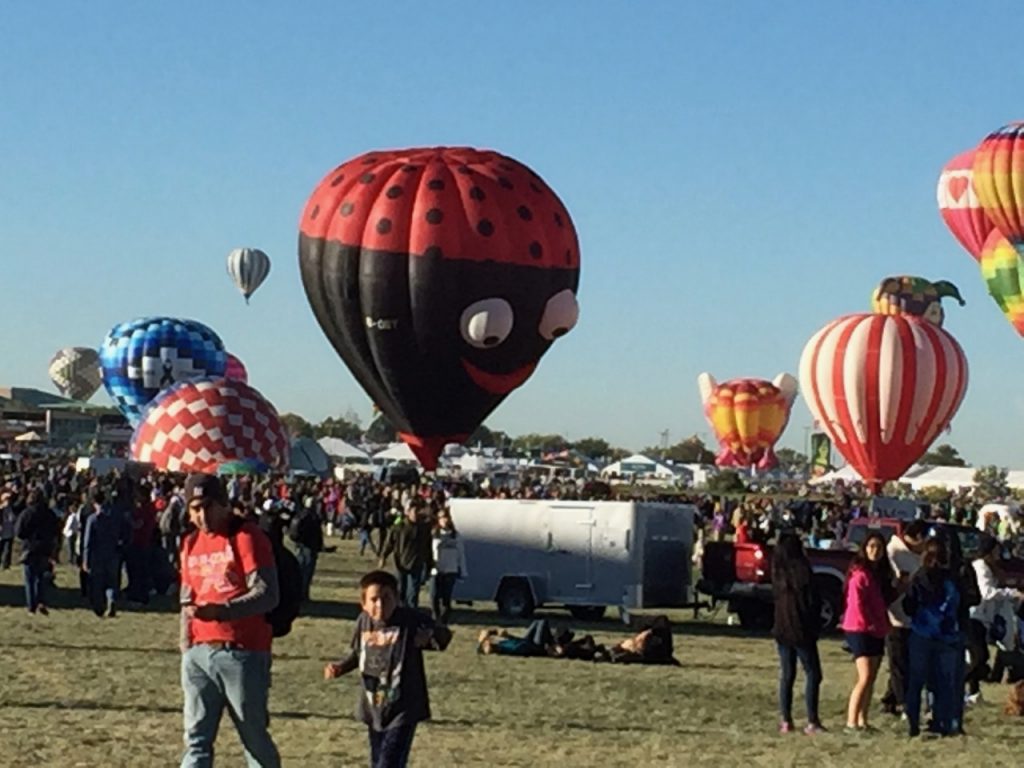 Freedom Flight V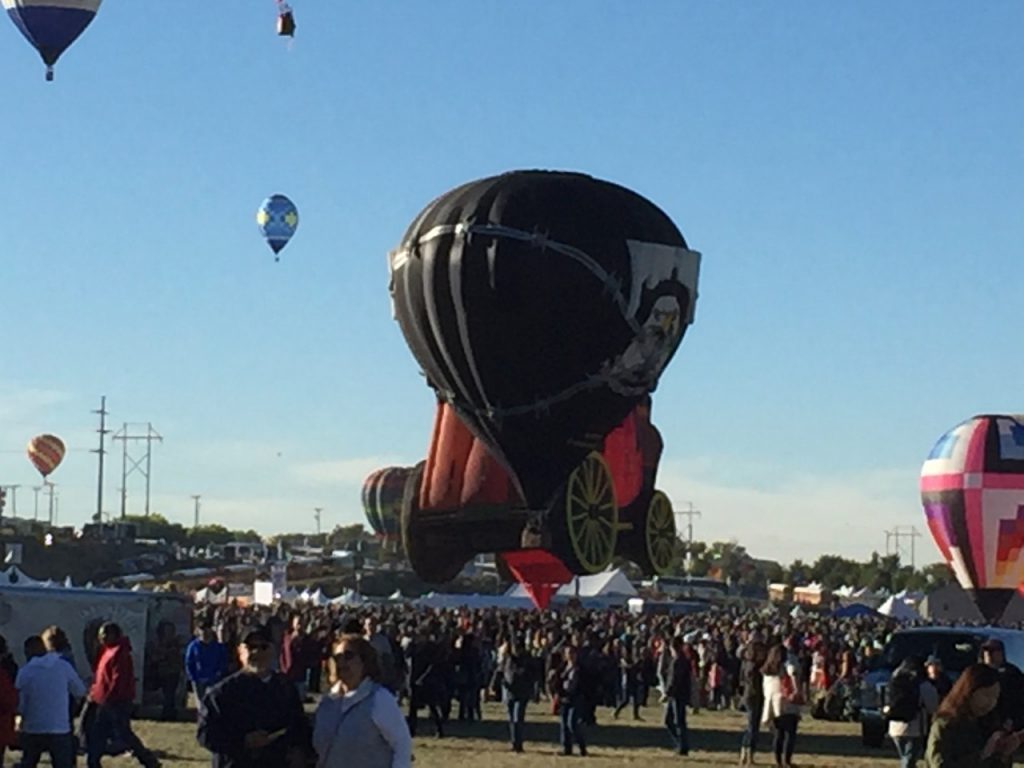 Bill the Vampire, Final Frontier and a yellow balloon (hey, there are a LOT of yellow balloons).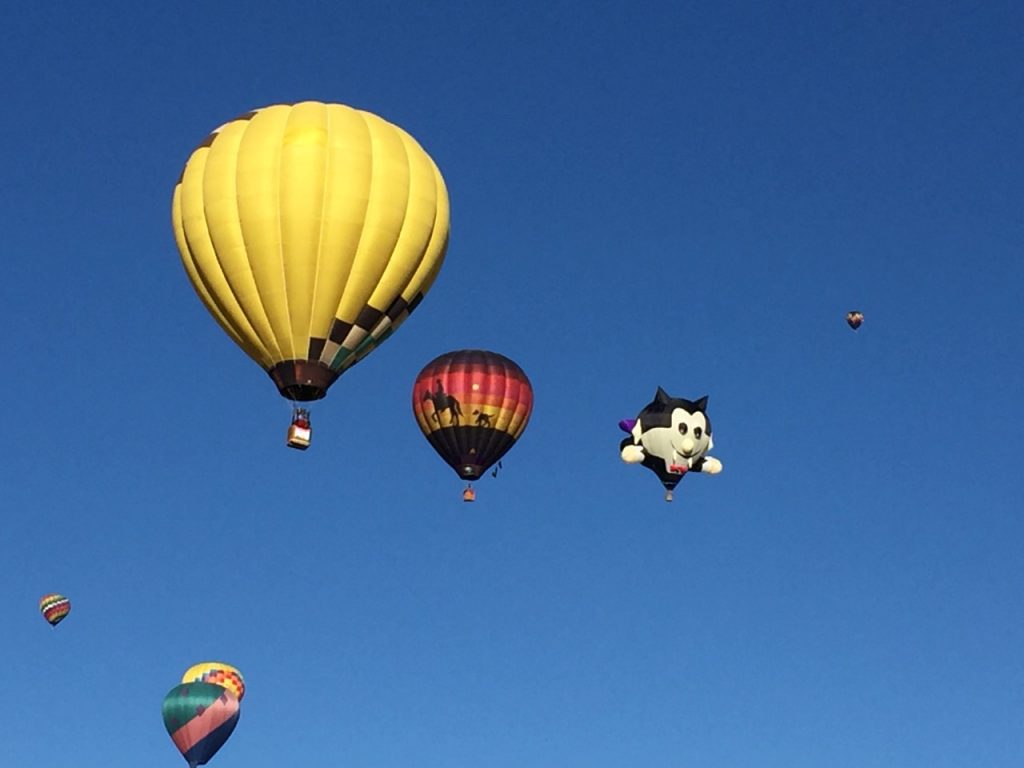 Puddles with some Armadillo butt.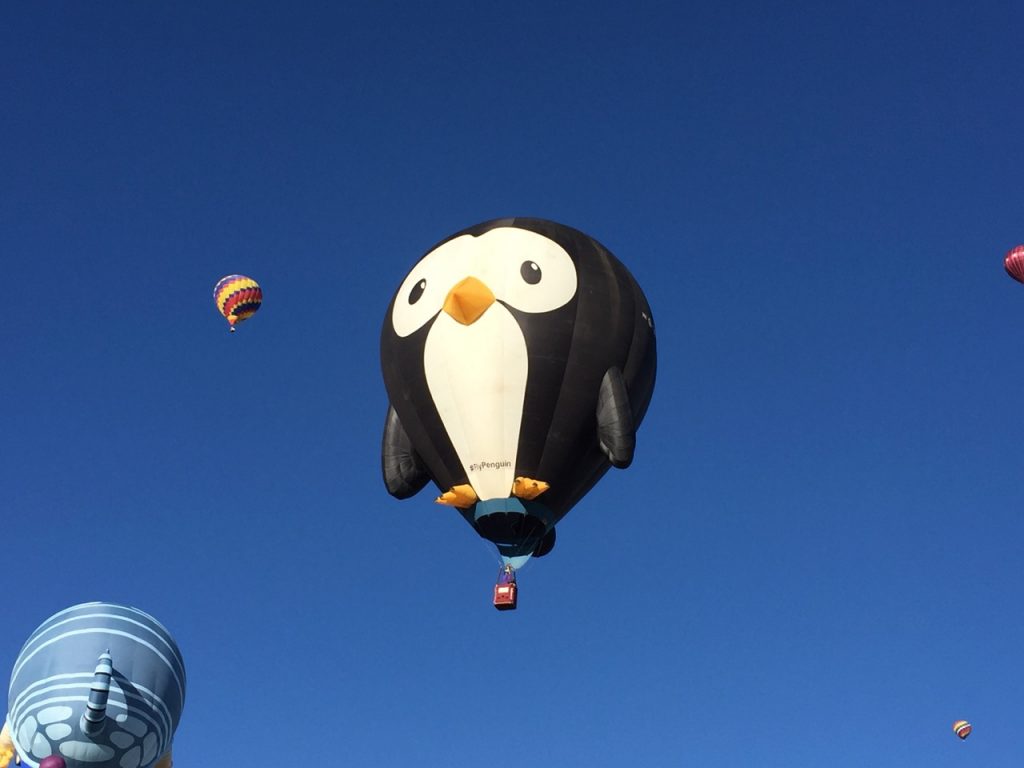 The Bees and Armadillo get a little close.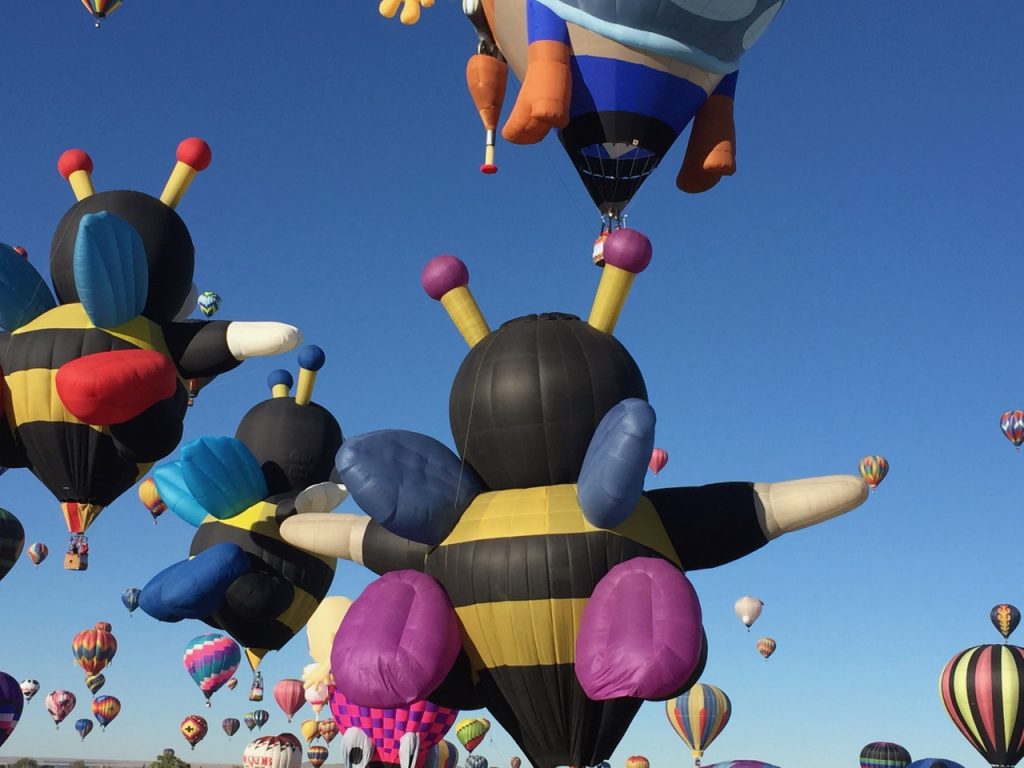 Coming in for a landing.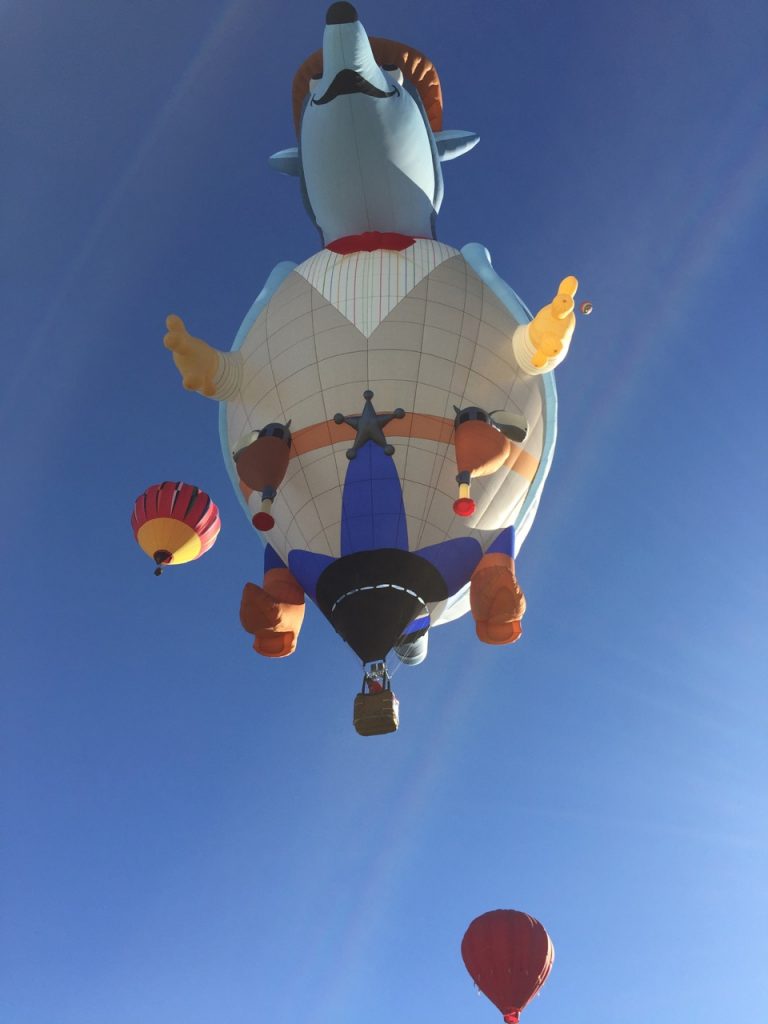 These guys didn't fly so I had to run across the field when I saw they inflated to get a picture.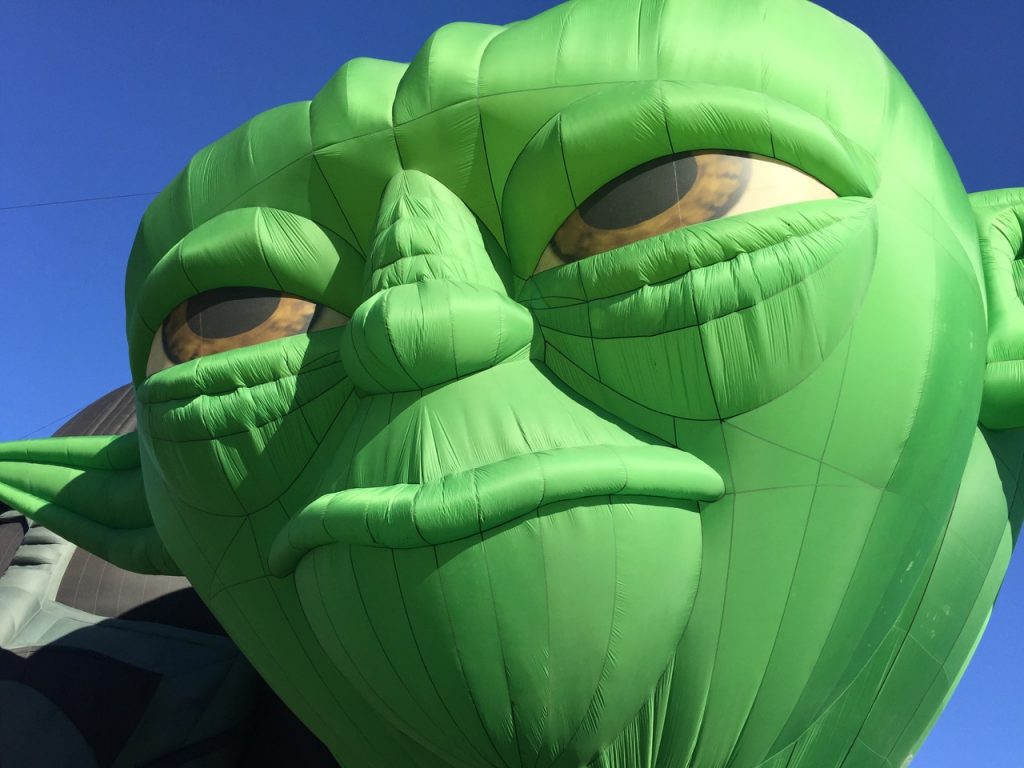 Another fine look at Bimbo. We drive by the bakery almost every day and it's heavenly smelling when there is baking.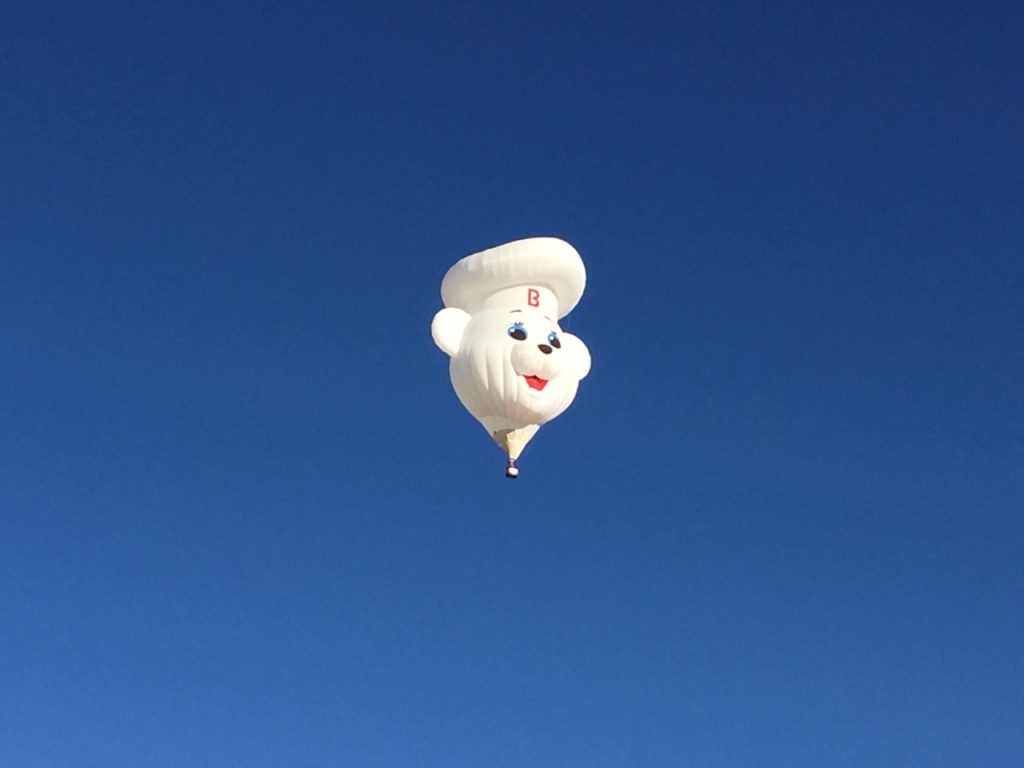 Got the Hottz. Maybe they ate some Wertz Squirtz Chile.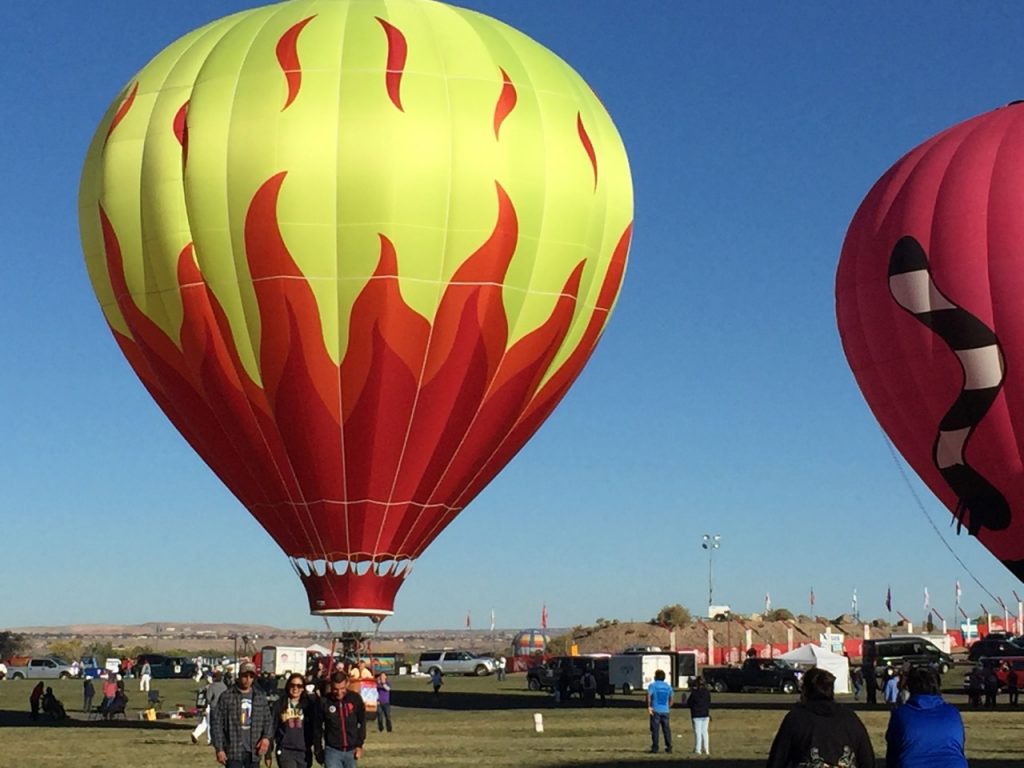 Chicken comes home to roost. While the Airhawk is a late inflatee.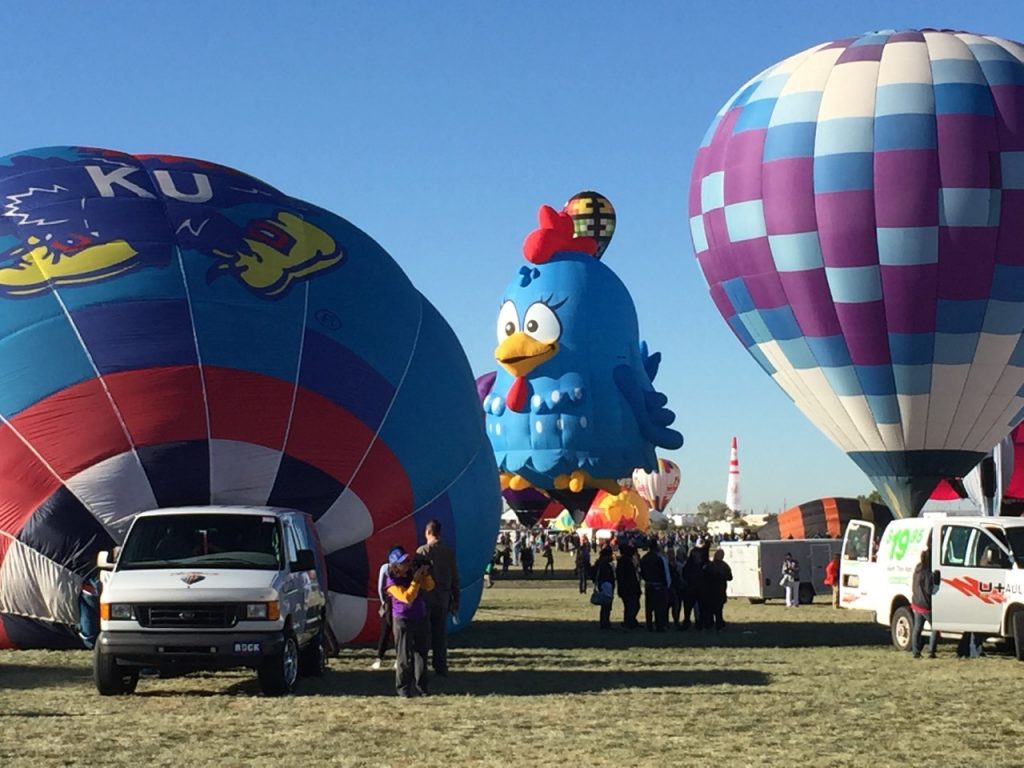 Cazoo-ee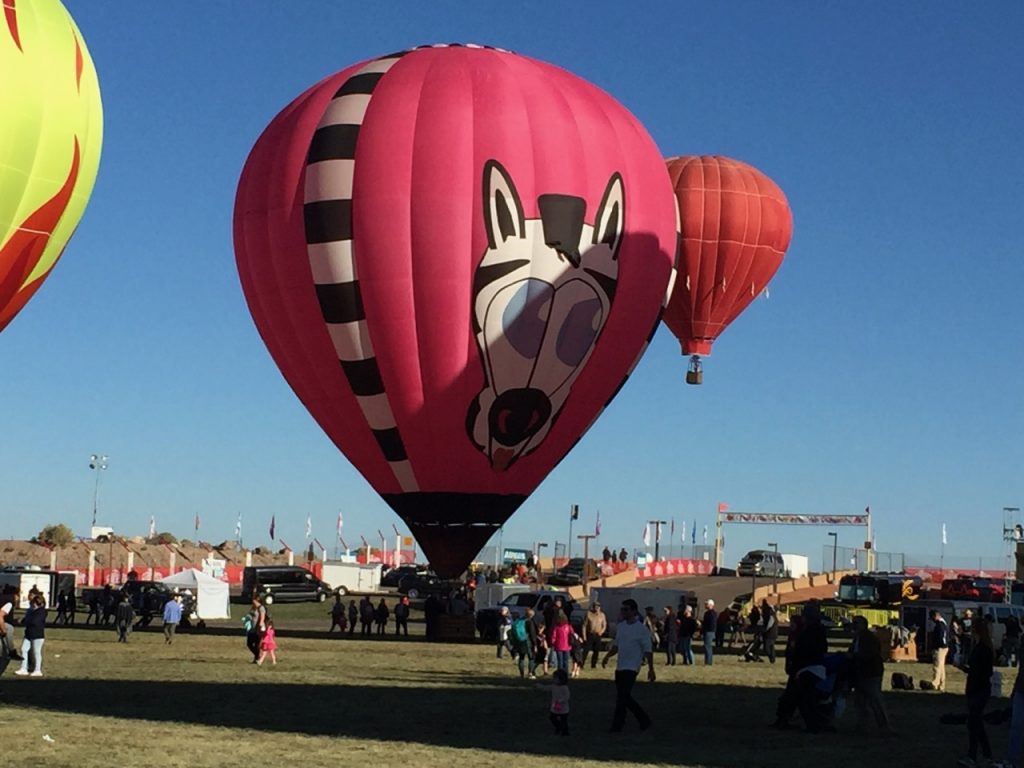 Airhawk.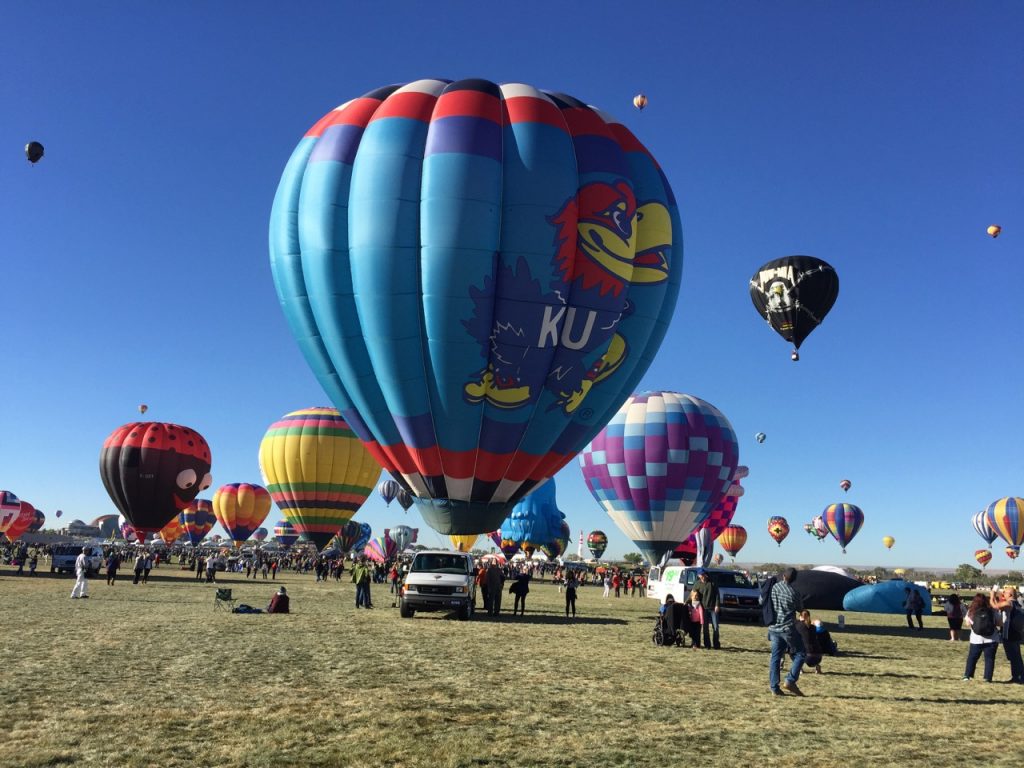 And Smokey Bear sort of hopped his way over to the field to land.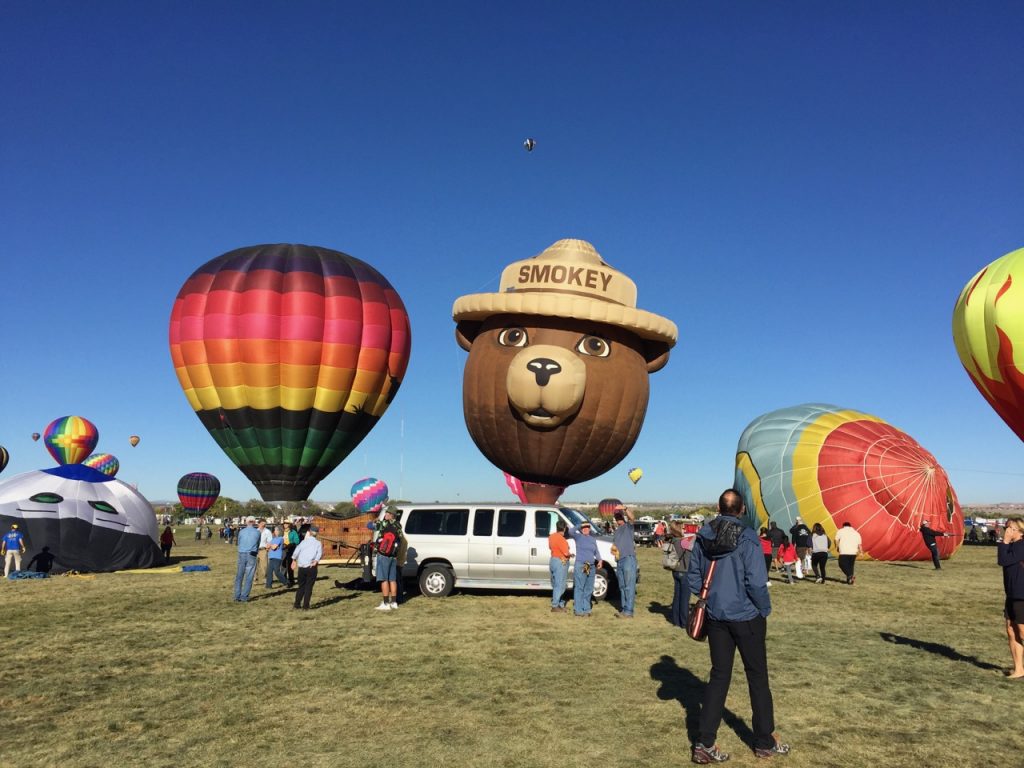 The ones that weren't landing back on the field were now drifting more toward the river. The skies were finally starting to clear. And by the time we got in the bus line, we actually didn't have to wait at all! (Well, we were going to Cliff's…people going to Coronado had a long wait! lol).
Sadly, the record setting Superbike didn't inflate that day. But I borrowed this pic from KOB so you can see it. It's huge! Really would have liked to see it in person. Oh well.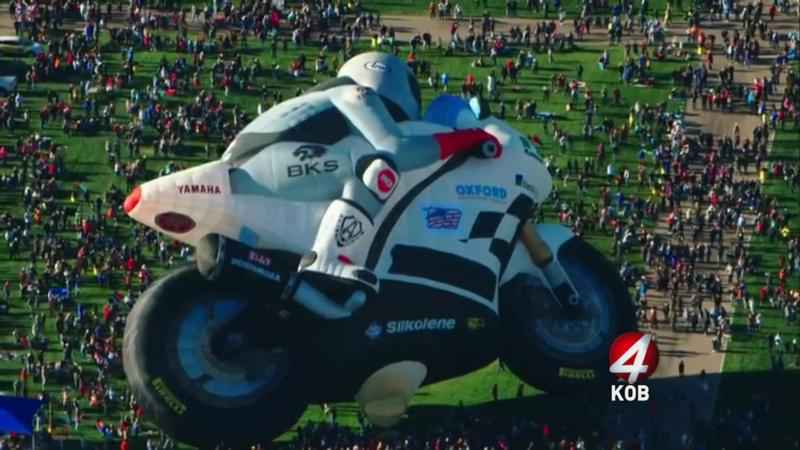 The other big story of the fiesta was the Mariachi vs Mexican doll. There were a few pictures (which I can't find right now…taken by other people) of the Mariachi balloon getting a little too fresh with the Mexican Doll balloon. So on the Friday night balloon glow, the Mexican Doll balloon ripped out of her tether and attacked the Mariachi balloon in revenge! At least that is what I am going to believe happened. You can't prove otherwise!


Share on Facebook